Do you enjoy riding your quad bike or dune buggy? If it is yes, then this article is for you. We will tell you how to go on adventures in the Arabian desert to fulfil your desire to ride ATVs and other bikes.
Desert safari activities include dune bashing, camel riding, and sand boarding, but what about bike riders? What about those who only want to ride only bikes in deserted areas?
We brought our quad bike and dune buggy adventure in Dubai for these people. This package includes a variety of quad bikes and dune buggies, so you can ride whatever you want and have a great time.
Let's go over this package in greater detail.
What We Are Offering You!
We offer a range of quad bike and dune buggy rental tour packages to satisfy every person's taste. With this plan, we'll provide you with access to some of our excellent vehicles, like quad bikes or buggies, and you may do whatever you want for a set period. Whether you drive quickly or slowly, make turns, or do anything else, it's up to you. Make sure neither you nor our vehicles are damaged.
Let's discuss the types of automobiles we provide for you as part of this rental package.
1. Yamaha 350 CC
The first rental package includes Yamaha 350 cc. From 2004 until 2013, Yamaha produced the sport and leisure ATV known as the Raptor 350. It has excellent handling, low to mid-range power, and racy looks. The off-road trails are ideal for these four-enjoyable wheeler to-ride qualities, especially for these desert areas; we are offering this vehicle.
This package's specs also state that it would cost 150 AED for 30 minutes. We'll only let one person ride this Yamaha 350 cc. You will be redirected to the designated comprehensive desert location, where you can happily ride this.
To ensure the safety of your ride, we also give you safety equipment like a helmet and goggles.
Remember that pick-up and drop-off services are not included in this package and will incur an additional fee.
2. 350CC Quad Bike
The second one also contains a 350 cc quad bike with the same power, but this package also includes extras that will improve your quad bike riding experience in the desert.
First, this ride will cost 350 AED for an hour for a single person. Due to the longer duration of this package compared to the previous one, you can relax and enjoy the ride.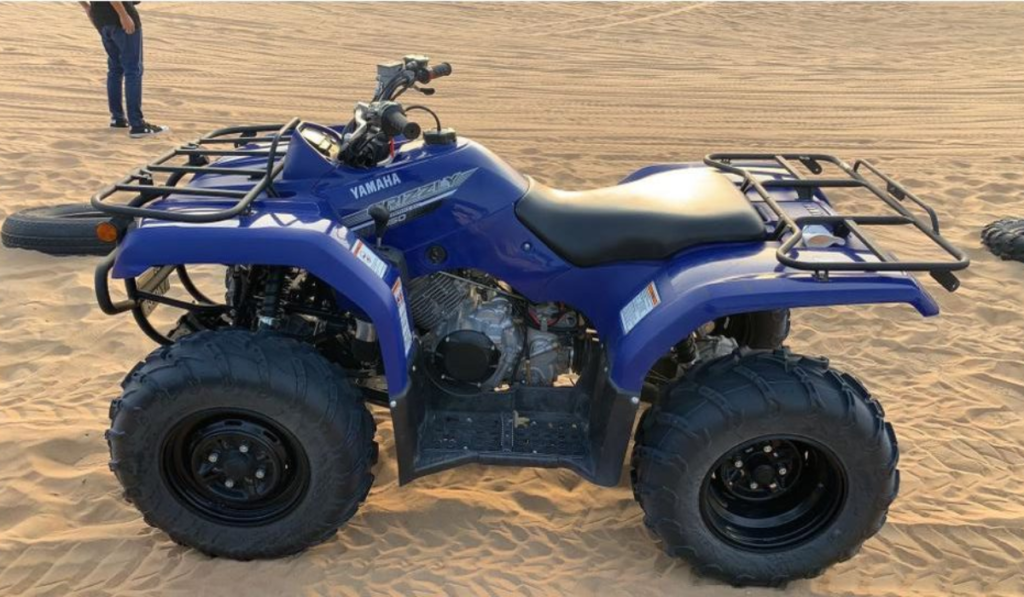 Additionally, we will supply you with water and soft drinks, so you won't need to go out and buy them. You will stay cool in the hot desert conditions thanks to this.
Sandboarding is one fantastic dessert activity that is also included in this bundle. Sandboarding is a great way to experience how exciting and gorgeous the desert is.
If you love to ride buggy in desert areas or do off-road activities, you will surely enjoy this package. We offer you to ride Polaris 1000 CC RZR XP in the vast sandy desert. The RZR XP 1000 is developed for unwavering performance. It provides an optimum power, suspension, and agility balance in a flawlessly balanced chassis that assures confidence and firm control in all terrains.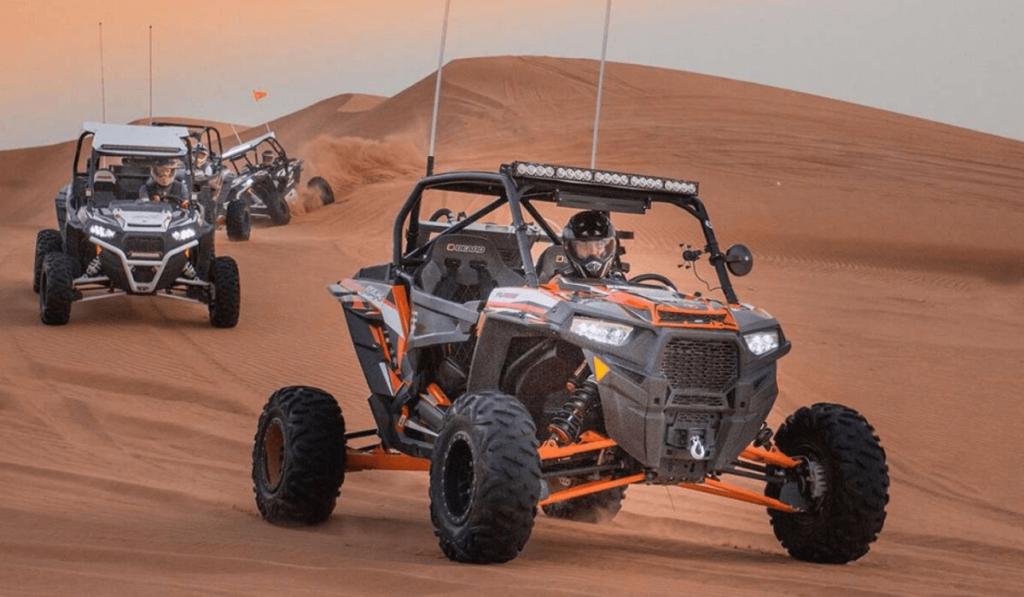 This bundle will last 30 minutes for two people and cost 499 AED. Take a dune buggy ride with just one friend to improve your vacation.
This package does not include a pick-up and drop-off service. In addition, we will offer you a complete orientation on an open-air desert ride tour.
Additionally, we are offering safety gear, including helmets and goggles. This will ensure your holiday is safe.
Last but not least, you'll need your passport to book this ride so we can permit you to do this ride.
4. Can-Am Maverick X3
The next dune buggy adventure package included the popular and highly recommendable monster buggy called Can-Am Maverick X3. This vehicle is a monster of performance that can be altered. Its rugged design and gruff engine cover a deceptively user-friendly package that balances capability, comfort, and usability. For further information about Can-Am, you can fetch it from here.
The overall duration of riding this vehicle will be 1 hour for two persons. The price of this package will be 1400 AED.
It's a shared 2-seater car. We will also give you one hour of private driving time to unwind and peacefully enjoy the scenery.
This deal includes soft drinks and water. You will also be given the required safety equipment, such as a helmet and goggles.
Last but not least, sandboarding is also included in this activity to enhance your experience after your ride by engaging in it. And a passport is required for this package also.
5. Polaris 1000 CC RZR XP (4 Seaters)
After the two-seater Polaris 1000 CC, you may ride without problems with your family or friends without problems. To allow you to enjoy quality time with your loved ones, we offer a 4 Seater Polaris 1000 CC dune buggy with an exhilarating ride.
The price for the one-hour duration package will be 1400 AED. If you're wondering how many people can ride at once, the answer is 4, as it has four seats. Remember that this is a shared car.
You will also have an hour of privacy to enjoy the voyage with loved ones. This is the ideal ride if you have family and want to experience the Arabian Desert.
As previously said, we'll provide water and soft beverages to keep you hydrated. This kit includes safety items, including goggles and gloves.
Lastly, we provide pick-up and drop-off services as part of this package. Please note that a passport is required.6. Raptor 700CC (YAMAHA)
We are giving you the Raptor 700CC quad bike after the Yamaha Raptor 600 on this list. This ride should be your first choice if you enjoy speed and want to make your riding more powerful and swift.
Yamaha Raptor 700R is a full-size all-terrain quad bike. It's the company's second-generation raptor mode with excellent features. This robust power quad bike has a 686cc single-cylinder overhead cam, electronically fuel-injected engine, and electric starter. Another cool feature included is a five-speed manual transmission with a single-speed reverse.
This bundle includes several more items but is identical to the initial Yamaha 350 CC quad bike kit.
This ride will cost 700 AED for an hour-long length. Since it is a quad bike, only one person can ride it. Because this is a private vehicle, you will have an hour to ride comfortably.
We offer a pick-up and drop-off service. However, the Yamaha 350 cc package charges extra for it.
Additionally, you can go sandboarding and enjoy water and soft drinks.
Last, it's okay if you don't have a driver's license. You are still permitted to use this automobile, but make sure you have your passport.
7. SPORTSMAN 570 EMI
If you're fond of athlete quad bikes, this package is for you. This Sportsman 570 offers plenty of power to handle various jobs, including hauling and towing. It will transport you quickly and safely, with a speed of 63 mph and 44 horsepower.
Off-roaders receive fantastic value from off-road vehicles because of adequate power delivery, firm grip, great features, and affordable pricing. That is why we have this beautiful yet powerful automobile on our list.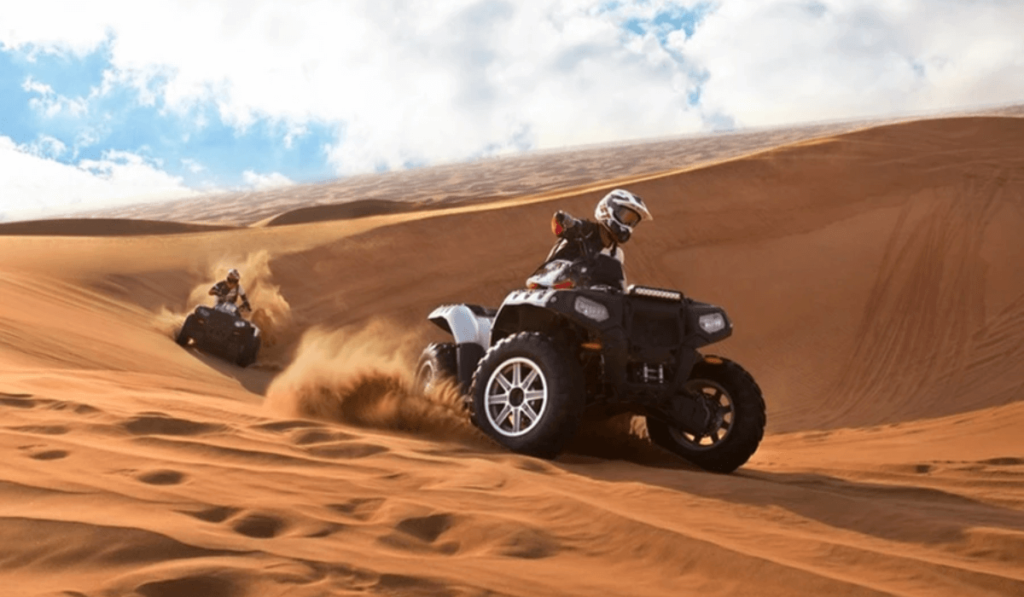 There will be 3 hours in total. This will undoubtedly encourage you to thoroughly explore the desert while riding and having fun on the red sand. One individual will pay 500 AED for the service.
In addition, we'll pick you up and drop you off, so you can relax and begin your desert safari. Additionally, we are providing you with a helmet and goggles for safety.
You will also receive water bottles from our staff and the sandboarding included in this package.
Remember that this bundle does not require a driving license.
FAQs
Are quad bikes legal in Dubai?
According to the RTA's Licensing Agency, quad bikes and jet skis must now be registered. Driving quake bikes and jet skis without a license is now prohibited. Driving quad bikes and scooters on residential streets, internal roads, and beaches is also prohibited.
What is a buggy car?
A buggy is a small, lightweight vehicle with limited bodywork and off-road characteristics. Most are constructed from scratch or as kit automobiles. These types of cars are best for off-roading adventures like desert safari.
What is the meaning of dune bashing?
Dune bashing is an off-roading activity performed on dunes, typically in large 4×4 cars like the Toyota Land Cruiser or Fortuner. It simply entails driving at various speeds over dunes while controlling the automobile to keep its equilibrium traveling up and down the sandy hill.
How fast can a dune buggy go?
Dune buggies may go at a maximum speed of 60 to 70 mph. Sand rails and dune buggies with high-performance modifications can reach over 100 mph speeds.
Conclusion
If you particularly enjoy riding ATVs or quad bikes and want to engage in off-roading activities, look no further. We offer amazing off-road vehicle trips, so you can indulge in your passion and, inadvertently, take a desert safari.
You can view the details of the rental tour mentioned above before booking. Don't forget to watch the discounts we provide with these packages.