Dubai desert safari is one of the most fun and exciting things to do in Dubai. This accounts for half of your time in Dubai, which is significant due to its historical deserts.
While on a desert safari, We make suitable arrangements for our visitors, but what about their clothing? Not dressing appropriately might ruin your desert safari trip.
We all know that the deserts of Dubai are hot and humid, and at night they are freezing, so choose your clothing carefully. Are you unsure about what to wear during a desert safari in Dubai? Don't worry; you've come to the right place.
In this article, we will go over precisely what attire is suited for a desert safari trip so that you may enjoy your vacation to the fullest.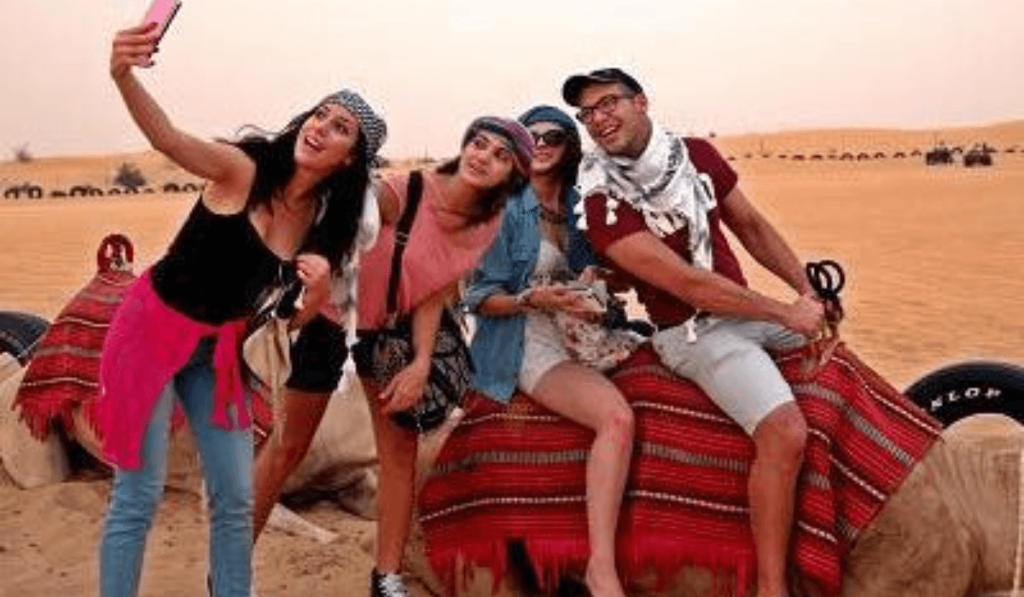 A Complete Guide To What To Wear On a Desert Safari Trip
What to Wear According to Weather
As we all know, the Morning in the desert is quite hot. There aren't always enough superlatives to convey hot to a newcomer!
Consider breathable materials, such as cotton, linen, and rayon, that work well with profuse perspiration. Accept that anything you wear will sweat through, even if you're not a heavy sweater!
Wear long pants and a sweater or cardigan if you're going on an overnight desert safari.
It's unlikely to rain, so you won't need a thicker down coat; a light, the long-sleeved top should suffice.
What to wear According to Desert Safari Packages
A desert safari comprises various activities, each of which is unique. So make sure you dress appropriately for these activities. Well, you can read about how to dress for a desert safari here.
BBQ Dinner & Entertainment: Your evening camps will likely conclude with a dinner served seated on carpets on the floor. Consider how you will sit comfortably on the ground; the evening may end with light dancing. If you've already participated in a desert sport, bring a fresh shirt and something to freshen yourself before you dine.
Quad Biking/ATV Riding: These are usually optional supplementary desert activities. Some camps may have tight rules requiring that only closed-toe shoes be worn. Again, a short skirt is inappropriate when straddling something. For women, and if males have long hair, you'll need something to hold it back, and sporting apparel is excellent.
Sandboarding: The pleasure of hitting the dunes is accompanied by a lot of sand! Consider the practicality of suitable closed-toe footwear and where that sand will end up when you inevitably fall! Trousers are preferred over skirts or shorts.
Camel Riding: It's almost a requirement for your first desert encounter, so plan how you'll ride ahead of time. Camel riding is not the most graceful of sports, so choose shorts and pants over skirts, and keep any loose objects close at hand!
Dune Bashing: Try a cap or a light shawl if you don't want to wear sunglasses. Hold on tight; dune bashing is an exhilarating journey. It doesn't matter if you wear sneakers, light boots, or flip-flops because you'll be in the jeep for most of the dune-bashing drive.
Dressing for Cultural Awareness
When visiting the UAE, travelers should be culturally conscious while dressing appropriately for the weather. While planning a trip to Dubai, it's easy to balance being culturally aware and practical – none more so than when going on a desert safari.
Women are not required to wear full coverage in Dubai at all times. Shorts are not prohibited either. Generally, men and women should wear clothing that covers their shoulders and knees, but there is some leeway.
Pro Tips For Selecting the Right Clothing For Dubai
With these pro tips, you can prepare yourself entirely for the Dubai trip, including a desert safari:
Wear loose clothing made of natural fibers to deal with the sand and heat. Cotton, linen, and rayon are examples of heat-resistant fabrics.
Ladies should avoid wearing short skirts since they are impractical, and meals are frequently eaten on the floor.
In the summer, culottes and loose cotton pants or blouses are preferable over clingy clothes. In the winter, pants or leggings are OK, but it is recommended that you wear a shirt that covers your bottom.
Shorts above the knee are acceptable, but avoid shorts with your bottom seen; aim for at least mid-thigh length.
Sometimes, a sleeveless blouse or tank top is OK but unnecessarily tight, clingy garments that reveal excessive cleavage and leave little to the imagination are not.
Ladies participating in desert sports and dune bashing may want to wear a sports bra or something more structured.
Closed-toe trainers for sand boarding and other desert motorsports, plus an extra pair of flip-flops for different activities and around the desert camp, are recommended.
Something to wrap over your head and face to keep sand and dust off your face — especially when riding a quad bike or camel.
Bring a sweater or cardigan if you're visiting during the coldest months of the year.
FAQs
Does it get cold in the desert in Dubai?
Nighttime temperatures along the shore range from 12 °C (54 °F) to 15 °C (59 °F), although in the desert, they are five °C (41 °F), with nights remaining reasonably calm all year.
What is the best color to wear in the desert?
In the desert, the style of your outfit and the fabric of your clothes are more significant than the color you choose. To summarize, there is no best color to wear in the desert. Most people still like light colors like white and spare clothes, which absorb less heat.
Can you wear flip-flops in Dubai?
Flip-flops and casual sandals are acceptable at hotels, malls, sightseeing, etc. You will notice that many Dubai residents dress up even when heading to the mall.
Why do people wear baggy clothes in the desert?
The inhabitants of the Sahara desert dress in loose-fitting, long, thick robes and head wraps. The loose-fitting garment keeps the sweat from immediately evaporating and allows air to circulate, allowing the body to retain fluids. This clothing help protect desert dwellers from harsh winds and dust storms.
Conclusion
Choosing the proper clothing for your desert safari excursion will ensure your vacation is uninterrupted. Don't forget to bring the necessary items for this event (described above).
Deserts are hot in the Morning and very cold at night, so choose your clothing carefully if you are going on a desert safari.
I recommend that you dress loosely and in light colors for your morning desert safari since loose clothing allows air to move through the body and refresh you in the blinding sunshine of the desert, as explained above.
Remember to have fun!