Free Date Change
No Booking Fees
Instant Confirmation
Daily Instant Confirmation
Duration: 07:00 Hrs
Pick & Drop
Pickup Time: 14:30
Infant Seats Available
Live Tour Guide
English/Arabic Translator
Taking Covid-19 Safety Measures
Printed Voucher Accepted
Overview
The VIP Desert Safari with BBQ Dinner offers luxurious service and exclusive amenities, including doorstep pickup, a quad bike ride, a camel ride, sand boarding, snacks, welcome VIP tea, dates, unlimited soft drinks, and water.
VIP visitors enjoy luxurious tables and unique regional insight at the Arabian Desert camp. Experience the excitement of an off-road desert adventure with this 40-minute VIP desert safari tour.
Highlights
Experience the luxury of a VIP desert safari with pickup and drop-off from your home or hotel.
Enjoy a thrilling 30-minute dune-bashing adventure and try exciting activities like camel riding and sandboarding.
Relax with sheesha smoking and henna painting options, and enjoy snacks, welcome tea, and unlimited drinks.
Dress in Arabic costumes for memorable pictures, and indulge in a VIP BBQ buffet with vegetarian and non-vegetarian options.
The evening's entertainment includes live performances of belly dance, Tanura dance, a fire show, and an Arabic show, all while enjoying VIP table service during dinner.
Full Description
Indulge in the luxurious VIP desert safari experience and make your journey unforgettable with our exclusive Celebrity Desert Safari. Our convenient pickup right from your doorstep saves time and effort so that you can enjoy your off-road desert adventure fully.
Our 40-minute-long VIP desert safari in Dubai deals with a thrilling quad bike ride and access to luxurious tables at the Arabian Desert camp. Both activities provide a unique insight into the region and a chance to experience traditional Arabic culture.
While at the camp, indulge in delicious Arabian delicacies and unlimited refreshments like cold drinks, tea, and coffee. Take advantage of the traditional belly dancing performances that will leave you mesmerized.
The desert is known for its serenity, but our exclusive desert safari activities bring renewed energy to its golden dunes. Experience the thrill of quad biking and ridge surfing, and make your visit to Dubai complete with a luxurious Arabian desert safari. Our knowledgeable and experienced staff will help make your trip truly unforgettable.
What we'll give. What we won't
Pickup and drop off from home or hotel
30-minute dune bashing adventure
Pickup at 14:30, drop off at 22:00
Camel ride and sandboarding activities
Shisha smoking and henna painting options for women
Snacks, welcome tea, and unlimited drinks provided
Arabic costumes available for pictures
VIP BBQ dinner buffet with vegetarian and non-vegetarian options
Live entertainment including two belly dance performances, a Tanura dance, a fire show, and an Arabic show
VIP table service during dinner
Please note that the following activities and amenities are not included in this package but can be included at extra cost:
Horse ride
Alcohol drinks
Falcon photography
Fresh juice shop
Private photography
Dune Buggy
Know Before You Go
Please keep the following in mind before you embark on your desert safari:
The duration of the tour is dependent on city traffic.
Kids under 3 are not allowed in shared dune bashing, but private tours are available with parental supervision.
Due to UAE law, pregnant women, kids under 3, and individuals with heart or back conditions cannot participate in the tour.
Tanoura and Fire shows are allowed in the desert camp during Ramadan, but the Ladies' Khaliji Dance is restricted.
No entertainment is allowed on other religious holidays, and updates are available from government authorities.
Pickup Location
Get ready for the best desert safari Dubai experience with complimentary pickup from your Dubai hotel or cruise terminal. We offer convenient pickup from hotels, the cruise terminal, and even the Holiday Inn Airport hotel for travelers just arriving in the city.
You can also arrange pickup for an additional fee from Bab Al Shams, Al Maha Resort, and Jebel Ali.
Please be ready in the hotel lobby within 45 minutes of your departure. To ensure smooth communication during pickup, please provide your WhatsApp number.
Booking Policy:
The VIP Desert Safari with BBQ ticket includes all mentioned entertainments, a shared transfer, and a BBQ.
Kids under 5 years receive a discounted ticket price
Free date change and no booking fees
Instant confirmation and daily availability
Experience the luxury of the VIP Desert Safari with BBQ, starting at just 250 AED.
Frequently Asked Questions
The answers presented below are based on responses we previously gave to customer questions.
Q: What are the timings of the VIP desert safari with BBQ dinner?
A: The timings of this package are given below:
Pick up Time 14:30
Drop Off Time 21:30
Q: Can I rent a bike for self-driving?
A: Yes! If the guest wishes to rent a bike for self-driving (extra charge), we will stop at our meeting point in Lahbab for 30 minutes.
Q: Is there any particular thing in this package?
A: Yes! You will get a chance of these things:
A photo stop at high dunes after an adventurous drive
Stop for refreshment & enjoy beach boarding at high stacks
Tea/drinks are traditionally served at camp
Veg & non-Veg Buffet Dinner with Live BBQ
Stage lighting and sound throughout the camp
Live Fire Show
Arabic Sweets & Fresh Fruits, Dates
Sunset scene with camel ride
Henna Painting
Local Arabic dress photography
Soft Drinks (Coke, Sprite) Water, Tea
Q: Which desert safari is better, the Evening Desert Safari or the VIP Desert Safari?
A: A Desert Safari in the evening is the cheapest, but food and other items will be in high demand. It is more expensive for the VIP Desert Safari, but you will have a separate table for your family and friends and a waiter/waitress to serve you.
Q: Is horse riding included in this package?
A: Sorry! We don't provide a horse riding facility in VIP desert safari.
Q: Is falcon photography included in this package?
A: Sorry! We don't provide falcon photography in VIP desert safari.
Customer Reviews
A Memorable Safari Experience with Professional and Entertaining Tour Guide
Prayas Gyawali
May 11, 2023
My encounter was truly remarkable and highly enjoyable. It will undoubtedly remain a cherished memory for the rest of my life. I express my heartfelt gratitude to Majid, who is an exceptional and entertaining tour guide. I eagerly look forward to joining him once more on a safari.
Memorable Desert Safari Experience in Dubai with an Exceptional Guide
imane chouihab
May 11, 2023
I strongly suggest trying the desert safari in Dubai as it was an excellent experience from start to finish. The dune bashing was incredibly enjoyable, and our guide Majid was exceptional. He was kind, ensured that we were always having fun, and he was also skilled at taking stunning pictures. A big thanks to him for making our trip memorable.
Exceptional Guide for Desert Safari in Dubai: Mr. Majid
Support Zewar
May 11, 2023
During our desert safari trip in Dubai, Mr. Majid proved to be an exceptional guide. He made my sister and I feel completely safe throughout the journey, and even captured many innovative pictures for us. I highly recommend booking him as a guide for anyone traveling to Dubai for a desert safari experience.
Unforgettable Desert Safari Experience with Desert Leap Safari
Mohd Essa Khan
May 11, 2023
Thank you Desert Leap Safari for an amazing trip! The price of the Best Desert Safari Dubai Tour was reasonable and included activities such as dune bashing at the Red Dunes, camel ride, and sandboarding. The quad bike and buggy ride were particularly enjoyable. Overall, it was a unique and memorable experience.
Unforgettable Desert Safari Experience with DESERT SAFARIS DUBAI and Mr. Majid
Swarnjot kaur
May 11, 2023
Choosing DESERT SAFARIS DUBAI for our desert safari was the best decision we made. Our guide, Mr. Majid, was exceptional in his job and added to the fun of our journey to the desert. His creative photography skills resulted in many amazing pictures for us. As a group of six, we were impressed with his service of providing us with snacks and drinks directly on our table, while others had to wait in queues. We are extremely pleased with our experience and grateful for choosing DESERT SAFARIS DUBAI.
Recommendation for Mansoor's Excellent Safari Driving and Photography Skills.
Here's a possible rewrite: "Mansoor's driving skills are exceptional, and he adds an extra layer of enjoyment to safari trips by taking amazing photos and making the experience even more fun. I highly recommend him.
Memorable Desert Safari Experience with an Exceptional Guide
I have been on desert safaris before, but this was one of the best experiences I have ever had. Our guide, Mr. Majid, was incredibly kind and enjoyable to be around. The entire family loved him for his generosity, and we were delighted with his service and support throughout the safari.
Exceptional Corporate Group Booking Experience for 70 People.
Michaela Marie Reilly
May 11, 2023
We had a group reservation for 70 people with our company, and I must say that the level of accommodation provided was exceptional. We had a blast during our time there and opted for the VIP package, which included excellent food that surpassed the quality of other camps I have visited in the past. We are truly grateful for such a fantastic experience, and thank you for making it possible.
Exceptional Experience with Desert Safari Dubai
Aysegul Ozgur Ciftcioglu
May 11, 2023
Thanks to Desert Safari Dubai, we had an exceptional experience, despite booking last minute on a Sunday evening and requesting a short tour. The company was incredibly accommodating and fulfilled all of our desires. Majid, our guide, was extremely pleasant and ensured our children had a fun and unforgettable day, even capturing the best photos. Furthermore, the cost was reasonable and significantly better than the hotel's offer. We highly recommend this company 👍🏼.
Appreciation for Majid's Exceptional Service in the Desert
michelle jones
May 11, 2023
Majid, I appreciate the unforgettable and enjoyable experience that you provided us in the desert. Your dedication to ensuring that we had a fantastic time did not go unnoticed. I give Majid a rating of 5 stars.
Exceptional Service from Chauffeur Majid on our Dune Adventure
Our chauffeur, Majid, was exceptional. He arrived promptly and went above and beyond to make sure our dune adventure was unforgettable. Majid even took the initiative to capture some great pictures of us while we were enjoying the quad bikes. Thank you, Majid, for taking such good care of us! We will definitely return.
Thrilling Desert Tour with Exceptional Service in Dubai
Ghost Nashion
May 8, 2023
We had an amazing experience on the desert tour! The sand dunes provided an exhilarating adventure and Mansoor's exceptional driving skills made the experience even better. We thoroughly enjoyed the various shows in the desert and would highly recommend this Desert Safari Dubai service to anyone seeking an unforgettable desert adventure.
Thrilling Desert Adventure in Dubai with Skilled Driver and Fantastic Camp Experience
Kathryn Foster
May 8, 2023
Majid, our exceptionally skilled driver, was a true delight! We thoroughly enjoyed our day in the desert, where we had a thrilling experience of dune bashing and relished everything that Dubai had to offer. The camp was fantastic, and we were impressed with the quality of the shows and food. We highly recommend this experience to our friends and family!
An Incredible Desert Experience with Professional Service and Delicious Food
I had an amazing experience! I highly recommend it. The driver was very professional, the car was nice, and the service was great. Not only was the trip to the desert itself enjoyable, but I also appreciated the program and food at the camp.
Fun Dune Driving Experience with Great Host Tufail
We had an amazing time dune driving, and Tufail was an excellent host.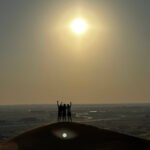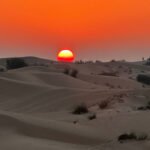 Safari Tour Experience with Family
Sabine Haddad
May 8, 2023
I reserved a Safari tour for my family, and they enjoyed it immensely. Although the Camel Ride and Sand Surfing were somewhat underwhelming due to the surfs not sliding on the sand and the dinner's poorly cooked food, my family still had a great time! The Dune Bashing was fantastic, and our Safari Guide, Mr. Majid, was exceptional! He was highly professional, punctual, an excellent driver, and extremely hospitable and attentive throughout the trip. I would recommend this tour with the caveat that one should have appropriate expectations.
Grateful for an Unforgettable Desert Adventure with Mr. Majid
Senthil K Rajan
May 8, 2023
I would like to express my gratitude for the unforgettable experience we had. Our dune bashing adventure with Mr. Majid was absolutely amazing; his driving skills left us thrilled and thoroughly entertained. During our overnight stay in the tent, he remained at the campsite with us. The following morning, at 4 AM, he took us for a breathtaking Hot Air Balloon Ride experience. Throughout the entire trip, he was incredibly patient, helpful, and cooperative, and he ensured that we were comfortable and enjoying ourselves until he safely returned us in the morning. Once again, thank you so much for everything.
Unforgettable Desert Adventure with Excellent Service from Ali
We had a fantastic time exploring the beautiful dunes with the assistance of Ali, our responsive and helpful organizer. His driving skills were impressive, and he provided us with some exhilarating moments that left us buzzing with adrenaline. As someone who also drives in the desert, I truly appreciated his expertise behind the wheel. From the moment he picked us up at our hotel, everything was well-organized and enjoyable. We were able to capture some wonderful memories with the falcons, shop for souvenirs, and even enjoy a refreshing drink. My boys were thrilled to experience the thrill of Quad biking and surfing the dunes on an entirely new level. Throughout our time there, Ali was always available to assist us with anything we needed. Overall, his service and driving were exceptional, and we cannot thank him enough for the incredible experience.
Unforgettable Desert Adventure with Excellent Guide and Organization
Our experience was truly amazing, and my family and I enjoyed every moment of the journey. Our guide, Imran, was humble, soft-spoken, and provided us with all the necessary information. Driving through the desert was a unique and incredible experience, and everything that was promised to us was delivered. The dune bashing was fantastic, the camp was not over-crowded, and everything was properly organized. The food served was also good, and the entertainment was great. I highly recommend this trip for anyone looking for an unforgettable adventure.
Highly Recommended: Mansoor, a Skilled Driver and Fun-adder on Safari Excursions
Mansoor is an exceptional driver who adds an element of excitement to safaris with his exceptional skills in photography and his ability to make trips enjoyable. I highly recommend him.
Unforgettable Desert Adventure with Jawad as Your Dune Bashing Driver
I highly recommend this incredible experience, particularly if you have the pleasure of having Jawad as your Dune Bashing driver. The package includes transportation to and from your location, as well as activities such as Quad biking, Dune Bashing, a picturesque spot for taking photos, Camel Rides, Dinner, and Entertainment performances. It is truly an unforgettable adventure that I highly recommend!
Recommendation for Jawad Bhai's Excellent Driving Services
I had a delightful experience with Jawad bhai as my driver. The ride went smoothly and his driving skills were excellent. I highly recommend him.
Fantastic Experience with Jawas: Quad Bikes and Desert Drive
Slawomir Ziec
May 4, 2023
Our experience with Jawas was fantastic! He was incredibly kind, helpful, and open, and we were able to learn so much about the country and its culture during our time with him. We highly recommend the quad bikes and desert drive -- they were unforgettable! 👌 Thank you so much, Slawek & Emilia.
Unforgettable Dune Ride Thanks to Jawad's Expert Driving
Clémence Barbarisi
May 4, 2023
Jawad did an excellent job of adjusting his driving to make sure my mother enjoyed the dune ride, despite her discomfort in the car. We took a mandatory break to capture the stunning view of the desert. Thank you so much, Jawad, for making this trip unforgettable!
Thrilling Desert Adventure with Skilled Driver Farhan
Maura Gribaudo
May 4, 2023
We had an incredibly enjoyable time in the desert, thanks to our skilled driver Farhan who navigated the dunes with ease. The entire experience was flawless, and we highly recommend it to anyone seeking a fun and tranquil day in the desert. Farhan's professionalism and pleasant demeanor only added to the overall enjoyment of our excursion.
Unforgettable Sand Dunes Drifting Experience with Amazing Guide in Dubai
Anowar Joynal
May 4, 2023
I had an unforgettable experience with a friendly and welcoming travel guide during my trip. The sand dunes drifting was definitely the highlight, and my guide, Majid, was exceptional at it. He drove the car with such skill that it felt like we were gliding on water. I highly recommend this experience to anyone visiting Dubai, and would rate it a perfect 10 out of 10.
Exceptional Safari Tour with Professional and Friendly Guide
Olha Skoreyko
May 4, 2023
This was an exceptional experience! The level of organization and professionalism was remarkable. We have booked the safari tour with this company twice and have been thoroughly satisfied both times. Majid, our guide, was extremely amiable and accommodating, and his dune driving skills were truly impressive. I highly recommend this company, especially with Majid as your guide!
Amazing Experience with Dune Bashing
We had an amazing experience with dune bashing, camel riding, sand boarding and dinner at night. Waqas is a great guide. He was super attentive, always present and went above and beyond to make sure guests would have a great time.
An Exciting Desert Adventure with an Informative Guide
I had a great time experiencing the thrill of driving over the desert dunes. Our guide was very knowledgeable and able to answer all of our questions.
Batul Ranapur
May 4, 2023
Wonderful experience...dune bashing was amazing..must visit at once..food was ok ok...