Are you seeking an adrenaline-fueled adventure in the heart of Dubai? Look no further than quad biking. In this article, we will delve into the thrilling world of quad biking in Dubai, exploring its history, significance, top destinations, essential tips, and its emergence as a popular adventure sport. Discover the excitement and beauty of quad biking in the stunning landscapes of Dubai.
Exploring the Quad Biking Experience in Dubai
Quad biking, also known as ATV riding, offers an exhilarating adventure through Dubai's rugged terrains. To ensure a memorable experience, it is crucial to choose the right quad bike that suits your skill level and preferences. Dubai boasts a wide range of quad bikes suitable for beginners and experts alike.
When engaging in this exciting activity, safety should be your top priority. Before hopping onto a quad bike, familiarize yourself with the necessary safety precautions and guidelines. Professional instructors are available to provide comprehensive training and instructions, especially for beginners, ensuring a safe and enjoyable experience. Additionally, donning the appropriate safety gear, including helmets and protective clothing, is essential for your protection.
Top Quad Biking Destinations in Dubai
Desert Safari Adventures
Embark on an unforgettable quad biking tour through Dubai's mesmerizing deserts, where an adrenaline-fueled adventure awaits. Engage in thrilling desert quad biking experiences as you conquer the challenging sand dunes, and immerse yourself in the awe-inspiring beauty of the desert landscape. Prepare to explore the vastness of the desert and be captivated by the breathtaking panoramic views that unfold before your eyes.
Get ready to indulge in an exhilarating sand dune exploration on quad bikes, feeling the rush of adrenaline as you conquer the ever-shifting sands. Traverse the undulating terrain, feeling the power of your quad bike beneath you as you navigate through the desert's mesmerizing contours. Discover the serenity of the desert and let its magnificence envelop you as you embark on this unforgettable quad biking experience.
Hatta Mountain Quad Biking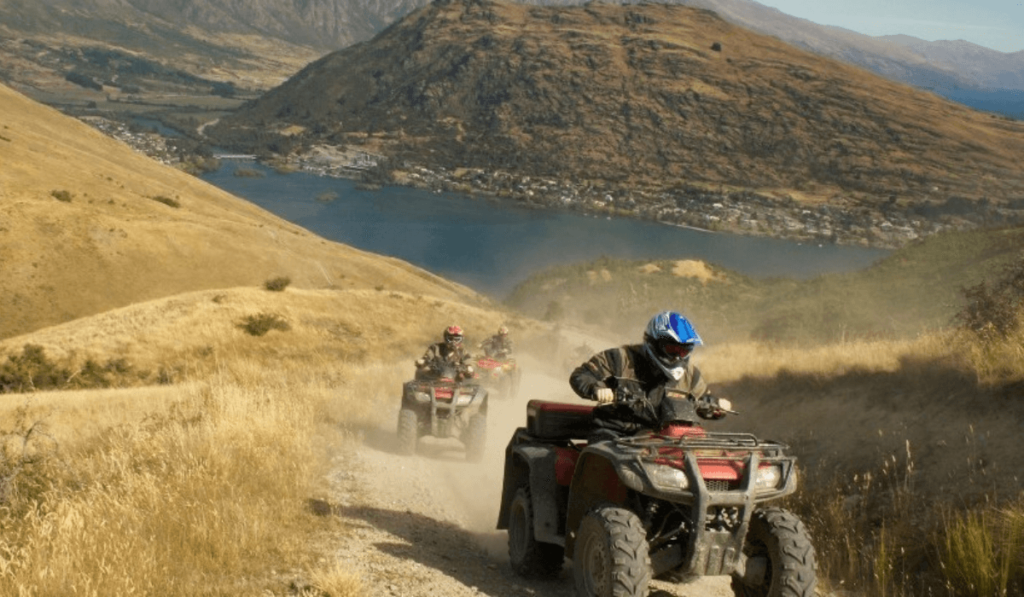 Escape the sandy dunes and venture into the Hatta Mountains, an ideal destination for a unique quad biking experience. Conquer thrilling off-road quad biking adventures in the challenging mountainous terrain, where breathtaking views of the surrounding valleys await you at every turn. Traverse scenic quad biking trails that wind through rocky paths and rugged landscapes, offering a true feast for the senses.
Immerse yourself in the awe-inspiring natural beauty of the Hatta Mountains as you indulge in the adrenaline-inducing excitement of quad biking. Feel the rush as you navigate the twists and turns of the mountain trails, surrounded by the serenity and grandeur of this picturesque location. Hatta Mountain quad biking is an adventure like no other, where nature's magnificence blends seamlessly with the thrill of riding.
Quad Biking in Dubai Parks
For a family-friendly quad biking experience, Dubai's parks offer a perfect setting. Enjoy quad biking attractions within the city's parks, suitable for all ages. These leisurely quad biking experiences provide a balance of adventure and relaxation, allowing families to enjoy the thrill of quad biking in a safe and controlled environment.
Essential Quad Biking Tips and Techniques
To fully appreciate the quad biking experience, mastering the basic riding skills is essential. Understanding the techniques required to handle different terrains and obstacles will enhance your riding abilities. Learn and implement proper riding techniques, such as leaning into turns and controlling speed, to ensure better control and stability on your quad bike. Regular maintenance and care for your quad bike will optimize its performance and longevity, allowing for a seamless adventure.
Quad Biking as a Thrilling Adventure Sport
Quad biking in Dubai has become a sought-after adventure sport, offering opportunities for competitive events and competitions. Join quad biking clubs and communities in Dubai to connect with fellow enthusiasts, share experiences, and participate in thrilling competitions. Apart from the excitement it offers, quad biking also boasts potential health benefits, including improved cardiovascular fitness, increased muscle strength, and enhanced coordination.
Enhancing Your Quad Biking Experience: Extra Tips for Maximum Thrills
Quad biking in Dubai is an adventure like no other, offering an adrenaline rush and the opportunity to explore stunning landscapes. To make the most out of your quad biking experience, here are some additional tips to take your adventure to the next level:
Choose the Right Time
Opt for early morning or late afternoon quad biking sessions. The temperatures during these times are milder, allowing for a more comfortable ride. Plus, you'll have the advantage of witnessing breathtaking sunrises or sunsets as you conquer the terrains.
Capture the Memories
Bring along a camera or a GoPro to capture the exhilarating moments during your quad biking journey. Dubai's landscapes provide the perfect backdrop for stunning photos and videos that you can cherish for a lifetime.
Dress Appropriately
Wear comfortable clothing that allows for ease of movement. Opt for lightweight and breathable fabrics to keep cool in the desert heat. Don't forget to wear closed-toe shoes for added protection.
Follow the Guide
Listen carefully to the instructions given by your quad biking guide or instructor. They are experienced professionals who can provide valuable tips on navigating the terrains and ensuring your safety. Following their guidance will enhance your overall experience.
Embrace the Thrills
Quad biking is an adventure sport, so don't be afraid to push your limits a little. Challenge yourself to tackle more difficult terrains and obstacles. The adrenaline rush you'll experience will make your quad biking journey even more memorable.
Unconventional Adventures in Dubai's Off-Road Wonderland
Dune Buggy Adventure: Similar to quad biking, dune buggy adventure offers an opportunity to traverse the vast desert terrain aboard a robust and steady off-road machine. With their capacity to accommodate several passengers, these vehicles become an excellent choice for families or groups of friends seeking an exhilarating experience.
Unforgettable Desert Adventure: Embark on a thrilling 4×4 desert expedition, immersing yourself in the majestic dunes and authentic Bedouin traditions. This captivating journey is meticulously guided and promises an array of exhilarating activities, such as conquering the sand dunes with heart-pounding dune bashing, embracing the tranquility of a camel ride, gliding down sandy slopes with the thrilling sport of sandboarding, and culminating in a delectable BBQ dinner amidst a mesmerizing desert camp ambiance.
Experience the Dubai Desert with Fat Bike Tours: Embrace the adventure of exploring the rugged desert terrain on our specially crafted fat bikes. Designed with wide tires and sturdy frames, these bikes are built to conquer any challenge. Join our guided fat bike tours for an eco-friendly and invigorating journey through the mesmerizing Dubai desert.
Elevate your Desert Experience: Soar above the breathtaking desert terrain with a remarkable hot air balloon adventure. Immerse yourself in the tranquility and enchantment of this extraordinary journey, where you'll be treated to unrivaled panoramas of the majestic sand dunes, wildlife in their natural habitat, and the awe-inspiring mountains that embrace the landscape.
When embarking on your off-road adventure in Dubai's captivating desert terrain, it's crucial to prioritize safety, honor the local culture and environment, and, above all, revel in the joy of exploration. Keep in mind that these principles apply regardless of the specific excursion you select.
Conclusion
Quad biking in Dubai provides an ultimate adventure experience, allowing you to explore the diverse landscapes of this magnificent city. Whether you choose the captivating desert safari adventures, the scenic Hatta Mountain trails, or the family-friendly quad biking experiences in Dubai's parks, each journey promises an unforgettable experience. Embrace the thrill, master the techniques, and immerse yourself in the quad biking culture that Dubai has to offer. Get ready to rev your engines and embark on an adrenaline-fueled quad biking adventure in Dubai's stunning landscapes.
FAQs
What is the minimum age limit for quad biking in Dubai?
The age restrictions for quad biking in Dubai may differ among rental services, but typically, participants need to be at least 16 years old to ride. However, it's important to note that specific companies might require riders under 18 years old to obtain parental consent before engaging in quad biking activities. It is advisable to check with the rental service beforehand to ensure compliance with their age requirements and any necessary consent procedures.
Do I require a driving license to rent a quad bike in Dubai?
In Dubai, having a driving license is not mandatory for quad biking. Nevertheless, some rental services may require a valid identification document to confirm your age and identity before renting you a quad bike.
Are beginners able to enjoy quad biking in Dubai?
Yes, Are beginners able to enjoy quad biking in Dubai. Many rental services offer quad bikes suitable for novice riders and provide safety instructions before you start your adventure.
What is the cost of renting a quad bike in Dubai?
The rates for renting quad bikes in Dubai may differ based on several factors, such as the quad bike type, duration of rental, and the inclusion of additional services like guided tours. Generally, the prices for renting a quad bike range from AED 200 to AED 500 per hour.
Is Quad Biking in Dubai Safe During the Summer Months?
Summer quad biking in Dubai can be challenging due to the scorching heat. Stay hydrated, wear sunscreen, take breaks in shaded areas. Consider cooler morning/evening hours or winter months.