If you have only completed the first quarter of your Dubai vacation and are on a limited budget and looking for top things to do in Dubai for free, don't panic. I'll explain in detail in this article, so keep reading.
Dubai is a fascinating location and welcomes visitors of all tastes to visit and take in the splendor. There is a tonne of charming locations in this city that are open to the public for free. Just make sure you have the spirit of exploration to visit these destinations.
Although Dubai offers some of the most expensive activities, there are also others that are entirely or partially free. So that you can have a fantastic trip, let's talk about the free activities in Dubai.
Top 6 Things To Do In Dubai For Free
Although there are many things to do in Dubai for free, I've compiled a list of the top free activities, so you can save time and get the most out of your trip.
1. Visit Aquaventure Water park
What if I told you that you could explore the massive and fascinating Aquaventure Water park without paying a penny? Although it seems impossible, it is doable. Well, on your birthday each year, you are entitled to free entrance to the Aqua Adventure amusement park.
They have a rule that states that if your birthday is approaching, it is better for you to register on their website using your actual birthdate. You will receive a free pass on the day of your birthday, which is good for the next six days.
Isn't this a cool birthday present for you? To take your birthday party to the next level, simply visit their website right away. That's why I listed this first because everyone enjoys having fun.
2. Visit Coffee Museum in Dubai
If you enjoy coffee, you're going to find this to be really fascinating. Dubai provides a spot for coffee enthusiasts, but it's also fine if you aren't. This place is known as a coffee museum. There are numerous elements of coffee at this place. The fascinating history of coffee, numerous methods for improving the taste, numerous recipes, and a wide variety of ethnic coffee pots and utensils are all shown in this museum, which will undoubtedly appeal to coffee enthusiasts.
I believe that just reading this is making you excited. Well, after visiting this museum, your excitement will grow even more. You will learn a tonne of things about coffee. There are numerous professional coffee baristas in this museum who will gladly answer any questions you may have about coffee. These baristas possess exceptional knowledge of the history of coffee and brewing methods that no one else has.
3. Alserkal Avenue
Visiting Alserkal Avenue is the third activity you can do without paying anything. It's a free location that many art enthusiasts frequently visit to soothe their souls with magnificent works of art. Alserkal Avenue is a well-known art and culture district in Dubai. The area is home to many art galleries, creative businesses, and restaurants.
If you're looking for a creative and artsy vibe, then Alserkal Avenue is the place for you. While the area is most known for its art scene, there is also a lot of history and culture to be found here. If you're interested in exploring Dubai's art and culture, then be sure to check out Alserkal Avenue. You'll find a variety of art galleries, studios, shops, and restaurants, all set against the backdrop of a unique industrial landscape.
4. Antique Museum
Now let's talk about one of the most beautiful and historic museums in Dubai. If you're looking for a dose of culture on your trip to Dubai, be sure to check out the Antique Museum. This hidden gem is located in the heart of the city and houses a stunning collection of antique objects from all over the world.
The Antique Museum is a great place to learn about the history and cultures of different countries. And even if you're not a history buff, you'll still appreciate the beauty of the museum's collection.
This museum is dedicated to preserving and showcasing the history and culture of the Emirates. It has a wide variety of artifacts on display, ranging from ancient pottery and coins to traditional weapons and jewelry. Furthermore, it has a library with a wealth of information on the Emirates and its people.
For your convenience, this museum is open to the public from 9 am to 5 pm, Saturday to Thursday. Admission is free for all visitors. Be sure to must visit.
5. Gold Souk
The Gold Souk is one of the most iconic markets in Dubai. It's a bustling place where you can find all sorts of gold jewelry, from bracelets and rings to necklaces and earrings. You can also find gold coins and bars, as well as other precious metals. This market is full of vendors selling all sorts of gold jewelry, from rings and necklaces to bracelets and watches.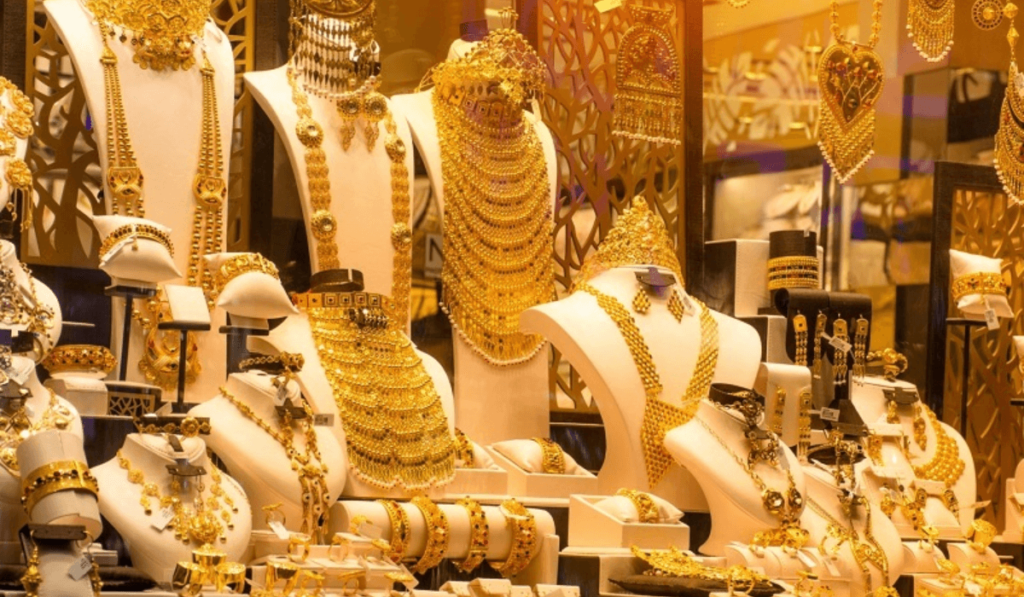 Even though this area is filled with gold, you are welcome to browse the stalls and take in the beauty of the market. Shiny jewelry is everywhere in the stalls, which will definitely draw your attention. If you're a woman or traveling with your family, I'd say this is the best location because it provides free entertainment, good vibes, and—most importantly—attractions.
6. Ride an Abra
Last but not least if you are willing to do a little yet awesome ride then you can ride abra in Dubai. It's the most unique form of transportation in the world. Abra is a traditional boat that has been used in the Gulf region for centuries. It is still used today as a form of transportation in Dubai, and it is a great way to see the city from a different perspective.
The best way to experience an abra ride is to hail one from the shore. You can also take an abra tour, which is a great way to learn about the history and culture of Dubai. If you want to ride an abra, be sure to bring a camera, as it is an experience you will never forget.
Although it's not free, it costs only $0.30 USD and everyone can afford this price, Just hop on this ride and elevate your Dubai trip.
FAQs
Are things in Dubai cheap?
Dubai is not inexpensive, but like elsewhere in the globe, your decisions also have an impact. Of course, the airline and the hotel are the two greatest expenses, followed by a few extracurricular activities and excursions. The cost of transportation and food is comparable to that of Western Europe.
Can I do the desert safari in Dubai for free, or what is the least desert safari package?
No, you cannot take a free desert safari. A desert safari is a costly pastime since it includes so many extras. However, if you want to go on a desert safari for the lowest possible cost, I advise doing a morning desert safari This is the least expensive package offered by Desert Leap Safari and is available to you for 140 AED. You will undoubtedly experience all the activities in this package.
Can I use dollars in Dubai?
Yes, most merchants in Dubai take US currency. To calculate the price, you will need to ask for a translation from their currency, but there is no issue.
What you should avoid in Dubai?
As Dubai is an Islamic country, these things you should avoid doing:
Never shake someone's hand with your left hand.
Never engage in PDA.
Don't Wear Inappropriate Clothing.
Don't curse out loud.
Take No Pictures Without Permission.
Keep some of your medications at home.
During Ramadan, avoid eating in public.
Avoid Making Cruel Hand Motions While Driving.
How much money do you need per day in Dubai city?
On average, travelers to Dubai spend AED729 ($198) every day, so you should budget to spend roughly that much during your trip. Average daily meal costs for previous tourists were AED164 ($45) and AED38 ($10), respectively.
Conclusion
no doubt, Dubai is the best place in the world, offering visitors absolutely everything. No matter how tight your budget is or how little money you actually have, you can still have a great time by doing all the things mentioned above.
Additionally, you must remember a few guidelines before visiting any location, including Dubai City. We must respect their traditions and laws because it is an Islamic nation.
Plan your Dubai activities ahead of time to ensure a great vacation. Have a good holiday!