If you are an extreme adventurer, then you should do a premium red dunes safari. This desert safari is offering a wide range of thrill activities like dune bashing, land cruiser riding in the golden desert of Dubai, and much more.
Don't forget, Dubai deserts are a kind of tourist playland where visitors engage in numerous activities to enhance their vacations. You should once in a lifetime do a desert safari in Dubai.
We offer a Red Dune safari in a wide range of options so that we may satisfy everyone's preferences.
In addition, if you find yourself wanting to learn more about Premium Red Dunes and V.I.P Desert Safari, stay put. Read on because we specifically provide thorough information about this well-known desert trip. You'll find this useful for planning!
A Detailed Difference Between Premium Red Dunes and V.I.P Desert Safari
What Are We Offering In Premium Desert Safari?
We care about our customers. There are a lot of customers who want something different and something new in this desert safari package. So we care about their opinions and giving you these varieties in this premium red Dunes safari
This is our basic yet popular desert safari package. First, that makes you feel free that we provide desert activities with insurance so that you can freely enjoy your holiday.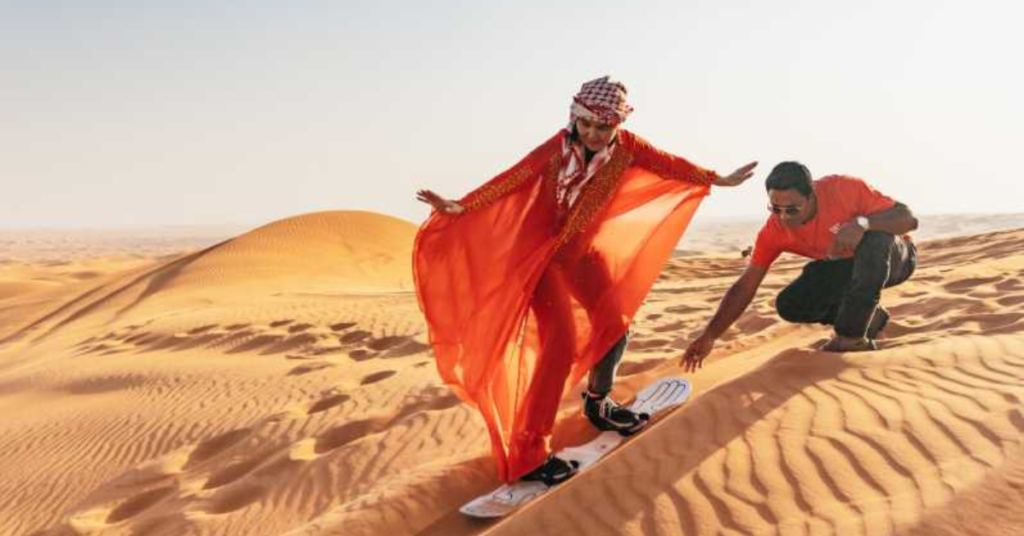 Time & Duration
We offer pick-up and drop-off services, with pickup times ranging from 14:30 to 15:00 and drop-off times ranging from 21:30 to 22:00. As a result, the total length duration of this desert safari package will be 6 hours.
Guided Tour (English Speaking)
If you're concerned that you'll need specific Arabic language skills to interact with people on a desert safari, don't be. We will take you on a guided tour so that you are familiar with all aspects of your desert trip.
Land Cruiser Tour
Before embarking on the exciting desert safari activities, we will take you on a short tour of the Arabian deserts in a luxury Land Cruiser. You will become acquainted with the desert environment and its beauty as a result of this. This will make you feel royal while riding in a luxury vehicle.
For your information, the Land Cruiser is a good luxury large SUV. It has a powerful engine and handles well both on and off the road. It has comfortable and spacious first and second-row seats and numerous standard convenience and safety features.
Dune Bashing, Sand Boarding, And Also Try Camel Ride
This package will begin with 30 minutes of thrilling and enjoyable dune bashing. You will be redirected into an SUV for dune bashing, where our professional driver will demonstrate his pro-driving skills on sandy dunes.
Moreover, the following dune bashing. We will allow you to sandboard. This is one of the excellent desert activities. Sliding on sandy dunes is a popular pastime for people of all ages.
Before proceeding to the decorated and specified camp, you will be given the opportunity to go camel trekking. Camel riding is an activity that will remind you of the time when Arabs were present. This is a must-do activity if you visit any desert in the world.
Enjoy the Sunset
After participating in all these activities, you will witness the sun setting in the desert, a breathtaking sight that reminds you of how beautiful life is. The sunsets in the desert are almost too beautiful to behold. People also enjoy photographing the desert sunset.
Beat Your Hunger
These excellent activities will make you hungry, and we are here to fulfill your hunger. We will take you to our dining room, where you can sit back and relax while enjoying our special dinner. We serve a tasty menu that includes BBQ with non-veg and veg foods so that tourists of all tastes can enjoy the feast.
Furthermore, if you enjoy sheesha smoking, we also offer this service. Don't forget to take advantage of our unlimited soft drink offer!
Henna Hand Painting
You can also participate in henna hand painting. It is a fun activity in which our expert will design your hands with henna. The experts are familiar with many cool and beautiful designs, and it is also a traditional activity in the Arab world. So make sure to give it a shot.
Spice Your Dinner With Shows
While you enjoy your dinner, we will provide you with different and unique shows to watch. These shows include Tanoura dancing, Fire dancing, and Belly Dancing. Our experts will perform these shows and will undoubtedly enhance your dining experience.
What Are We Offering In V.I.P Desert Safari?
Everything and activities in this safari package are the same as described in the premium dunes safari. But keep in mind that VIP desert safari has VIP services. If you enjoy Special deals, you should book this package. The following extras are included in the VIP desert safari:
Traditional Arabic Dinner with Unlimited Serving Open Buffet
In this VIP package, you are provided with a traditional Arabic dinner with a delicate taste. Moreover, you will be served unlimited servings and an open buffet when you eat. This makes you free to eat whatever and how much you want. We will assure you all enjoy our dining services.
Waiter Serving & 5-Star Catering
Usually, in basic packages for getting food items, you will get up from your seat and go to the table where food items are served. This may be uncomfortable for you because we are offering you waiter service. You don't need to make an effort; our kind waiters will help you with what you want.
Moreover, we are giving you a chance at 5-star catering. We believe you will enjoy our finest and well-managed catering.
Bedouin Style Camp
This desert safari package includes a fully decorated and highly traditional camp where you can rest and stay. This is a Bedouin-style camp. These camps are fully decorated with aesthetic looks that exude pure vibes.
Arabic Dress Photography
Furthermore, we will try to enhance your desert safari experience by providing you with traditional Arabic attire. You can wear them and capture those priceless moments. Make yourself fully immersed in the desert culture; we guarantee you will miss these adventures.
Don't Forget To Avail yourself of The Offer!
We have a fantastic offer for you. If you purchase this premium red dunes safari or VIP desert safari, we will include one additional free package. Isn't this awesome? So make sure you take advantage of this offer on time
Conclusion
Premium red dunes safari provides a complete desert safari package. You should book this package if you want to do a comprehensive desert safari. As previously stated, this package includes many exciting activities, such as dune bashing, land cruiser tours, sandboarding, and much more. This is a basic desert safari package, but it is still jam-packed with exciting activities.
During your desert safari, you will feel like a king or queen. As previously stated, you will be treated as VIP with various special activities. These activities include 5-star catering, an unlimited buffet, waiter services, and much more. Keep in mind that a VIP desert safari differs from a Premium safari.
Please visit our website and place your order if you want to book any of these desert safaris. Also, keep an eye out for any discounts we may be offering.
Finally, if you have any questions, don't hesitate to contact us. Please leave a comment below. We will read your comments and attempt to assist you.