Desert safaris are a popular activity on most people's bucket lists. Morning desert safari in Dubai has its fan base in the desert safari. Who doesn't enjoy mornings and the cold breeze when it touches the body? It's pretty fascinating!
Morning desert safari is the most popular among tourists, and it is growing in popularity day by day for a variety of reasons. A fresh, chilly day with a little desert blaze makes the morning desert trip worthwhile.
If you want to learn more about this desert adventure, you should read this post. I am confident that you will gain helpful information from this article.
So, let's look at what you can do on a Best morning desert safari and why it's becoming so popular.
Why is Morning Desert Safari Popular?
These are the reasons why morning desert safari has its fan base:
Best Morning desert safari Dubai, as the name suggests, is usually done in the morning. When the sun rises and softly spreads its rays across the golden sandy dune. This makes the picture highly exciting, and people are eager to watch such scenes.
When you book this safari tour, you gain time management freedom. As we all know, everyone is busy and doesn't have much time. This morning desert safari allows you to enjoy the beauty of the desert in the morning and to be free before your busy day begins.
Suppose you don't like going on trips where the sun is blazing, and the heat is all around you, such as in deserts. Then a Short morning desert safari allows you to engage in a thrilling activity in an atmosphere that is a mix of mild and medium coldness and hotness. This is why Private morning desert safari Dubai s so famous.
Doing a morning desert safari allows you to cross this trip off your list and participate in other activities in Dubai. So you'll have plenty of time, especially traveling with children. You will no longer be concerned about who will look after your children while you are away. This matters when it comes to overnight desert safari.
Finally, you will fully prepare to mingle with Arab culture and learn about their traditions. Other desert safaris include recreational activities such as parties and so forth. This diverts their attention and prevents them from learning about Arabian culture. So, if you enjoy historical sites or cultures, you should book this package.
What do We offer In Morning Desert Safari?
We understand what our customers want. Thus, we provide three types of morning desert safaris to meet their needs. This way, people of all tastes can thoroughly enjoy their trip. This is not to say that the morning desert in safari lacks enjoyable activities. Some additional actions are incorporated into these kinds. These types are as follows: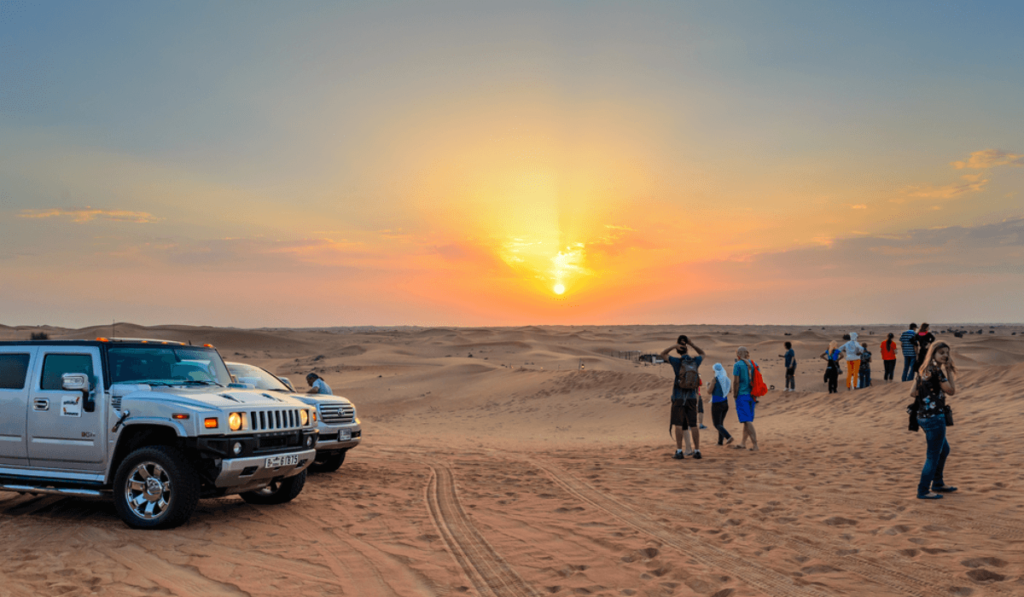 1. Morning Dune Drive
This is the most basic bundle, yet is still jam-packed with fun activities. We will pick you up and drop you off as part of this package. The pick-up time is 7:00 to 8:00 AM, and the drop-off time is noon. As a result, the duration is 4 hours.
Dune Bashing
You will also enjoy an exhilarating dune bashing in the enormous sandy dunes. The ride will be rocky, but you will have an excellent time dune bashing. Our pros will perform the dune bashing, and you will be able to see their professional driving skills.
Camel Riding
You will then be able to go camel riding. One of the most essential things everyone should do in the Arabian desert. Camel riding instantly transports you to the era of the Arabs and their culture. Isn't it incredible?
Sandboarding
Last but not least, this morning's desert safari includes some sandboarding. Sandboarding is popular among both adults and children. We will also provide soft drinks and water to keep you hydrated.
2. Morning Dune Drive & Quad Bike
This is a more specialized package than the previous one. This bundle is mainly intended for daring and willing to take risks.
Get a chance to ride a quad bike.
Quad bike riding is included in this package. Dune bashing is included, but riding a quad bike on sand is fun.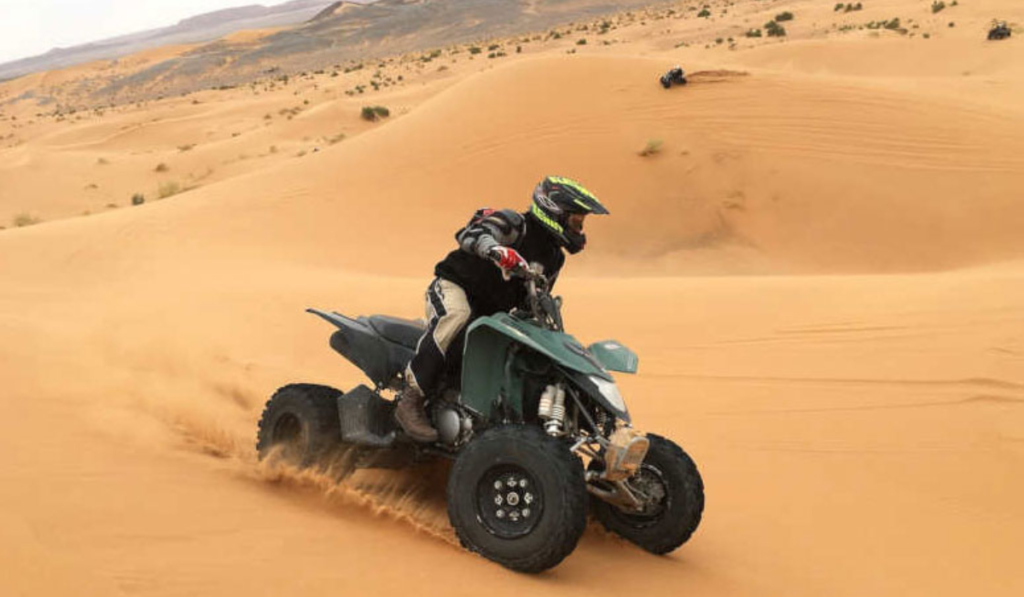 By purchasing this package, you will have the ability to drive a vehicle on your own. In dune bashing, you sit and enjoy the ride; however, in quad bike riding, you will be free to drive the quad bike at your leisure. It is entirely up to you whether you go it at full speed. Remember that quad bike riding lasts 30 minutes, so plan.
Don't worry; the rest of the activities will be outlined in the morning desert safari. The only variable that changes is the timing. You will be picked up at 7:00 AM and dropped off at 11:30 AM.
3. Exclusive Morning Dune Drive
This VIP morning desert safari package includes more entertaining activities than others. The added benefit is that you can thoroughly enjoy several things in the morning and be free before the afternoon begins.
Customized Timings
This package includes several benefits. The first consideration is the timing of this package. Because we offer a Customize Pick-up Time, the timing of this package is not specified. So you don't have to be concerned about managing tasks in your schedule.
Get a chance to drive in an exclusive land cruiser
You will be gone in an Exclusive 4×4 Land Cruiser. This unique vehicle elevates your vacation experience to a whole new level. This package is ideal for people looking to ride in the desert in a unique and exotic car.
Visit the Ghost Town Al Madam
In this package, you will get the opportunity to explore Ghost Town Al Madam, a beautiful desert village. Visitors pay a premium to access this site, but we offer you a fixed fee with this bundle. This settlement has been abandoned, yet visitors like seeing it. This village is also a popular tourist destination.
Finally, as indicated in the morning desert safari, extra activities are incorporated, and the rest remain the same. You will also be able to shoot as many images as you want. This allows you to capture those priceless moments.
Conclusion
Morning desert safaris allow you to manage your time better. This desert tour is ideal for individuals who are pressed for time but want to celebrate their holidays.
Furthermore, if you are looking for a schedule-friendly safari, I strongly advise you to look at this safari package. We also provide a selection of morning desert safaris for you to enjoy based on your preferences.
Remember to have fun in this beautiful light setting of the desert!