The splendor of Dubai's deserts cannot be disputed. Dubai's deserts reflect the authentic and unadulterated history of the region during the presence of Arabs. What if I told you you could observe this beauty from a great height?
That may sound impossible, but we are serving you this opportunity. We offer an incredible hot air balloon ride on these vast, golden deserts. Isn't it amazing that you will engage with the sky and desert from a height?
So, if you want to learn more about this hot air balloon ride in Dubai, stay reading. I'm sure you will undoubtedly learn something useful about it and like reading it.
Why take a Hot Air Balloon Ride In Dubai?
The famous and much-desired hot air balloon is a traveler's must-have. Almost all travelers should experience hot air ballooning at least once in their lifetime. The following justifies what you ought to do:
Dubai is a city that is known for its desert landscape. The vast expanse of sand and the clear sky makes it a great place to go hot air ballooning.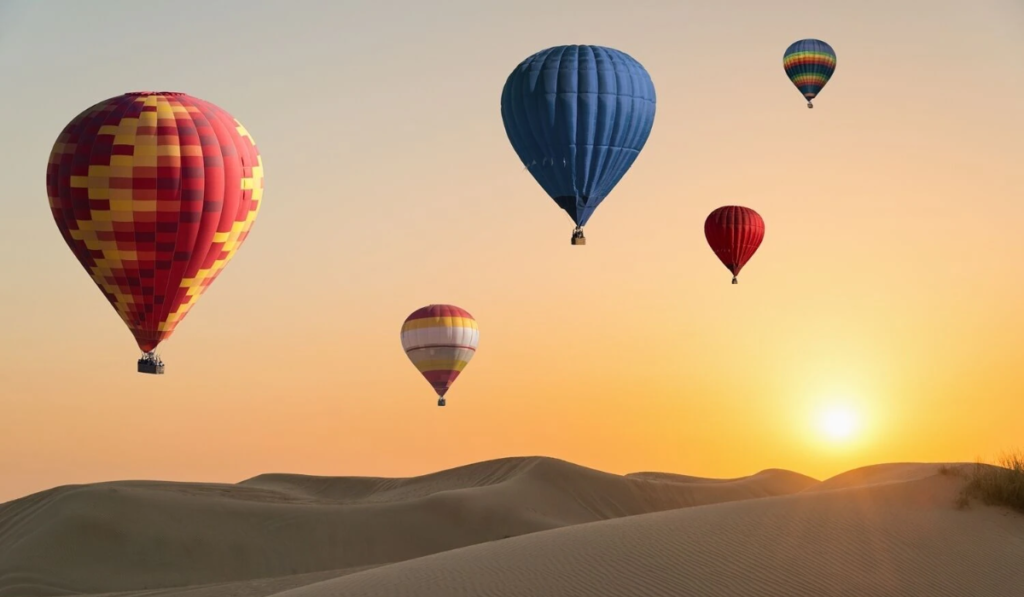 This activity is a great way to experience the beauty of the desert and the city from a different perspective. A hot
air balloon ride in Dubai in Dubai offers an opportunity to see the world from up high and enjoy breathtaking views, which are impossible on foot or by car.
The flight will take you up high in the sky from 2000 to 4000 feet. Here you will enjoy the cloudy sky and the beauty of the desert. You can take in the splendor of the desert and the gloomy atmosphere here. Additionally, if it's a lucky day, you'll get to watch the stunning sunset. Your vacation will be reenacted in this scene.
It gives You a Golden Opportunity To Capture Glance Scenes.
You will have a fantastic opportunity to take beautiful pictures of the captivating view of Dubai's deserts and the sun at its highest altitude while riding in a hot air balloon ride in Dubai. Photographers have a unique opportunity to capture beautiful moments that can be transformed into works of art.
Influencers, members of the media, and celebrities, among others, seek to take images here (in the sky). Therefore, don't waste more time and subscribe to this fantastic journey.
What is the Duration of a Hot Air Balloon Ride?
You can enjoy a 4-hour hot air balloon ride with six other individuals in Dubai. Moreover, children can enjoy this ride, so there's no restriction on bringing children.
Pro Tips For Hot Air Balloon Ride
You should bear in mind these suggestions to enhance your Thanksgiving experience.
It is advised to schedule your trip through a reputable service provider like us since careful planning before starting your hot air balloon trip can enhance your vacation.
Ensure you have a good night's sleep because you will be picked up from your location early in the morning. You'll wake up feeling rested, which is ideal for beginning your vacation.
Don't forget to bring your DSLR or anything else to capture the breathtaking views from the air balloon.
Be careful handling your expensive devices and keep them close to your body. You won't drop those gadgets from above as a result of this.
Please wear comfortable clothes, so climbing in a hot air balloon basket will be easy.
Also, remember to dress warmly because, in addition to being in the morning, you will also be at a height where the temperature is frequently low.
Remember that a hot air balloon flight is unsuitable for pregnant ladies, young children under five years old, who have back or neck problems, have just undergone major surgery, or have recently suffered an arm or leg accident.
FAQs
How scary is a hot air balloon ride?
Hot air ballooning is soothing, amusing, and not at frightful as one might imagine. Flying above the treetops and receiving a bird's eye view of the sun rising and the planet waking up has a remarkably peaceful quality. A hot air balloon ride through the skies is a genuinely spectacular experience.
How should I dress for a hot air balloon ride?
To make it easier to grip, you should wear boots or sneakers. Also, dress loosely so that your body can move freely. Additionally, you can bring a hat and dress in layers according to the weather.
How do you go to the bathroom in a hot air balloon?
On balloons, there are no restrooms available! Make sure to use the bathroom before takeoff because flights can last up to an hour to 4 hours.
Do you wear a parachute in a hot air balloon?
We first check everything to ensure that there are no errors during flying. You don't typically wear a parachute during hot air balloon excursions. If the hot air balloon's fuel has a problem, you might drop from the sky. However, as you fall, the balloon will act as a parachute to ensure you land safely.
What does it feel like to go up in a hot air balloon?
You might be wrong if you think a hot air balloon ride is noisy and uncomfortable. A hot air balloon journey is a serene and calming activity in the desert. Hot air balloon rides are often stress-free, even for those typically scared of heights. Hot air ballooning is a calm and thrilling experience all at once.
Can we sit or stand in a hot air balloon?
During a hot air balloon journey, there are no seats or chairs. Wearing a comfy pair of athletic shoes or flip-flops will be your savior. Your balloon ride should take almost four hours. Nobody wants to stand for that long in uncomfortably tight shoes.
Conclusion
Everybody desires to journey through the air and observe the sights from a great height. The best pastime in this situation is riding in a hot air balloon because it is relaxing and you won't hear strange noises like those made by helicopters or jet planes.
Additionally, if this is your first time owning a hot air balloon, read the pro tips above. If you use those tips, I'm confident you'll have a trouble-free day riding in a hot air balloon.
Lastly, you can visit our website page to learn more about the hot air balloon experience we offer our customers. Make this reservation to have a fantastic vacation!