Are you looking for the best cheap things to do in Dubai to enhance your trip? Well, you are at the right place. Simply keep reading!
You are already aware of Dubai's amazing beauty and how many tourists it draws daily. The explanation is straightforward: there are amazing and beautiful things hidden in Dubai that one must discover.
Burj Khalifa, Dubai Shopping Malls, Dubai's deserts, and many other attractions are all present in Dubai and keep many tourists entertained. However, what if you have a limited budget but still want the best experience? You can't do expensive things, but even on a limited budget, you will be able to participate in many exciting activities.
We've selected the top 10 best cheap things to do in Dubai that will save your vacation and make it more enjoyable in this article. Let's start now.
List of Top 10 Best Cheap Things To Do In Dubai
These things that we've selected aren't based on ranking and are mixed up with free and low-cost things.
1. Take a Glance At Dubai Fountains
The Dubai Fountain is one of the world's most impressive fountains, and it's definitely worth a look if you're in the area. The fountain is located in Burj Khalifa Lake, and it shoots water up to 500 feet in the air. Also, these fountains are illuminated by 6,600 lights. The fountain is also synchronized to music, and it's really something to see.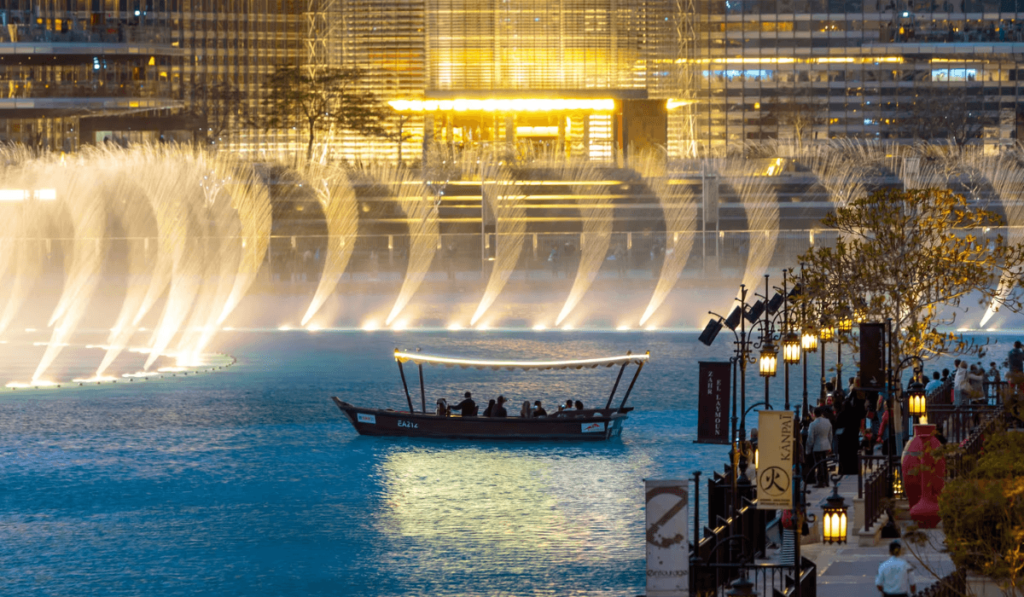 If you want to get a closer look at the fountain, there are several viewing areas around Burj Khalifa Lake. You can also take a ride on the Dubai Fountain Boat, which gives you an up-close look at the fountain as it shoots water into the air. This is a free thing that you can do.
2. Enjoy Dubai Marina's Joys
The Dubai Marina is an artificial canal city in the United Arab Emirates. It is one of the most popular tourist destinations in the country and is known for its luxury hotels, shopping, and nightlife. The Dubai Marina is also home to the world's tallest residential building, the Princess Tower.
This man-made canal city has something for everyone, whether you're looking for luxury shopping, world-class dining, or simply a place to relax by the water. Just visiting this cool place doesn't cost you, but if you want to spice up then you can go bike riding at this place. This will cost you only 20 AED for 1 hour. Bike riding is the best thing to do in Dubai for under 50 AED.
3. Love Lake Dubai At Lake Qudra Area
Having a romantic time pass at Love Lake is another free thing to do in Dubai. This Love Lake is a beautiful spot for a romantic picnic or an afternoon stroll. The lake is surrounded by lovely gardens and there are plenty of benches and tables where you can relax and enjoy the view.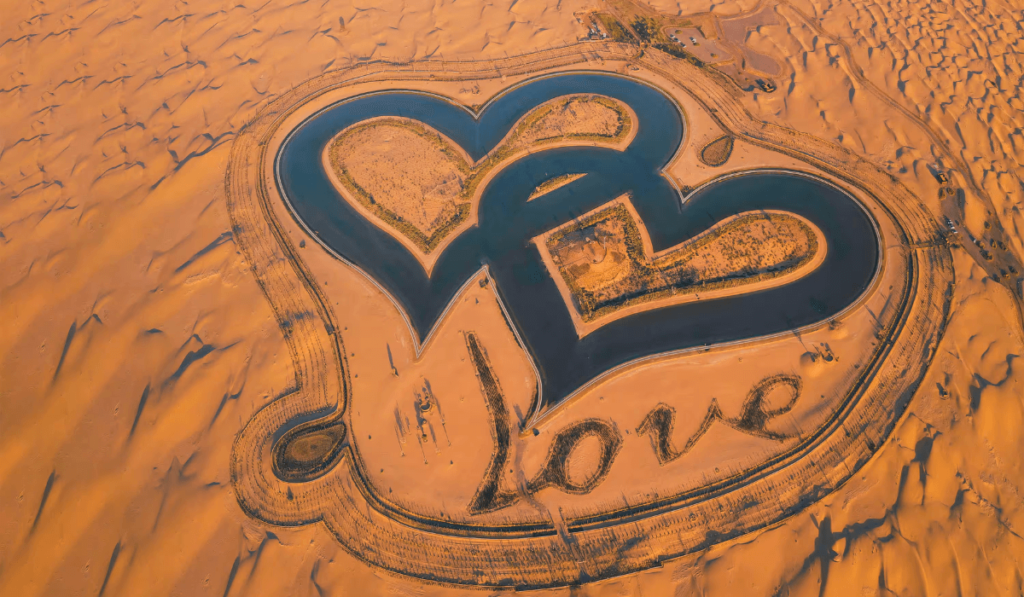 If you're looking for a place to escape the hustle and bustle of the city, Love Lake Dubai is the perfect spot. So pack a picnic lunch, grab your loved one, and head to Lake Qudra for a romantic afternoon by the lake.
4. Dubai Frame
The Dubai Frame is a stunning architectural landmark that offers breathtaking views of the city. Located in the heart of Dubai, the frame is 150 meters high and offers panoramic views of the cityscape. Visitors can take in the sights from the top of the frame, or take a walk through the glass-enclosed bridge that connects the two towers.
With its unique design, the Dubai Frame is quickly becoming one of the most popular tourist attractions in the city. If you're visiting Dubai, be sure to add the Dubai Frame to your list of must-see places!
5. Take Abra Ride
Abra is the perfect solution! They offer rides for just $1 and are available 24/7. Abra is a ride-hailing service that operates in many cities around the world. With Abra, you can get a safe and reliable ride whenever you need one and can experience the wholesome beauty of Dubai.
Also, Abra service allows you to request a ride from a private driver. You can use Abra to get around town or to get to and from the airport. Abra is a safe and convenient way to get where you need to go. This activity will be best if you are looking for cheap things to do in Dubai at night.
6. Morning Desert Safari
Perhaps you're wondering why a morning desert safari is included. This desert safari package, however, is the least expensive one we've ever offered on our website when compared to our other packages. If you are traveling to Dubai with your family and have cheap things to do in Dubai with your family, don't forget to give it a try.
A morning desert safari contains all the exhilarating pursuits a person may desire, including sand boarding, camel riding, and dune bashing. This package is well-known since it may be completed in the morning when the desert offers breathtaking scenery. Additionally, you can take photos while on your tour to immortalize your vacation.
7. Have A Picnic At Al Barsha Pond Park
Al Barsha Pond Park is a great place to have a picnic. It is located in the heart of Al Barsha and is surrounded by lush greenery. The park has a wide range of facilities, including a playground, a jogging track, and a swimming pool. There are also plenty of picnic tables and barbecues, making it the perfect place to enjoy a meal with friends or family.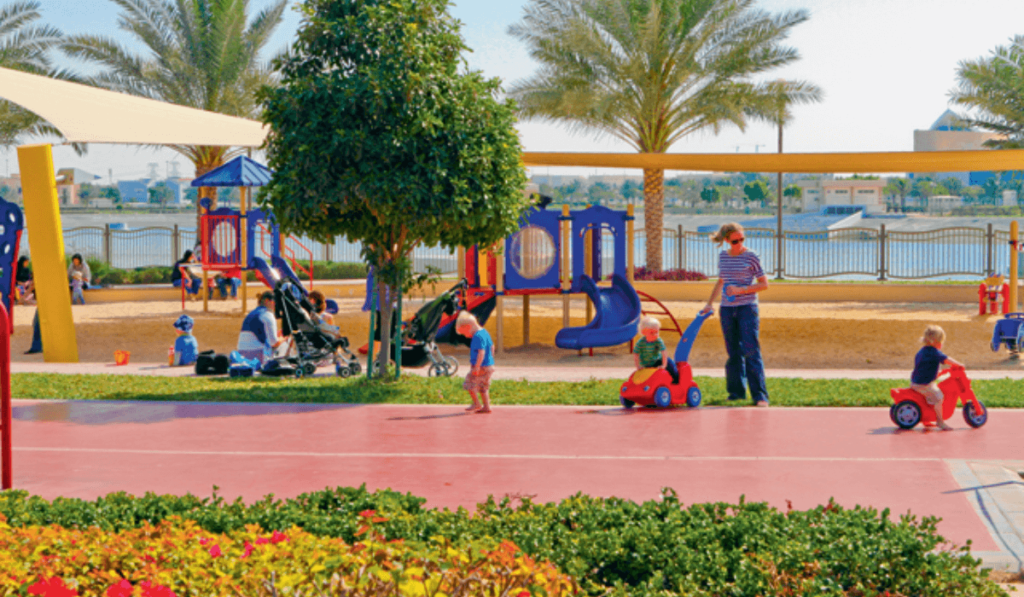 So spice up this visit with a picnic. Yes, this will cost you as you will arrange food items, and once all things are set. You are free to have a fascinating moment in this beautiful park.
8. Amuse with The Beauty OF Jumeirah Mosque
Few mosques in the world can rival the beauty of the Jumeirah Mosque. This stunning piece of architecture is one of the most popular tourist destinations in Dubai, and it's easy to see why. The mosque was built in the late 1970s and is adorned with intricate details and stunning Islamic art. The mosque is also located in a prime spot, right on the edge of Jumeirah Beach.
Keep in mind that there is no ticket price to visit Jumeirah Mosque, but the guided tour can charge you 25 AED per person. If you're ever in Dubai, be sure to add Jumeirah Mosque to your list of must-see sights.
9. Ras Al Khor Wildlife Sanctuary
Ras Al Khor Wildlife Sanctuary is one of the most important wetland habitats in the UAE. The Sanctuary is home to over 20,000 birds from more than 70 different species, making it a significant stopover for migrating birds. The Sanctuary is also home to a variety of other wildlife, including the endangered Arabian Leopard.
The Sanctuary was established in 1985 and covers an area of 6,450 hectares. It is located in the heart of Dubai, just a few minutes away from the busy city center. The Sanctuary is open to the public and offers a variety of educational programs and activities. So why don't you take this as a golden chance to enhance your holidays?
10. Enjoy an Arabic Lunch
If you're looking for a delicious and authentic Arabic lunch in Dubai, you won't be disappointed. There are plenty of great restaurants to choose from, each with its own unique flavor and style. Whether you're in the mood for a hearty meal or something light and healthy, you're sure to find something to your taste.
So what are you waiting for? Grab a group of friends and head to one of Dubai's many Arabic restaurants for a tasty and satisfying lunch.
You can order up to your taste, but don't forget to try the Cold Mezze and Arabic bread, it's a recommended dish from us.
Conclusion
Well, hopefully, this will give you the confidence to visit Dubai on a limited budget. The items I've listed above will undoubtedly cost you money, but they will do so minimally. Go check it out, even though there are some interesting things on the list that are completely free.
Visitors can take advantage of a wonderful offer from Dubai. The offer is that Dubai will still welcome you all, regardless of your budget or desire to go about the city. Isn't this fantastic? Last but not least, if you want to participate in desert safari activities, we are able to offer you packages at a reduced price. To make your trip to Dubai astounding, be sure to check it out.