Tourism is one of the large scales sectors in developing the country's economy as it is one of the vital sources of employment and investment. It is grown in all countries with various features, as Dubai is one of the most prominent tourist places in the world. It beautifies the traditional and rich culture and serves as an international hub. Dubai is one of the vast tourist spots to exploit the attraction and the charm for the people. People prefer to visit Dubai as a holiday trip worldwide. Today, I am here with the top 5 tourist attractions in Dubai.
Dubai is one of the most beautiful places and a paradise for shopping. Dubai is well known for conducting sports and events such as Dubai World Cup, Desert Polo, and Classic Golf tournament. People can also enjoy sightseeing, e.g., monuments, temples, historical buildings, and skyscrapers. Dubai tourism has made up a significant benchmark compared to other countries tourism.
Top 5 Tourist Attractions in Dubai
Tourism exemplifies one of the best sources of income for tourist countries. It is beneficial in raising the value of infrastructure and contemplated a significant improvement in local currency, the economy, and the individual's standard of living. This is what UAE is doing; it exploits all its infrastructure improvement and reconstruction resources to attract tourists.
We all know that Dubai is a dream country because of its outstanding tourism achievements. It provides excellent security and safety and continually innovates and develops to impress visitors. You will not find a place that works daily to invent something new and exciting like the emirates to attract tourists.
1. Dubai Desert Safari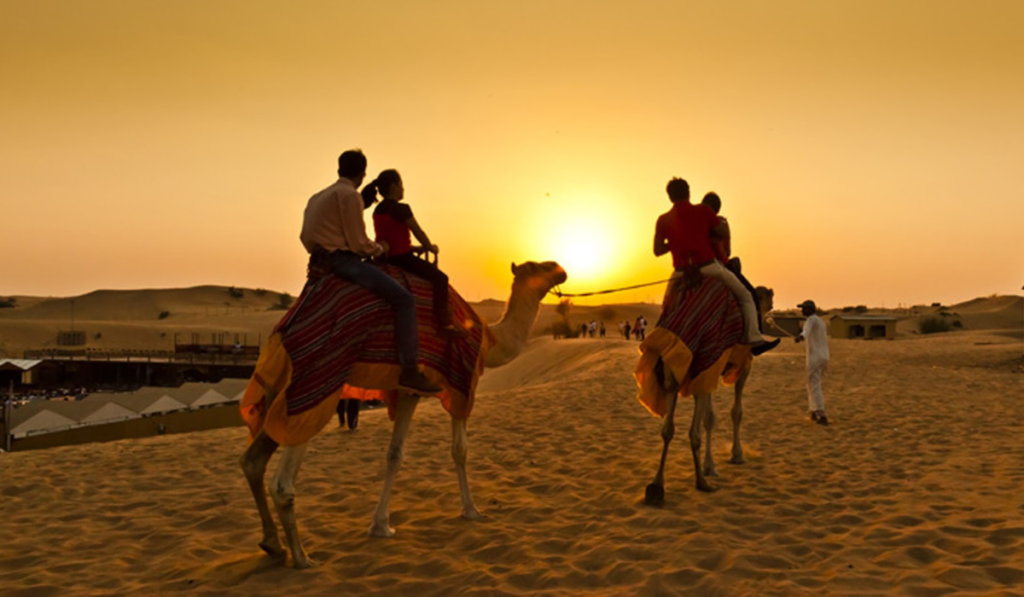 Dubai desert safari is one of the most serene landscapes in Dubai. Dubai desert, along with family and friends, is undeniably a most visited place. This place is enchanted in its form. One can be entertained by the best adventure activities offered whenever people think about the Dubai desert safari; their mindset pictures dune bashing. You were just congested inside the car and floundering through the desert; this adventure activity can be fun.
While dune bashing, the ecosystem of the desert is quite sensitive and may damage the vegetation and wildlife, many other options may find more attractive in the desert that can be enjoyed too with dune bashing. But on the other hand, it may lead to negative results for families. So, it is highly considered to avert the dune-bashing activity, but if you love thrilling adventures, you will love this adventure.
The city presents different Desert Safari choices to effectively partake in the desert, such as quad biking, sand boarding, and camel rides. You can also enjoy desert camping with a delicious Arabian dinner, belly dancers, and other traditional performers.
2. Burj Khalifa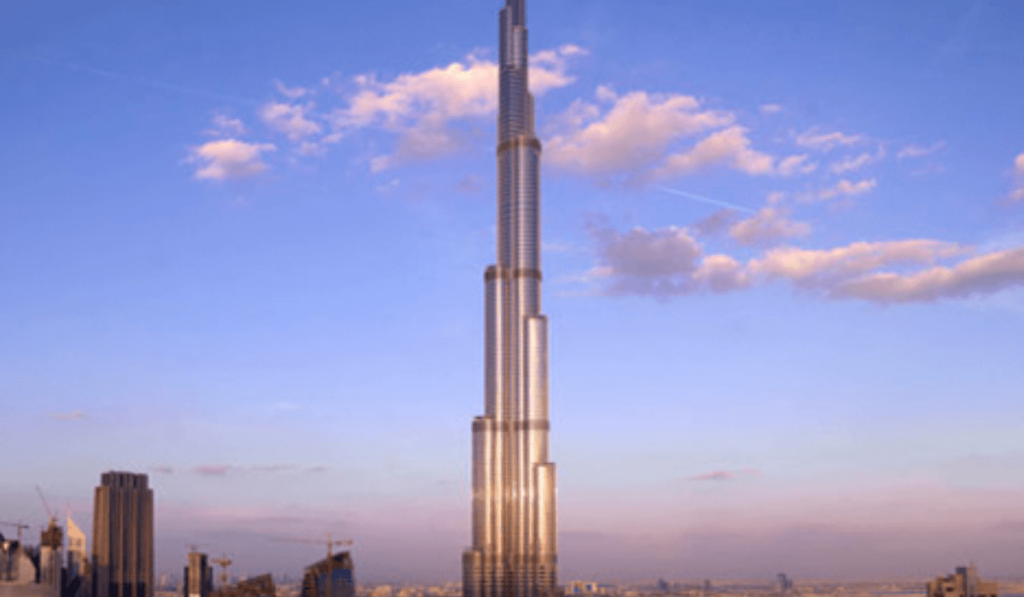 Burj Khalifa is well known to be the world's tallest building. This building generally comprises a solid, lasting material that can withstand all weather conditions. The construction and advancement of Burj Khalifa began in 2004, And in 2009 the outermost part was completed. This building was opened in the year 2010 in the city of Dubai.
The government developed the project's main aim to expand diversification and investment. To formulate this project, the government decided to make Dubai recognized worldwide.
3. The Dubai Mall
The Dubai Mall, also called the home of the Dubai shopping festival, is one of the world's biggest shopping centres, with an area of more than 500,000 square meters. With more than 1200 stores, an enormous walk-through aquarium, an elite ice rink, 14,000 parking spots, and other exciting customer experiences. In 2010, Grazia Magazine voted it the best shopping mall globally.
Dubai Mall is one of the city's main shopping malls, offering a section to the universe of entertainment and amusement. It is home to the well-known Underwater Zoo, a walk-through aquarium with over 300 types of marine creatures. Apart from shopping, the Dubai Ice Rink is one of the most loved activities. It is a family-oriented fascination open to the general population.
The rink also fills in as a multi-reason venue that can be changed into a concert arena or private host functions. Filling in as the entrance to Burj Khalifa, there are limitless shopping and eating choices. Likewise, the shopping mall offers a gaming zone and cinema complex, pressing all the fulfilled activities under one rooftop.
4. Aquaventure Water Park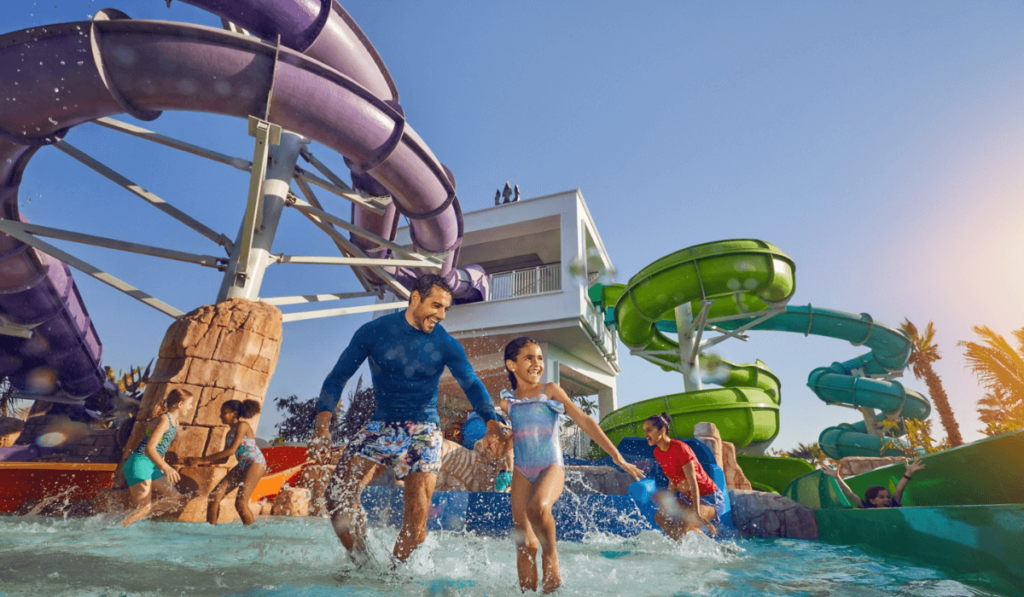 One of Dubai's most significant water parks, Aquaventure, is the Atlantis hotel complex. This astonishing water park offers pools, shoots, flumes, and exciting, thrilling rides. Adrenaline Pumping Tower of Neptune and the similarly invigorating Tower of Poseidon are a portion of the attractive features of the park.
Guests can also relax at the Cabanas, have a pleasant dinner at the different restaurants, and shop for their favourite souvenirs from the stores in the park. Many park rides and attractions have severe height, weight, and well-being limitations.
5. Global Village Dubai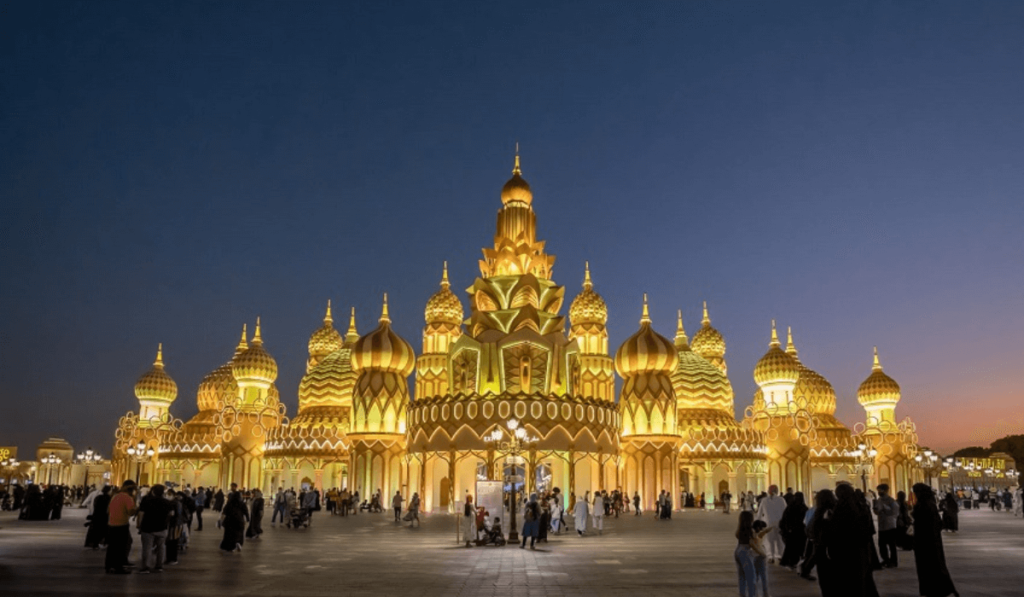 Global Village Dubai is the world's most important tourism, relaxation, and amusement venture in UAE. It is the region's first cultural, diversion, family, and shopping destination. This place consistently gets more than 5 million guests over an area of 17,200,000 sq ft.
The compound has different pavilions that Dubai land oversees each of the city's edges; the event is coordinated throughout the colder time of year season between late November and late February and is essential for the Dubai Shopping Festival. These pavilions address an alternate nation or region by impersonating the country's well-known landmark. It is an ideal spot to get trinkets from around the world alongside authentic global cuisine, invigorating rides, and street performers.
Conclusion
Dubai is where even the most peaceful traveller would have a good, fun time. There are many fascinating and engaging tourist places to visit in these fantastic places in the United Arab Emirates (UAE). Dubai Desert Safari is the top tourist attraction of Dubai, as you can enjoy different thrilling adventures and fulfilling activities there. You can envision how superb your vacation can be by being there. Along these lines, plan a trip to Dubai right away. Try to visit these tourist places in Dubai with your friends and family.