So you're looking for interesting things to do in Dubai and other places to explore? You're at the correct place, then. Just keep on reading, and you will find valuable information.
As is well known, Dubai is home to various locations. If you believe that I visited Dubai entirely after seeing the Burj Khalifa, Dubai Aquarium, shopping centres, and Burj Al Arab, then you are mistaken. There are still many enjoyable places and activities in Dubai for you.
Therefore, you should read this post if you have already completed everything on your bucket list and are looking for more Best Weekend Activities To Do In Dubai. I've mentioned the cool activities that I believe you have never experienced. Let's get straight right into the list.
Top 10 Best Weekend Activities In Dubai
If you visit Dubai, I urge you also to do these activities to make the most of your trip.
1. Enjoy Dolphin Show in Dubai
The Dolphin Show at Dubai Dolphinarium is one of the most popular attractions in the city. Visitors of all ages can watch these amazing creatures perform tricks and acrobatics in the water. The show is a must-see for anyone who is visiting Dubai.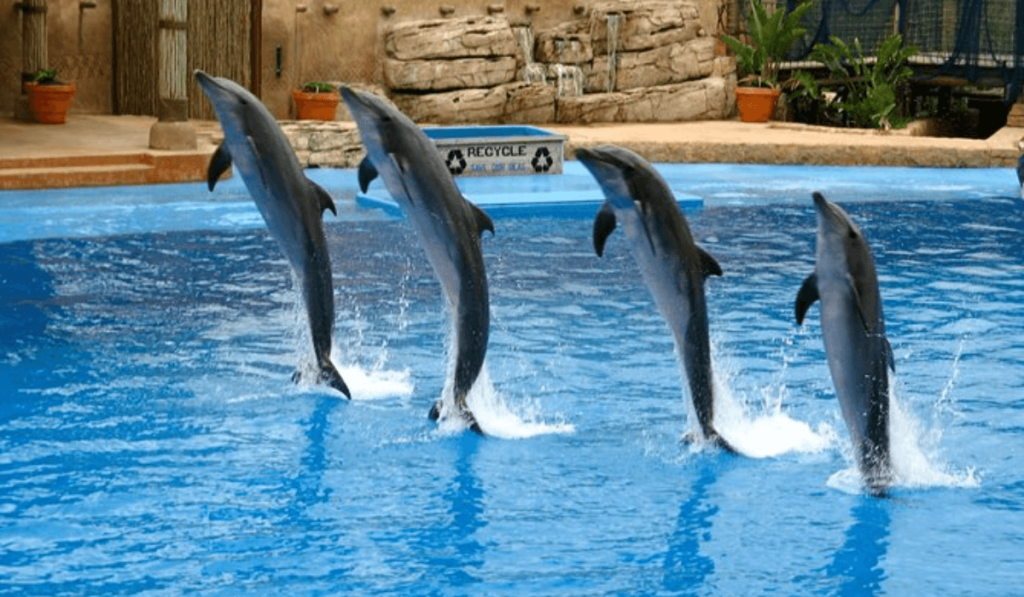 During the show, you'll see the dolphins up close and learn more about these fascinating animals. You'll also have the chance to take pictures and meet the dolphins after the show.
If you're looking for a fun and educational activity in Dubai, check out the Dolphin Show at Dubai Dolphinarium.
2. Cool down at Dubai's only ice bar
Dubai is home to many unique experiences, and one of the coolest (literally!) is the Ice Bar at the Al Maha Desert Resort & Spa. This bar is kept at a bone-chilling -6 degrees Celsius, and everything inside is made of ice, from the walls to the chairs to the glasses.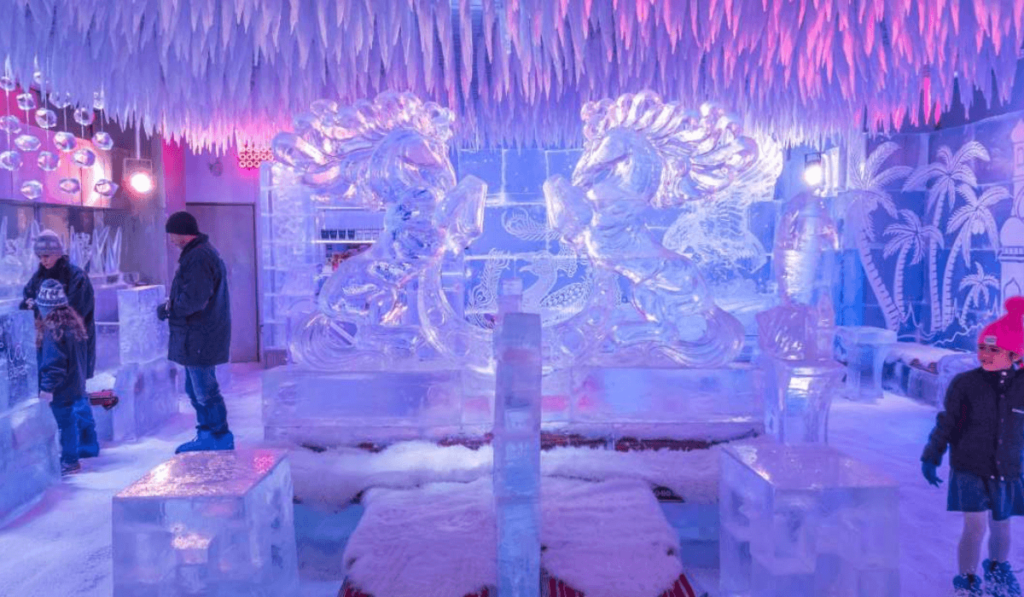 If you're looking to escape the heat of the desert, the Ice Bar is the perfect place to cool down. They have a variety of ice-cold drinks to choose from, and you can even order food to enjoy inside the bar. Just dress warmly, as you'll want to stay in the Ice Bar for as long as possible!
3. Explore The Desert On Quad Bike
The third thing you should do is explore the desert. The historical deserts of Dubai are also well-known. These deserts offer fun excursions known as desert safaris. In this desert, you can engage in various sports like quad biking and dune buggy.
Everybody should experience quad biking in the desert at least once. It is an exhilarating and cool pastime. Check out the quad bike packages we created especially for you so that you may do bike riding even in the desert.
4. Explore The Hatta Village
The Hatta Village is one of the most beautiful places in Dubai. It is located in the Hajar Mountains and is surrounded by stunning scenery. The village is home to several traditional buildings and several modern amenities. The village is also home to several cultural events and festivals.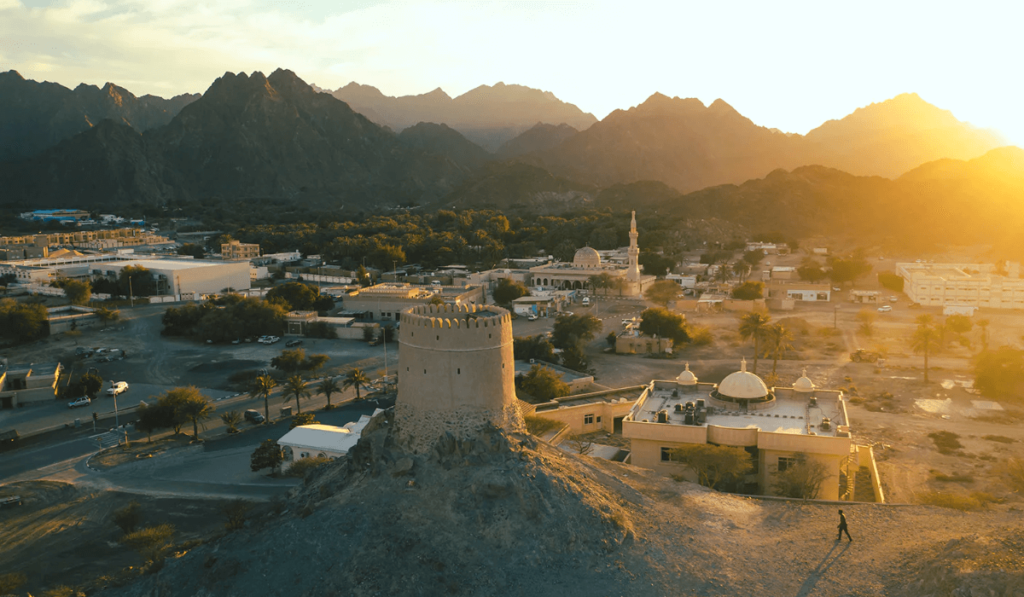 The village has a rich history and has several interesting attractions, including the Hatta Fort and the Hatta Heritage Village. There are also several great hiking and camping spots in the area, so it's the perfect place to get away from the hustle and bustle of the city.
5. IFly Dubai
iFly Dubai is an indoor skydiving centre that offers adventurous travellers a unique and thrilling experience. Located in the Dubai Mall, iFly Dubai is the tallest indoor skydiving facility in the world, with a column height of 32 meters. iFly Dubai offers three different skydiving experiences, each tailored to suit a different level of a thrill seeker.
Whether you're looking for a heart-pounding adrenaline rush or a more gentle and scenic experience, iFly Dubai has something for you. So come down and leap into the unknown – you might surprise yourself with your capabilities.
6. Ferrari World Abu Dhabi
Ferrari World Abu Dhabi is the world's largest indoor theme park. The park is home to various rides and attractions, including the world's fastest roller coaster. Ferrari World is also home to various restaurants, cafés, and shops.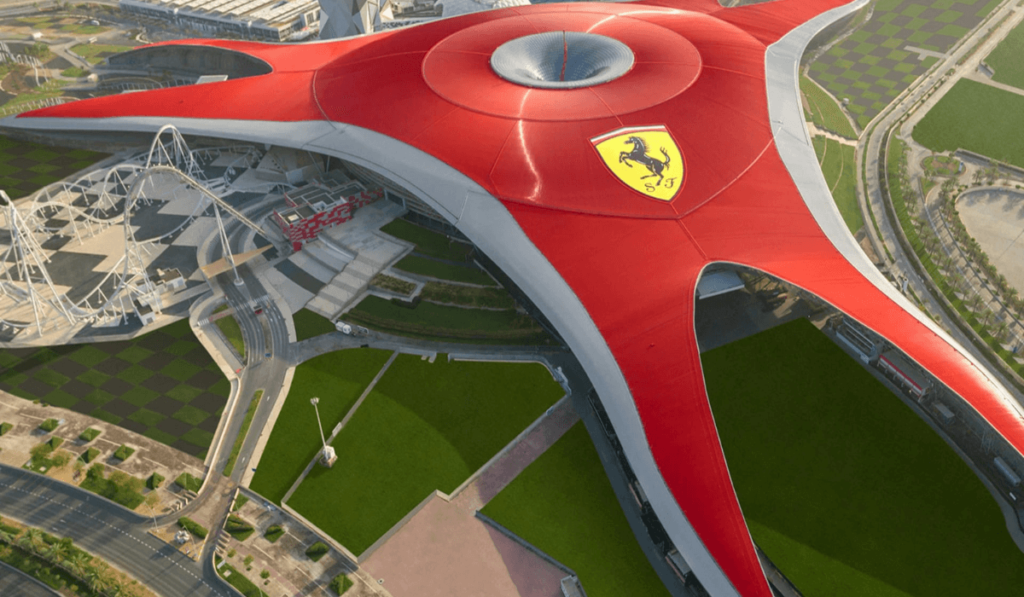 The park is on Yas Island, just off the coast of Abu Dhabi. Yas Island is also home to many other attractions, including Yas Water world and Warner Bros. World Abu Dhabi. So if you are interested in theme parks and especially have kids, check this place.
7. Dhow Cruise Dubai Marina
The Dhow Cruise Dubai Marina is a must-do activity when visiting Dubai. This traditional Arabic vessel takes you on a leisurely cruise around the Dubai Marina, providing stunning cityscape views. The Dhow Cruise, Dubai Marina, is a great way to relax and take in the sights of this beautiful city. These days, they've transformed restaurants into luxurious floating restaurants and offer a truly unique way to experience Dubai.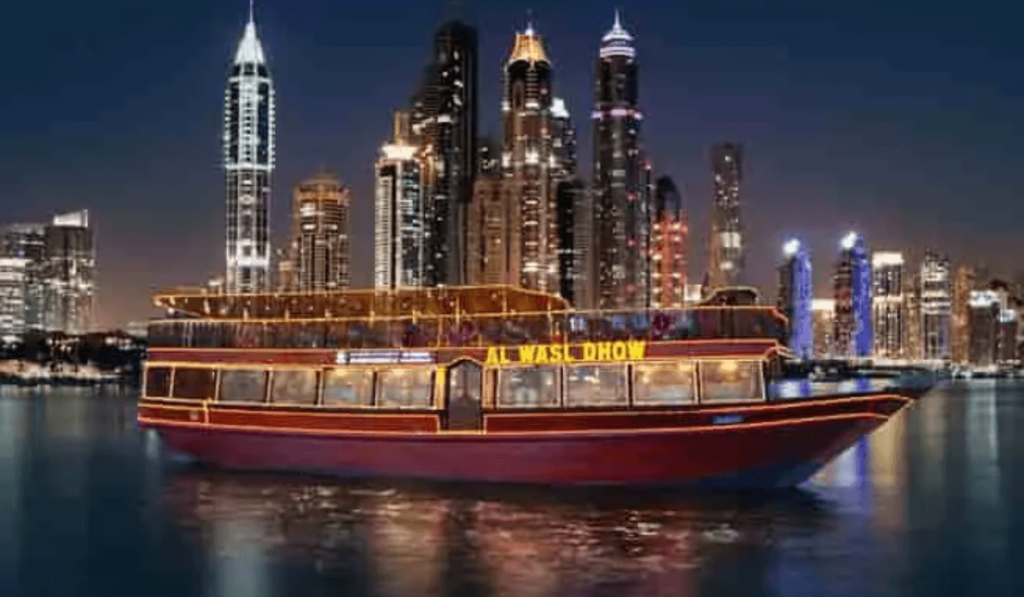 If you're looking for a truly unique experience, a dhow cruise is a perfect way to see Dubai. You'll enjoy stunning views of the city skyline as you sail down the Dubai Marina. And, of course, you'll enjoy a delicious meal on board as you take in the sights. So whether you're a local or a tourist, a dhow cruise is an experience you won't want to miss.
8. Hot Air Balloon in Dubai
Once more, I'll take you to a desert environment where you may enjoy a tranquil yet exhilarating pastime called hot air ballooning desert.
Have you ever wanted to float in a hot air balloon above a huge desert? If so, you're in luck! Dubai is home to some best hot-air ballooning in the world.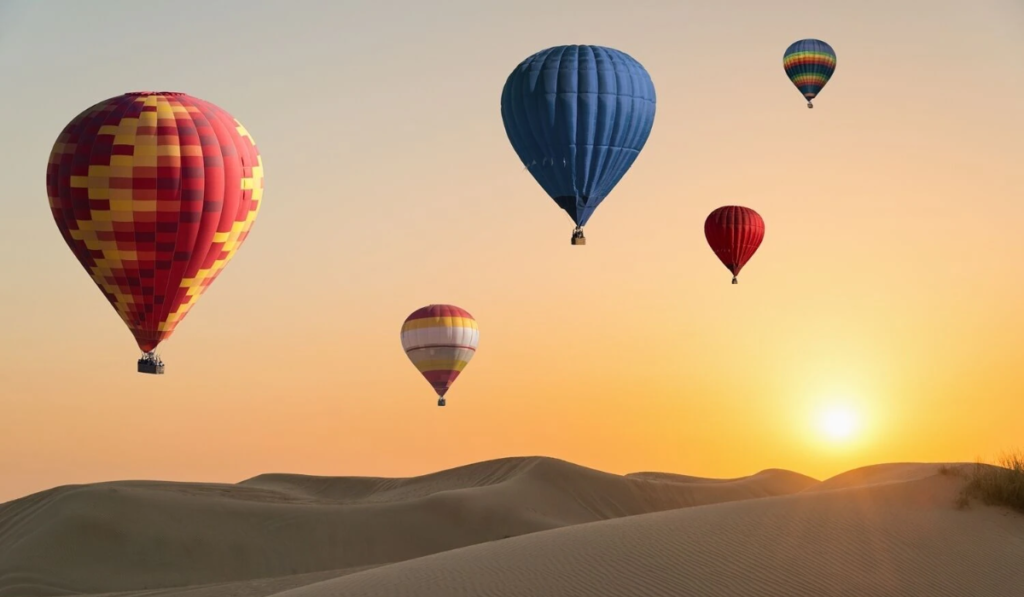 Hot air ballooning is a great way to see the city and desert from a new perspective. You'll float peacefully above the hustle and bustle of the city, and you'll get some of the best skyline views. Hot air ballooning is also a great way to relax and take in the natural beauty of Dubai.
So if you're looking for an unforgettable experience, add hot air ballooning to your list. Don't forget to check out our hot air balloon package.
9. Dubai Miracle Garden
Looking for a place to escape the winter blues? Why not head to the Dubai Miracle Garden? This oasis in the desert is home to over 50 million flowers, making it the largest garden of its kind in the world.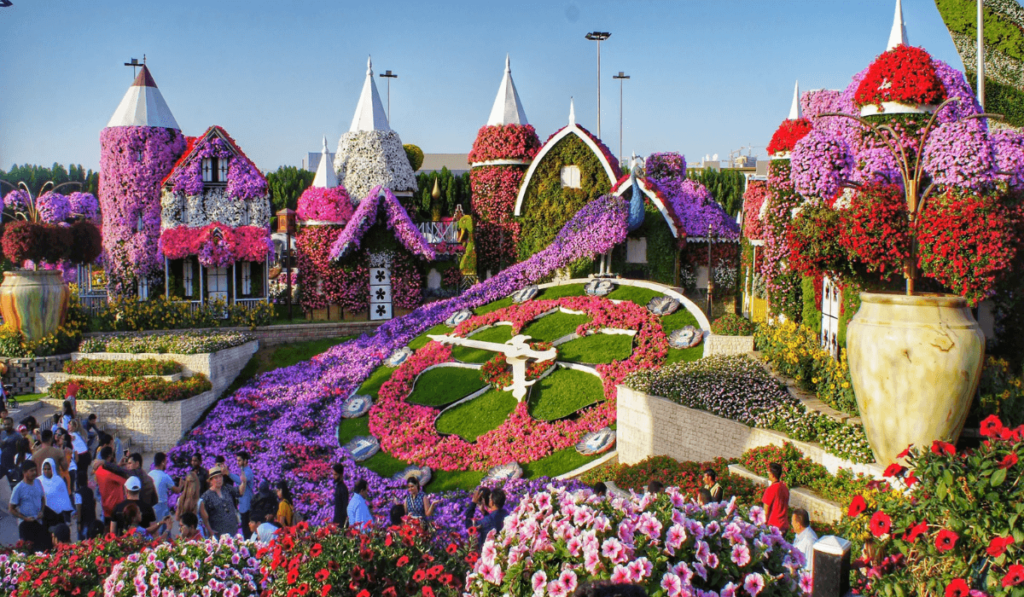 A visit to the Dubai Miracle Garden is a truly unforgettable experience. The vibrant flowers and lush greenery starkly contrast the sand and heat of the desert. And with over 50 different types of flowers on display, there is something to please everyone.
After visiting this charming garden, I am sure you will make the holiday unforgettable.
10. Xline Zipline Dubai Marina
Xline Dubai Marina is the world's longest urban zip line, and it's an absolute must-do in Dubai! Clocking in at a whopping 2.8 kilometres, this zip line will take you on a thrilling ride over the Dubai Marina skyline. You'll get breathtaking city views as you zip through the air at up to 80 kilometres per hour.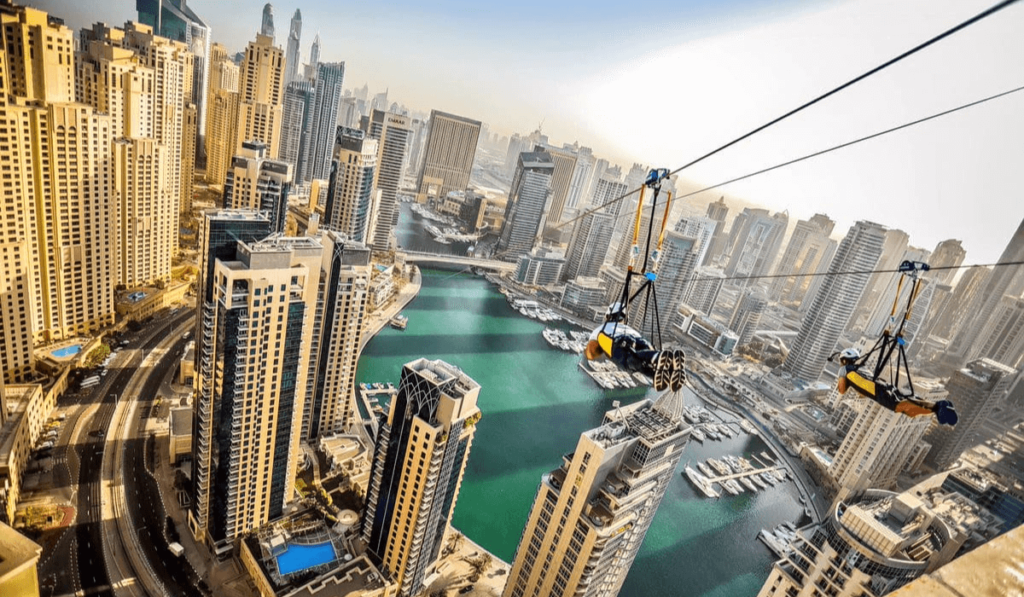 If you're looking for an adrenaline-pumping activity, Xline Dubai Marina is the perfect place. There's nothing quite like zipping through the city skyline at breakneck speeds – it's an experience you'll never forget!
FAQs
What are the free things to do in Dubai?
These are the free things that you can do without spending a single penny:
Dubai Aquarium
The Dubai Fountains Display
The Jumeirah Beach Corniche
Free Experience Of Dubai's Culture And Heritage
Free Entry At Camel Museum
Yoga Classes
Movie Under The Stars
Are things open in Dubai on Saturday?
Throughout the year, shopping centres are open continuously from 10 am to 10 pm (some close at midnight on Friday and Saturday). Old Dubai's and the souks' more traditional stores typically open at 8 am and close at 9 pm, with a lunch break from 1 to 4 pm.
Is Uber cheaper than a taxi in Dubai?
Uber and Careem are frequently more expensive in Dubai than a cab. Uber has the advantage of having a fixed charge, so it may also be less expensive if you travel a long distance and there is traffic. Careem costs less than Uber for shorter trips, whereas Uber costs less for longer trips.
Is Dubai Open on Sunday?
Sunday is a day of work. The weekends are on Friday and Saturday. However, some private industries are open on Saturday.
Conclusion
Now it's up to you to plan activities in Dubai to make the most of your vacation. You'll undoubtedly feel the best when you experience the things I've just mentioned. Dubai is full of activities and locations to explore, even the things being. Check out our hot air balloon and quad bike desert safari packages.
Furthermore, if you visit Dubai and don't take in the splendour of the desert, your trip to Dubai is incomplete. We allow you to go on a desert safari to make the most of your vacation. Just combine the city's hustle-bustle adventures with desert adventures to enjoy life to the fullest.