Welcome to the city of dreams, where the glimmering lights of towering skyscrapers meet the golden shores of the Arabian Gulf. Dubai, a city known for its opulence and grandeur, offers a myriad of unforgettable experiences. As the weekend approaches, the possibilities for leisure and adventure are endless.
Whether you seek a tranquil retreat amidst the desert dunes or crave the adrenaline rush of daring escapades, Dubai has it all. Join us as we delve into a world of enchanting weekend activities, where every moment is an opportunity to create cherished memories.
Discover the very best that Dubai has to offer and embark on a captivating journey, indulging in extraordinary pursuits that will leave you captivated and craving for more. Get ready to unlock the secrets of Dubai's most exceptional weekend activities and witness firsthand why this dazzling city is a playground like no other.
Top 10 Best Weekend Activities In Dubai
When you visit Dubai, I highly recommend engaging in these activities to maximize your trip.
1. Enjoy Dolphin Show in Dubai
Experience the awe-inspiring dolphin show in Dubai, where beauty, intelligence, and grace come together. These magnificent creatures showcase acrobatic skills, interact with trainers, and display their natural abilities.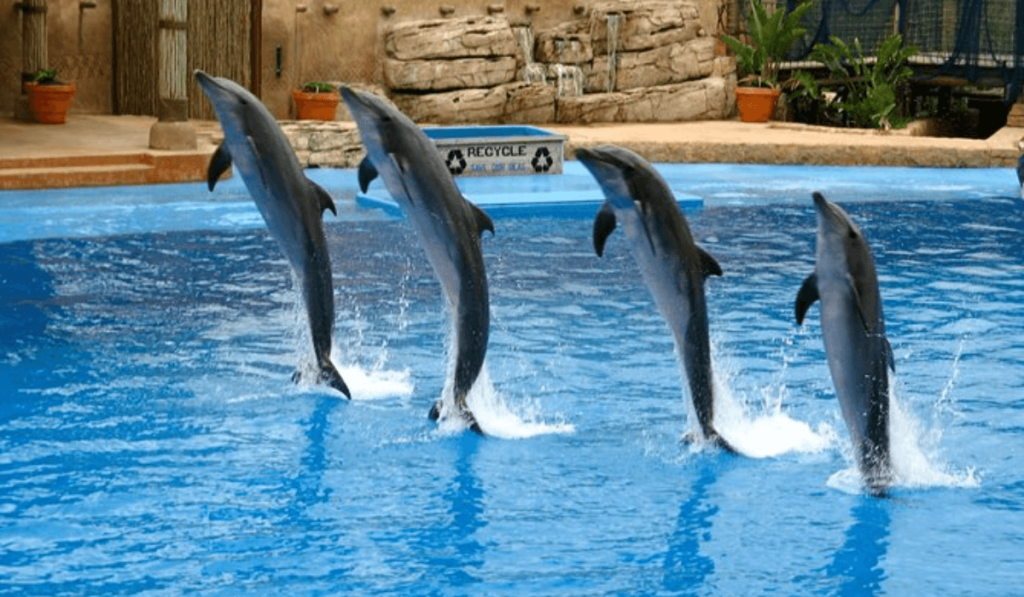 Held in a modern facility with a spacious amphitheater, you won't miss a moment of the breathtaking stunts, high jumps flips, and spins performed with precision. Gain insights into dolphin behavior, their habitat, and conservation efforts from dedicated trainers.
Suitable for all ages, this unforgettable show combines entertainment, education, and the remarkable bond between humans and dolphins. Don't miss this must-see attraction that will leave you captivated and create lifelong memories in Dubai.
2. Cool down at Dubai's only ice bar
Experience Dubai's exclusive ice bar—a frozen wonderland in the heart of the city. Crafted entirely from ice, this unique establishment offers an unforgettable escape from the scorching heat.
Step inside to discover a mesmerizing ambiance created by crystal-clear ice walls, furniture, and glasses. The sub-zero temperature ensures a refreshing atmosphere, while cozy thermal clothing keeps you warm as you explore this wintry oasis in the desert.
Indulge in expertly crafted cocktails and mocktails served with flair. Watch skilled mixologists prepare your drink using premium spirits and frosty glassware. The contrast of icy beverages against the frozen backdrop delivers an unforgettable sensory experience.
Capture the magic with stunning photographs of glistening ice sculptures and shimmering lighting. Share your frozen adventures with friends, creating envy-inducing memories.
Whether seeking respite from the heat or a memorable night out, Dubai's only ice bar is the ultimate destination. Immerse yourself in a sub-zero world of drinks, laughter, and icy enchantment for an unforgettable experience.
3. Explore The Desert On Quad Bike
Embark on an exhilarating adventure and delve into the mesmerizing beauty of the desert on a thrilling quad bike ride. The desert, with its vast expanse of golden sand dunes, offers a unique playground for adrenaline junkies and nature enthusiasts alike. Strap on your helmet, grip the handlebars and feel the surge of excitement as you rev up your quad bike and set off into the unknown.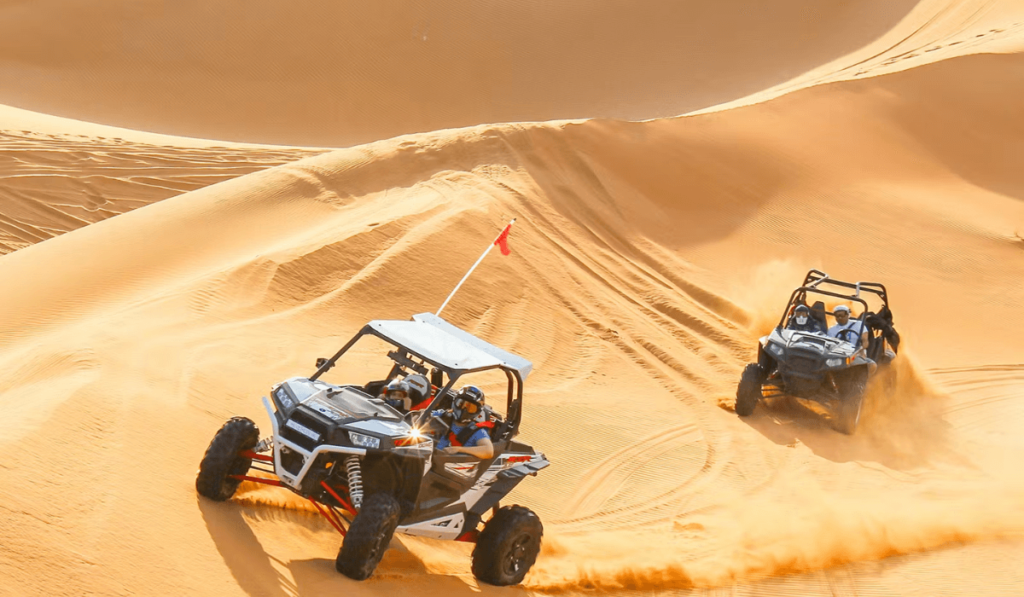 As you traverse the undulating terrain, you'll witness breathtaking vistas that stretch as far as the eye can see. The peaceful serenity of the desert envelops you, interrupted only by the roar of your engine and the soft whisper of the wind. Feel the sand beneath your wheels, kick up clouds of dust, and experience the thrill of conquering challenging slopes and navigating through narrow passages.
The quad bike allows you to access remote areas of the desert, uncover hidden oases, and discover the secrets of this awe-inspiring landscape. With each twist and turn, you become one with the environment, forging a deeper connection with nature and gaining a newfound appreciation for its raw beauty.
4. Explore The Hatta Village
Nestled amidst the rugged Hajar Mountains in the United Arab Emirates, Hatta Village offers a captivating journey into the rich cultural heritage of the region. This historic village, located about 115 kilometers from Dubai, provides a delightful escape from bustling city life.
As you wander through the narrow lanes of Hatta Village, you'll be transported back in time. Traditional mud-brick houses with their distinctive wind towers stand as a testament to the region's architectural heritage. Explore the ancient fort, which served as a defense stronghold in the past, and gain insights into the village's historical significance.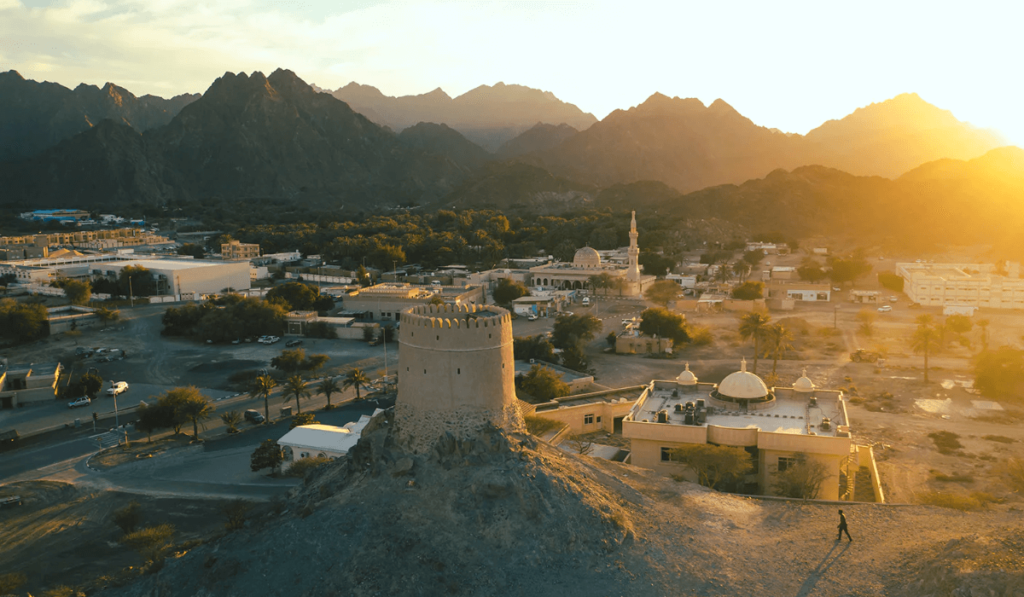 The village's picturesque surroundings invite you to immerse yourself in nature's beauty. Take a leisurely walk along the serene Hatta Dam or embark on an adventurous hike through the nearby mountains. Capture stunning vistas of the tranquil turquoise waters and towering peaks.
Hatta Village offers a glimpse into the past while providing ample opportunities for outdoor exploration and relaxation. Discover the charm of this hidden gem and create lasting memories of your journey through its captivating landscapes and cultural treasures.
5. IFly Dubai
iFly Dubai presents a one-of-a-kind and exhilarating adventure for daring explorers—an indoor skydiving center. Situated within the magnificent Dubai Mall, iFly Dubai proudly holds the title of the tallest indoor skydiving facility worldwide, boasting an impressive column height of 32 meters. With a variety of three distinct skydiving experiences, iFly Dubai caters to individuals seeking different levels of thrill.
Whether you crave a heart-racing adrenaline surge or prefer a serene and picturesque escapade, iFly Dubai offers an experience tailored to your preferences. So why not seize the opportunity to venture into the unknown? You might just amaze yourself with your own abilities.
6. Ferrari World Abu Dhabi
Ferrari World Abu Dhabi holds the title of being the biggest indoor theme park globally. Within its premises, visitors can enjoy an array of thrilling rides and captivating attractions, including the fastest roller coaster in the world. Alongside these thrilling experiences, Ferrari World also offers a diverse selection of restaurants, cafés, and shops for guests to explore.
Situated on Yas Island, just off the coast of Abu Dhabi, Ferrari World is part of a larger entertainment complex. Yas Island boasts numerous other attractions, such as Yas Waterworld and Warner Bros. World Abu Dhabi. If you have a keen interest in theme parks, particularly if you have children, this destination is definitely worth considering.
7. Dhow Cruise Dubai Marina
The Dhow Cruise Dubai Marina should not be missed when visiting Dubai. This traditional Arabic boat offers a leisurely cruise around the Dubai Marina, allowing you to witness breathtaking views of the cityscape. It serves as a fantastic opportunity to unwind and admire the beauty of this remarkable city. Nowadays, these restaurants have been transformed into lavish floating establishments, providing a truly distinctive way to immerse yourself in Dubai's charm.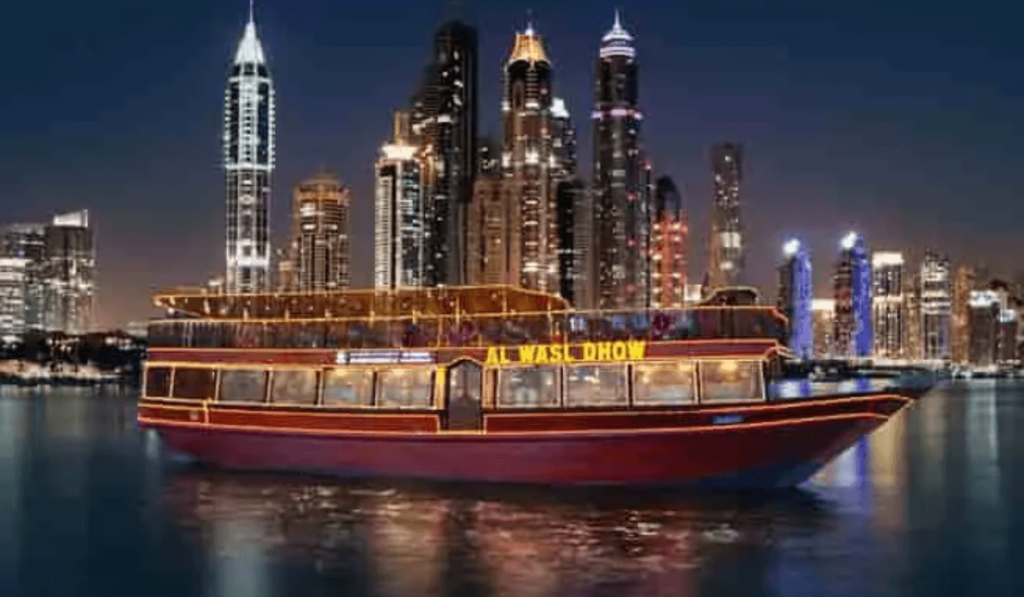 If you're seeking an extraordinary experience, a dhow cruise is an ideal choice to explore Dubai. As you glide along the Dubai Marina, you'll be treated to magnificent vistas of the city's skyline. Moreover, a delectable meal awaits you onboard, ensuring a delightful dining experience amidst the captivating sights. Whether you're a local or a tourist, a dhow cruise is an unforgettable adventure you simply cannot afford to miss out on.
8. Hot Air Balloon in Dubai
Once again, let me transport you to a desert environment where you can indulge in a serene yet thrilling activity known as hot air ballooning in the desert.
Have you ever dreamt of gracefully floating in a hot air balloon above a vast desert? If you have, then you're in for a treat! Dubai boasts some of the finest hot air ballooning experiences in the world.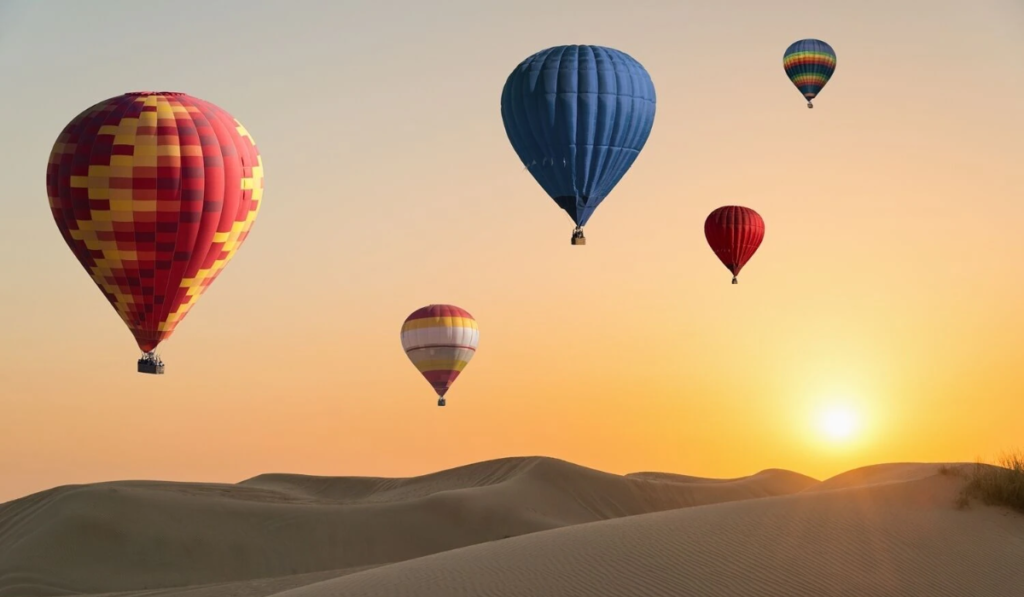 Hot air ballooning offers a unique perspective to admire the city and its surrounding desert. As you gently ascend, you'll leave behind the bustling city below and be rewarded with breathtaking views of the skyline. It's a perfect opportunity to unwind and immerse yourself in the natural wonders of Dubai.
If you're seeking an unforgettable adventure, be sure to include hot-air ballooning in your itinerary. Don't miss out on exploring our exclusive hot air balloon package.
9. Dubai Miracle Garden
Are you seeking a winter getaway to lift your spirits? Consider venturing to the Dubai Miracle Garden. Situated in the desert, this sanctuary boasts an astounding collection of over 50 million flowers, earning its reputation as the largest garden of its kind worldwide.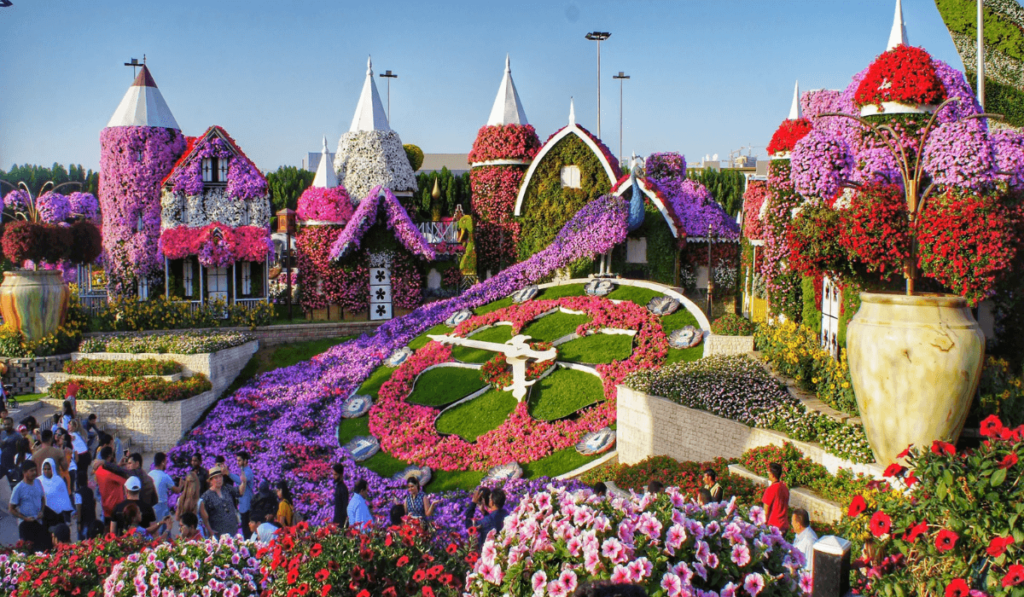 Prepare yourself for an extraordinary adventure at the Dubai Miracle Garden. The radiant blooms and flourishing foliage create a striking juxtaposition against the arid sands and scorching temperatures of the desert. With an impressive variety of more than 50 different flower species showcased, there is something to captivate every visitor.
Indulge in the wonders of this enchanting garden, and I assure you that your holiday will become an indelible memory.
10. Xline Zipline Dubai Marina
Xline Dubai Marina holds the prestigious title of being the longest urban zip line in the world, making it an absolute must-try when visiting Dubai! With an impressive length of 2.8 kilometers, this zip line offers an exhilarating journey soaring above the magnificent Dubai Marina skyline. As you glide through the air at speeds of up to 80 kilometers per hour, prepare to be captivated by the awe-inspiring panoramic views of the city.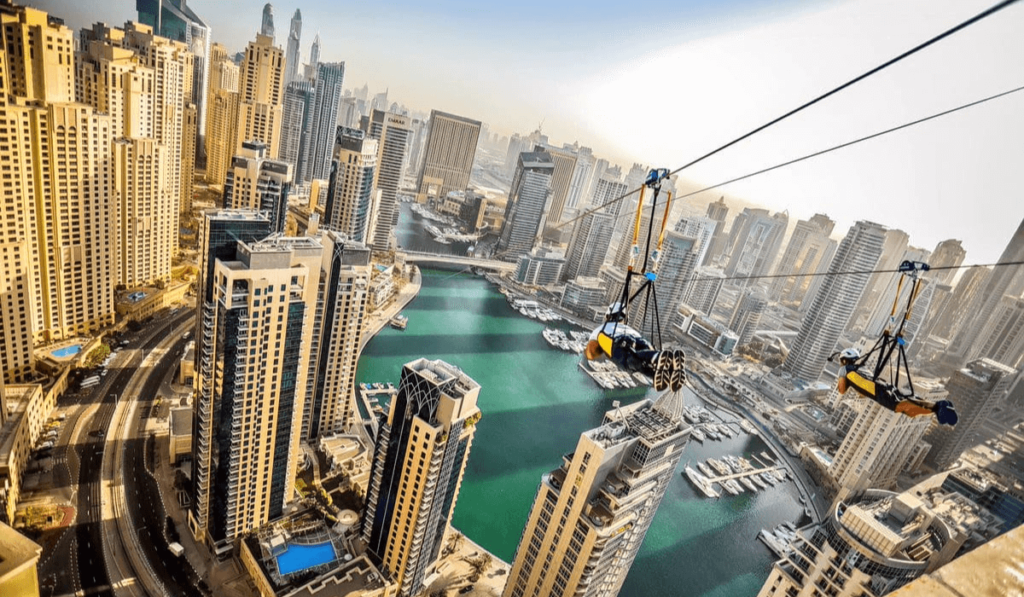 For those seeking an adrenaline rush, Xline Dubai Marina is the ultimate destination. Nothing quite compares to the heart-pounding sensation of whizzing through the cityscape at such incredible velocities. This extraordinary adventure promises an experience that will be etched in your memory forever!
Conclusions
In conclusion, Dubai offers an array of captivating and diverse weekend activities that cater to every interest and age group. From exploring architectural wonders to indulging in luxurious shopping experiences, there is something for everyone in this vibrant city. The wide range of thrilling outdoor adventures, such as desert safaris and water sports, provides an adrenaline rush for adventure enthusiasts.
For those seeking relaxation and tranquility, Dubai's pristine beaches and world-class spas offer the perfect escape. Additionally, the city boasts an abundance of cultural attractions, including museums, art galleries, and traditional souks, allowing visitors to immerse themselves in the rich Emirati heritage.
Moreover, the vibrant nightlife scene with its glamorous clubs and exquisite dining options ensures that evenings are just as exciting as the days. Whether you're a thrill-seeker, a culture enthusiast, or simply looking to unwind, Dubai promises an unforgettable weekend experience that will leave you with lifelong memories.
FAQs
What are some of the best weekend activities to do in Dubai?
There are numerous exciting weekend activities to enjoy in Dubai. Here are some popular options:
What are some outdoor activities I can do in Dubai over the weekend?
Dubai offers several outdoor activities for weekend fun. You can go dune bashing in the desert, enjoy a camel ride, try sandboarding, or take a yacht cruise along the coastline.
What are some indoor activities I can do in Dubai during the weekend?
If you prefer indoor activities, Dubai has plenty to offer. You can explore the magnificent Dubai Mall, visit the indoor ski resort at Ski Dubai, or experience virtual reality adventures at VR Park.
Are there any adventure activities for thrill-seekers in Dubai?
Dubai offers a range of thrilling activities for adventure enthusiasts. You can try skydiving over Palm Jumeirah, go zip-lining at XLine Dubai Marina, or experience indoor skydiving at iFLY Dubai.