Finding the perfect fun place for children can be a challenging task for parents. Luckily, in Dubai, there's a place that guarantees an unforgettable experience for kids – Oli Oli. Located in the heart of the city, Oli Oli is an interactive children's museum that offers a wide range of exhibits and activities designed to engage and educate young minds. In this article, we'll explore what makes Oli Oli the best fun place for kids in Dubai and delve into its various exhibits, the learning opportunities it provides, facilities and services, tips for visiting, and more.
What is Oli Oli?
Oli Oli is not your ordinary children's museum. It's an innovative and interactive space where kids can learn through play. The philosophy behind Oli Oli is simple – children thrive when they can explore, experiment, and express themselves freely. At Oli Oli, the emphasis is on hands-on learning, allowing children to develop their creativity, critical thinking, and problem-solving skills in a fun and stimulating environment.
Interactive Exhibits at Oli Oli
Oli Oli boasts a wide range of interactive exhibits that cater to various interests and age groups. Let's take a closer look at some of the exciting exhibits you'll find at Oli Oli:
Toshi's Net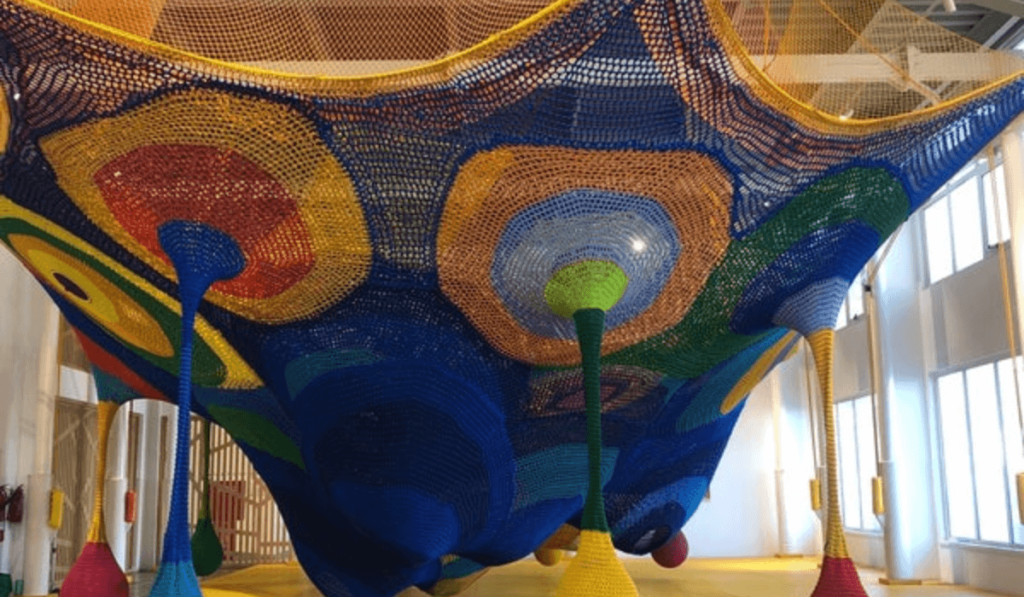 Imagine a giant climbing structure and nets suspended high above the ground. That's Toshi's Net at Oli Oli! Children can navigate through this thrilling vertical maze, developing their physical strength, balance, and coordination while having a blast.
Future Park
Step into the digital world of Future Park, where art and technology converge. Through augmented reality experiences, kids can unleash their creativity, paint virtual landscapes, interact with digital creatures, and witness their imagination come to life.
Air
The Air exhibit at Oli Oli explores the fascinating world of air currents and motion. Children can experiment with wind tunnels, launch air-propelled rockets, and discover the principles of flight. It's an exhilarating journey that introduces them to the wonders of aerodynamics.
Water
The Water exhibit at Oli Oli offers an immersive experience where kids can splash, pour, and experiment with water. They can construct dams, explore water flow, and understand the concepts of buoyancy and water conservation. It's a perfect opportunity for children to engage in sensory play while learning about the properties of water.
Creative Lab
In the Creative Lab, young artists can let their imaginations run wild. From painting and sculpture to crafts and design, this dedicated workshop space provides children with the tools and materials they need to bring their artistic visions to life.
Toddler Space
Oli Oli recognizes the unique needs of younger children, and that's why they have a dedicated Toddler Space. Designed specifically for children aged 0-4, this area provides a safe and engaging environment where toddlers can explore age-appropriate exhibits and activities.
Fort Building
For kids who love building and construction, Oli Oli's Fort Building exhibit is a dream come true. Using various materialssuch as foam blocks and connectors, children can unleash their architectural creativity and construct their forts and structures. It's an excellent opportunity for them to develop spatial awareness, problem-solving skills, and teamwork.
Toshi's Playground
When it's time to enjoy some outdoor fun, Toshi's Playground is the place to be. With slides, swings, and a sandpit, children can run, jump, and let their energy soar. It's the perfect space for kids to engage in active play and make new friends.
Learning Through Play at Oli Oli
Oli Oli goes beyond providing entertainment; it also focuses on the educational aspect of play. Let's explore how children can benefit from the interactive exhibits at Oli Oli:
Cognitive Development
The exhibits at Oli Oli are carefully designed to stimulate critical thinking and problem-solving skills. By engaging in hands-on activities, children learn to analyze situations, make decisions, and find creative solutions. Whether it's navigating through Toshi's Net or designing structures in the Fort Building exhibit, kids are constantly challenged to think critically and overcome obstacles.
Physical Development
Physical activity is crucial for children's growth and development. Oli Oli offers plenty of opportunities for kids to engage in active play, promoting gross and fine motor skills. From climbing and sliding to building and experimenting, children are encouraged to move their bodies, improving their coordination, strength, and balance.
Social and Emotional Development
Play is an essential tool for children to develop social and emotional skills. Oli Oli provides a conducive environment for kids to interact with their peers, collaborate, and communicate. Through shared experiences and imaginative play, children learn empathy, cooperation, and emotional expression. Whether it's working together in the Fort Building exhibit or engaging in pretend play in the Toddler Space, children develop important social and emotional competencies that will benefit them throughout their lives.
Oli Oli Facilities and Services
To ensure a comfortable and enjoyable experience for both children and parents, Oli Oli offers a range of facilities and services:
Café and Dining Options
While exploring Oli Oli, hunger is bound to strike. That's why Oli Oli has an on-site café that serves child-friendly food options. Parents can relax and rejuvenate while their children refuel with delicious and healthy snacks.
Birthday Parties and Events
Looking for a unique and memorable way to celebrate your child's birthday? Oli Oli offers birthday party packages that include exclusive access to the exhibits, party decorations, and dedicated party hosts. It's a fantastic opportunity to create lasting memories for your little ones.
Membership and Pricing
For frequent visitors, Oli Oli offers membership options that provide unlimited access to the exhibits. Membership benefits also include discounts on birthday parties and special events. Additionally, Oli Oli has flexible pricing options for single-day admissions, making it accessible to everyone.
Safety Measures
At Oli Oli, safety is a top priority. The facility is designed with child safety in mind, with rounded corners, padded surfaces, and age-appropriate equipment. Furthermore, Oli Oli has implemented comprehensive safety protocols, including regular sanitization, staff training, and visitor capacity control, to ensure a safe and healthy environment for all.
Tips for Visiting Oli Oli
To make the most of your visit to Oli Oli, here are some helpful tips:
Best Time to Visit
To avoid crowds and ensure a more relaxed experience, consider visiting Oli Oli during weekdays or during non-peak hours.
Dress Code and Comfortable Attire
Children should wear comfortable clothing and shoes that allow them to move freely. It's also a good idea to bring an extra set of clothes in case they get wet or messy in the Water exhibit.
Bringing Snacks and Water Bottles
While Oli Oli has a café, you can bring your own snacks and water bottles for your children. Staying hydrated and having quick bites can help sustain their energy levels throughout the visit.
Booking in Advance
To avoid disappointment, especially during weekends and holidays, it's advisable to book your tickets or memberships in advance. This ensures a smooth entry and guarantees your spot at the museum.
Conclusion
Oli Oli is undeniably the best fun place for kids in Dubai. With its interactive exhibits, focus on learning through play, and commitment to providing a safe and engaging environment, Oli Oli offers an exceptional experience for children of all ages. Whether they are climbing through Toshi's Net, unleashing their creativity in the Creative Lab, or splashing in the Water exhibit, kids are guaranteed to have a fantastic time while developing valuable skills. So, plan your visit to Oli Oli and give your children an unforgettable adventure filled with fun, learning, and imagination.
FAQs
Is Oli Oli suitable for children of all ages?
Yes, Oli Oli caters to children of all ages, from toddlers to older kids. The exhibits are designed to suit different developmental stages.
Can adults participate in the exhibits at Oli Oli?
While the exhibits primarily focus on children, adults are encouraged to accompany and engage with their children in the activities.
Can I bring outside food and drinks to Oli Oli?
Oli Oli has an on-site café that offers child-friendly food options. However, you can bring your own snacks and water bottles for your children if desired.
Are strollers allowed inside Oli Oli?
Yes, strollers are allowed inside Oli Oli. However, some exhibits may have designated stroller parking areas to ensure the safety and comfort of all visitors.