Dubai never falls behind the rest of the world regarding fantastic and unbelievable things. Dubai Safari Park, for example, has its fan base. Yes, Dubai does have its wonderful safari park.
This safari park is not a zoo but something more. This safari park is home to many animal species, including lions, tigers, bears, flamingos, zebras, and many more.
If you are an animal lover, this place is a treat. Buckle up because we're about to take you on a tour of this Dubai safari park. You'll want to come here right away after reading our article.
Let's get this informational adventure started!
Dubai Safari Park In A Nutshell
Dubai Safari Park is not just an ordinary park. Its home included 78 different types of mammals, including ten carnivores and 17 primates, 50 different types of reptiles, 111 different birds, amphibians, and invertebrates.
Furthermore, this safari park hosts live shows and other recreational activities for children and adults.
The park is environmentally friendly, and solar energy is its primary source. On its 50th anniversary, the park replaced the famous Dubai Zoo. The park was closed for renovations and improvements on May 15, 2018, and is now open to the public.
5 Different Zones in Dubai Safari Park
Safari Park in Dubai is divided into five distinct zones based on their ecosystems. Even though these zones are all artificial, they all provide the best and most natural environment for their inhabitants. Here are the specifics for each zone.
1. African Village
African Village provides a taste of the tropical African savannah and the opportunity to interact with large and small mammals.
Meet your favorite wild animals, from meerkats to lions, in the wild- Admire the African elephant's massive stature and the vibrant colors of the peacock's feathers. This zone is also home to various birds, snakes, and monkeys at the Grand Aviary, Reptile House, and Gorilla House.
2. Desert Safari
The next zone is the Arabian Desert Safari. This will take you on a drive through the habitats of popular animals on the Arabian Peninsula.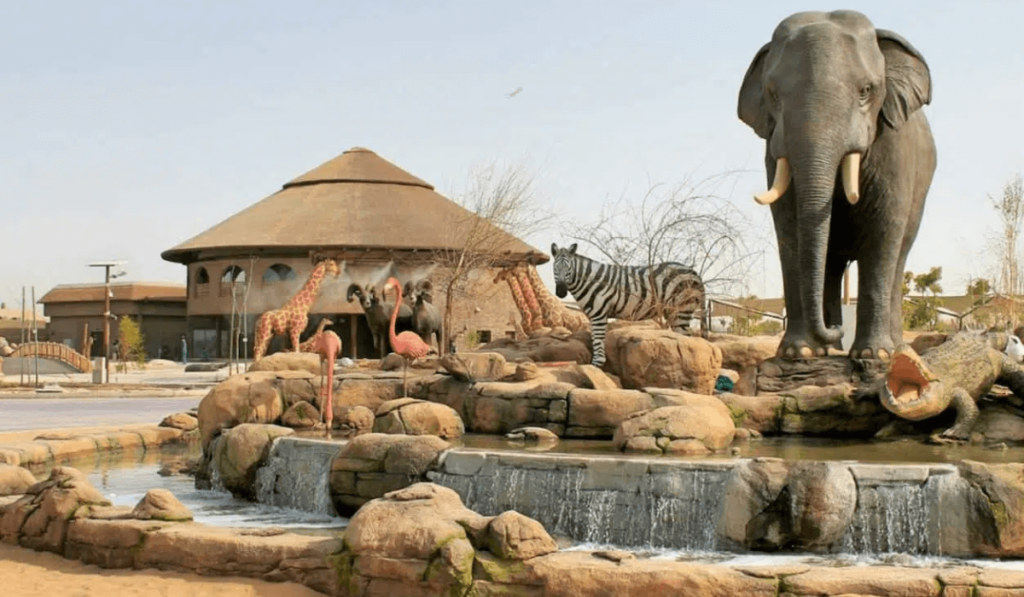 View the Arabian oryx, sand and mountain gazelles, white antelope, addax, and, most notably, the Arabian wolf as they roam the desert-like enclosure. Get a chance to observe the fascinating species having beautiful fur coats and powerful horns.
3. Asian Village
Asian Village is the third zone. When you enter this zone, you will be taken on a tropical rainforest safari, where you will see the beautiful moon bear, distinguished by a crescent-shaped patch in the middle of its chest.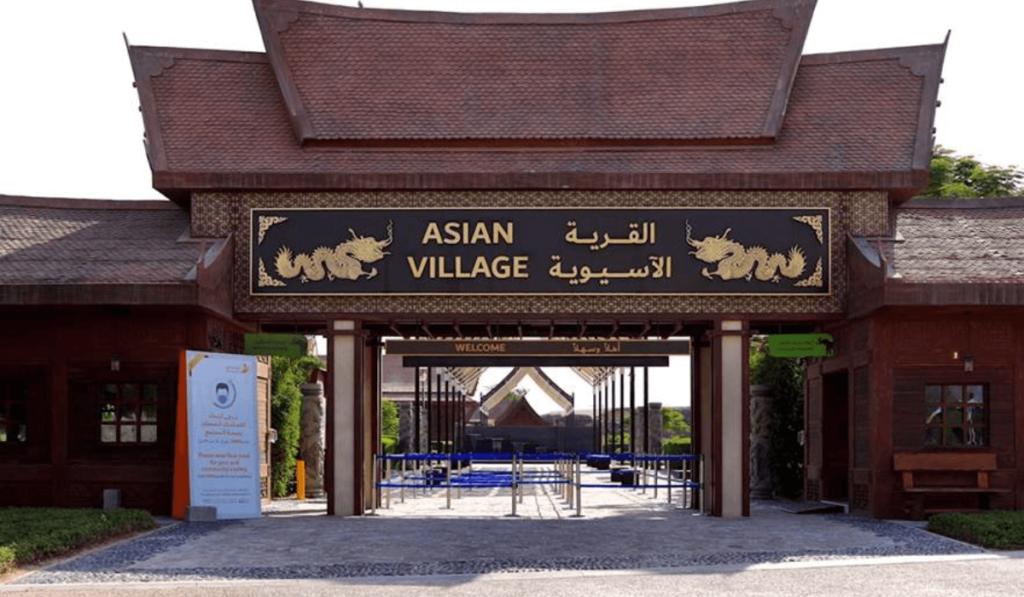 The different fur coats of the gibbons hiding in the trees, as well as the striking colored feathers of the Mandarin Ducks perched by the water, can also be seen. The Asian Village Theater also hosts a fantastic show called "Amazing Creatures of the World," in which various animals take the stage to demonstrate their unique skills and abilities.
4. Explorer Village
The fourth zone is explorer village, which has become the most popular attraction at Dubai Safari Park. Explorer Village is another drive-through experience allowing visitors to travel safely through Africa and Asia. Pass hello to cheetahs, tigers, rhinos, and water buffalos from your tour bus and relax fully.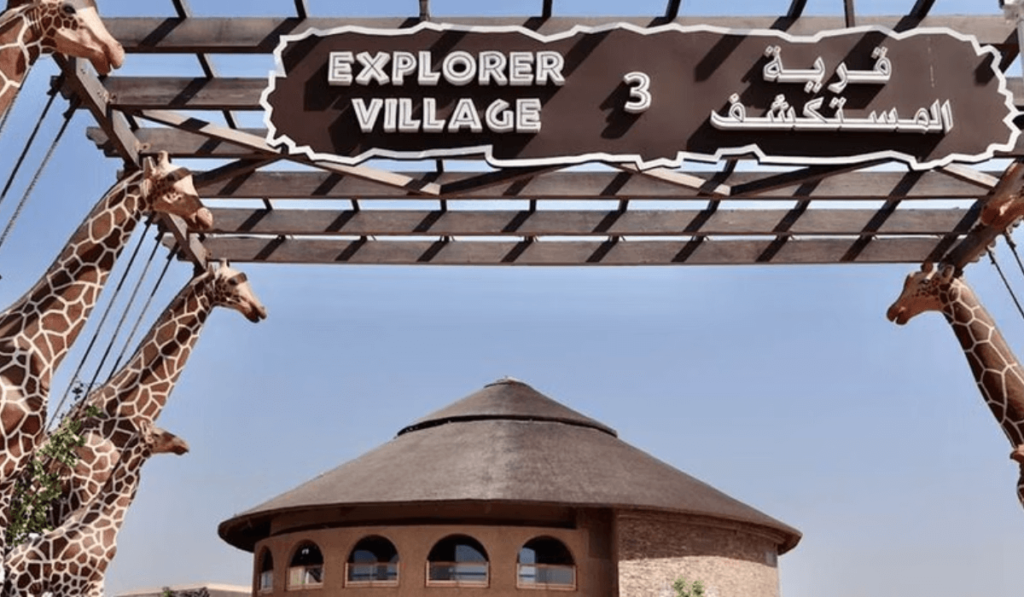 Visit the Giraffe Platform for a feeding session with the tall giraffes. Then, at the Hippo Aquarium, see what hippopotamuses do underwater.
5. Kids' Farm
Dubai Safari Park is open to people of all ages and has no age restrictions. As a result, this zone, known as Kids Farm, is also famous. The reason for this is that this zone has been designed for children's entertainment, but adults also enjoy it.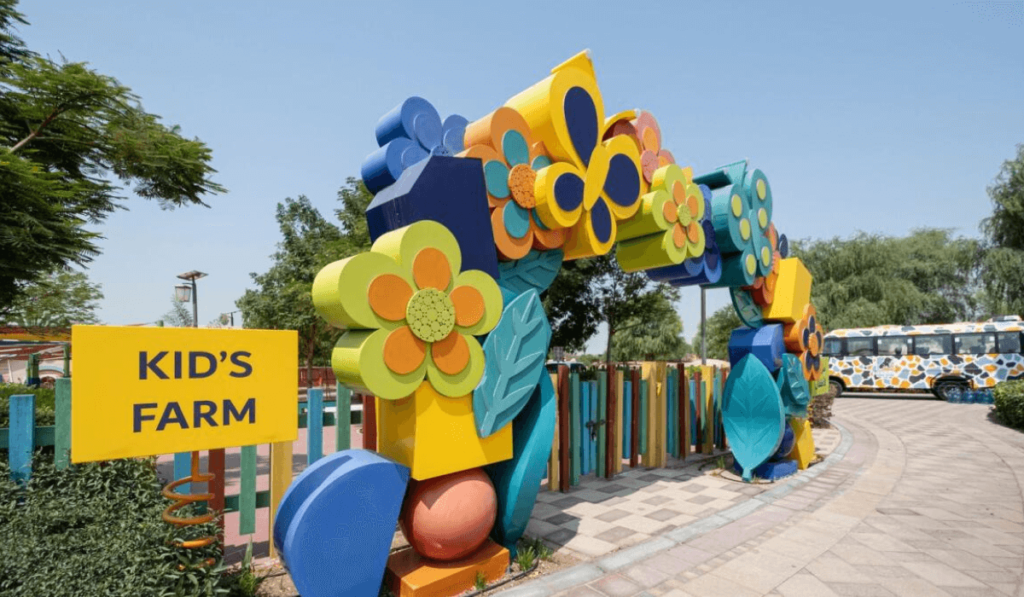 They can take educational tours, feed the animals, and get up close and personal with friendly farmyard animals like sheep, ponies, goats, and parakeets. The Goat Barn is also fun for energetic kids to play with the pygmy goats in the enclosure.
Interesting Facts About Dubai Safari Park That You Should Know
If you visit a safari park in Dubai, you should look at these interesting facts that will pique your interest in the trip and make you a safari park expert.
Dubai Safari is entirely environmentally friendly and solar-powered.
Dubai Safari includes a valley, a waterfall, and a lake with crocodiles!
It is roughly twice the size of Vatican City, the world's smallest country.
It has the UAE's largest walk-through bird aviary.
The hippos can be seen underwater at Dubai Safari.
The UAE's first White Lion pride is on display to the public.
FAQs
What is the price of Dubai safari park tickets?
The entry fee to Dubai Safari Park is AED 50 for adults and AED 20 for children. A ticket to the Combo Dubai Safari costs AED 85 for adults and AED 30 for children. Moreover, children under three years are free to enter without ticket charges.
What are the Dubai safari park timings?
The Dubai safari park is open every day, and the timing is as follows:
Opening: 9:00 am to 5:00 pm
The main gates are open from 8:30 am to 4:00 pm.
The last safari bus departs at 4:30 pm.
Are there any Dubai safari park restaurants?
Yes, many restaurants near Dubai safari park fill your hunger and make a notorious trip ahead.
What is the Dubai safari park contact number?
You can contact them on their toll-free number, which is 800900.
Are Dubai safari and desert safari different?
Yes, both activities are different. In desert safari, you do dune bashing, camel riding, etc. Duba Safari offers you to interact directly with animals.
Conclusion
If you are planning a trip to Dubai or are already there, don't miss out on the Dubai Safari Park, the most beautiful spot for various animals appropriately kept in a friendly environment. People who enjoy animals will enjoy visiting this park as well. I guarantee that after seeing this park, you will feel alive and learn much about animals and their kingdoms. Many shows are also held for additional entertainment. Don't forget to read the tips mentioned above for a successful trip.