Imagine you are in a fascinating place filled with so many flowers that you can only see flowers. A mixture of pleasing scents passes through your nose, providing you with positive vibes.
These fantasies can become a reality if you visit the Dubai Miracle Garden. Yes, it exists and provides a large packed beauty park filled with various flowers.
It is another wonder of Dubai that attracts many tourists, many of whom come here to visit. Couples, in particular, enjoy spending their precious time here to make their time golden.
If you want to know how to turn your fantasies into reality and learn more about this fascinating place, keep reading this article and enjoy yourself!
Dubai Miracle Garden In A Nutshell
The Miracle Garden is the world's largest garden in the United Arab Emirates, known as Dubai. The Dubai Miracle Garden is so large that it takes hours to see everything. The Dubai Miracle Garden covers an area of 72,000 square meters (17 acres of Land). Its overall boundary is constructed in a circular shape and is surrounded by a dense and dominant cover of tall trees.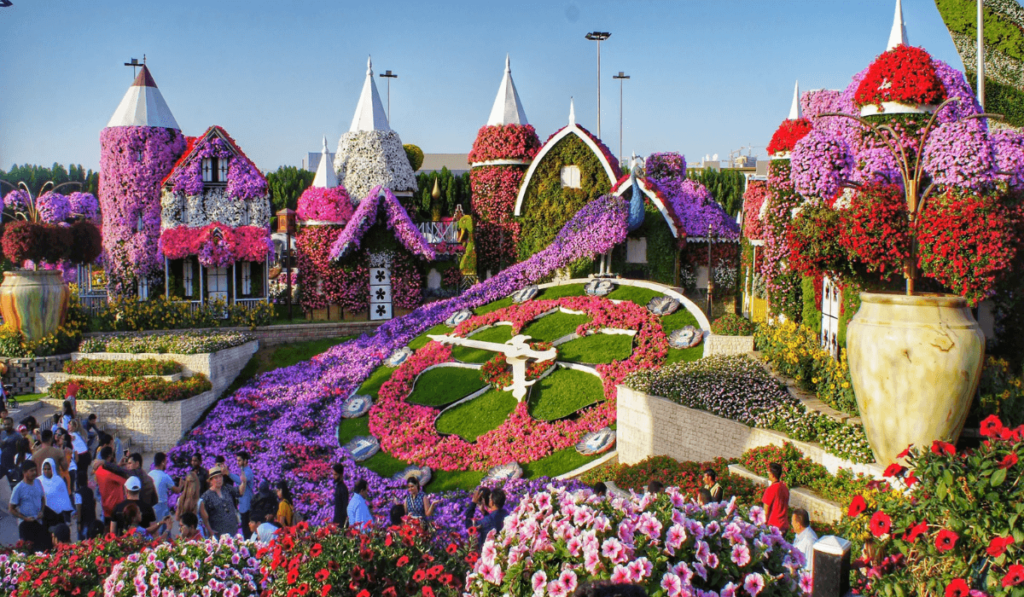 There are 1000 floral themes inside the garden, with dozens erected as mega-structures. The garden has hundreds of pathways and passages, allowing you to walk for thousands of steps.
The Dubai Miracle Garden has more floral themes relating to hearts than any other garden in the world. This also qualifies the Dubai Miracle Garden as the world's most romantic garden.
Since its debut in 2013, Dubai Miracle Garden has bloomed more than 1 billion flowers. The garden always maintains a threshold of 50 million flowers while blooming around 200 million flowers during the season.
Why Should You Visit Miracle Garden?
Perhaps you have already been impressed by the above about Miracle Garden, but Miracle Garden has even more to amaze you. Take a look at these features:
Butterfly Garden
Miracle Garden has a large butterfly garden. A diverse and breathtakingly attractive butterfly species is another eye-catching visual feature. The 'Butterfly Garden,' which spans 1800 square feet, comprises roughly nine domes for guests to explore.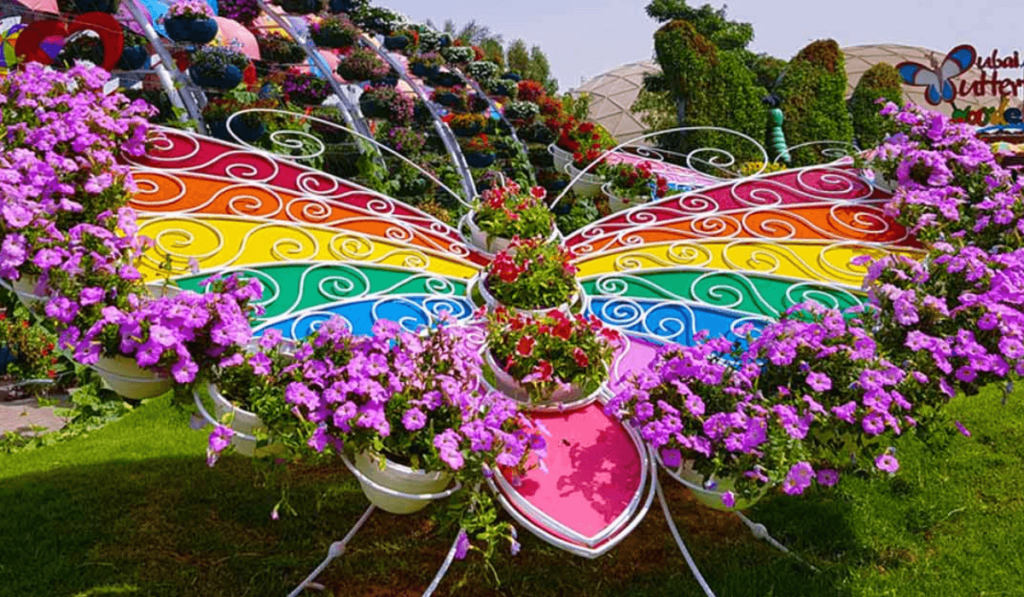 Floral Themes & Topiary Arts
Flowers are the main components of the Dubai Miracle Garden. You are mistaken if you believe you will observe flowers planted on soil in this garden.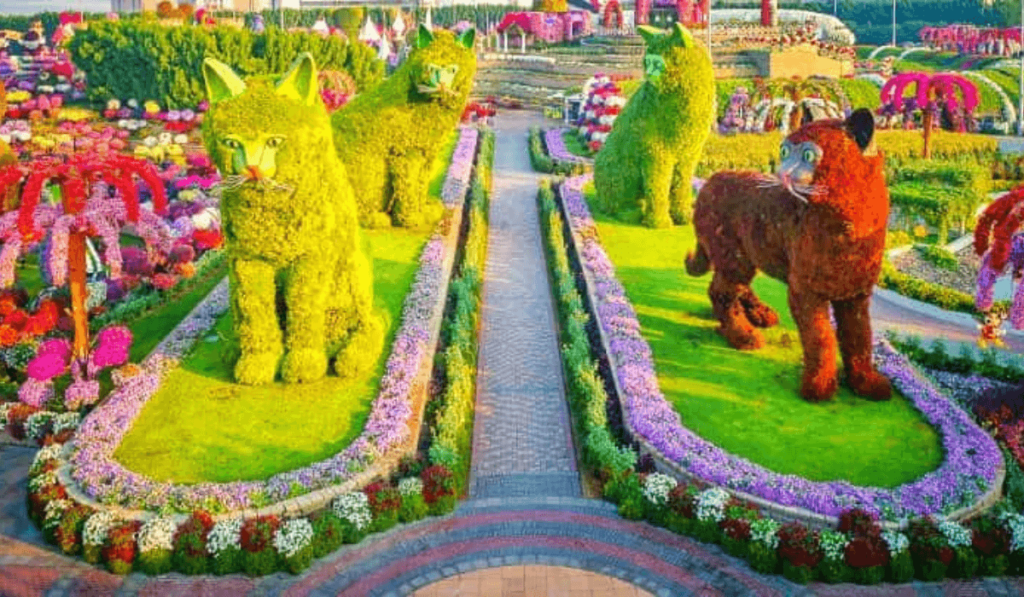 These flowers are incorporated into a piece of art, such as floral themes, topiary arts, floral installations, flower arts, sculptures, flower beddings, flowering pots, walls, houses, cars, and even passages. As a result of these wonders, the Miracle Garden is valuable all over the world.
Dedicated Sitting Areas
The Dubai Miracle Garden also has designated seating spaces to relax and calmly experience the garden's amazing nature.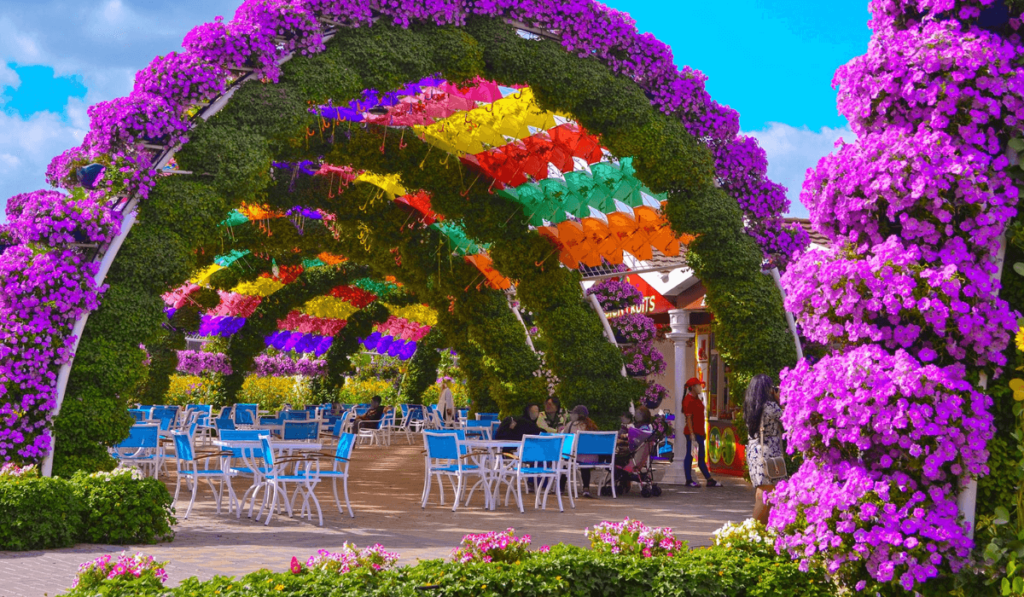 Furthermore, the garden has hammocks in various areas where you can rest and even take a short nap. Who wouldn't want to sleep in such a gorgeous place? You may even enjoy breakfast, lunch, or dinner in the Dubai Miracle Garden, as reputable food franchises such as the world-famous Pizza Hut have already appeared.
Things To Keep In Mind Before Visiting Miracle Garden
These things are a must-follow to enjoy the uninterruptable trip to Dubai's miracle garden.
Pets are strictly prohibited in the garden.
Outside food is strictly prohibited.
The garden tours are not wheelchair or stroller accessible, so if you're travelling with the elderly, make the required preparations ahead of time.
Flower plucking is strictly prohibited.
FAQs
What is the Dubai miracle garden ticket pricing?
Tourists should be aware that the entry cost to the garden differs for adults and children. It costs approximately DH 40 for adults and DH 30 for youngsters over twelve.
Please remember that children under the age of two do not require an admission ticket to the gardens.
What are the timings of the Dubai miracle garden?
Every day of the week, from 9:00 a.m. and 9:00 p.m., tourists can visit the 'Miracle Garden.
Is the Dubai Miracle Garden a Guinness World Record holder?
The Dubai Miracle Garden has set three Guinness World Records. It was named the world's largest vertical garden in 2013. Guinness World Records lists an Airbus A380 floral structure in the garden as the world's largest flower structure.
What is the best time to visit Miracle Garden Dubai?
So after 5 p.m. is the perfect time to choose. Don't be late; after 6 p.m., the light will be too low to capture nice shots.
What else can I do after visiting the Dubai Miracle Garden?
If you want to spend more time in Dubai, there are plenty of things to do. Some of the most exciting things to do in Dubai are listed here.
The Dubai Fountain
The Dubai Mall
Burj Khalifa
Atlantis Aquaventure Waterpark
For your convenience, we offer desert safari packages at reasonable pricing, so don't forget to look into them!
How long does it take to visit the Dubai Miracle garden?
Three hours is enough time to see the entire garden.
Conclusion
Everyone should go on adventures at least once since they make you happier and help you become more familiar with the world's beauty. The same is true for Dubai Miracle Garden, which provides visitors a pleasant and enjoyable encounter. Dubai Miracle Garden is filled with many different types of flowers that you will be perplexed. These flowers are all well-organized and are given crucial nutrients to keep them fresh through proper maintenance. Don't forget to follow the advice I mentioned in this post and read it thoroughly to make your visit unforgettable.