I'm not wrong if I say Dubai has everything for everyone. Why is Dubai usually on a traveler's or everyday person's list of places to spend quality time? Because Dubai has a wealth of beautiful sights ready to be discovered by its visitors.
Among these incredible things, Love Lake Dubai has its fan base. A lake in the center of the desert is shaped like a heart. Couples enjoy going here because it strengthens their feelings for one another and makes their moments enjoyable. Instead of only teams, individuals also eagerly enjoy coming here.
Let's discuss this heart-shaped lake and why it draws many visitors worldwide.
What is Love Lake?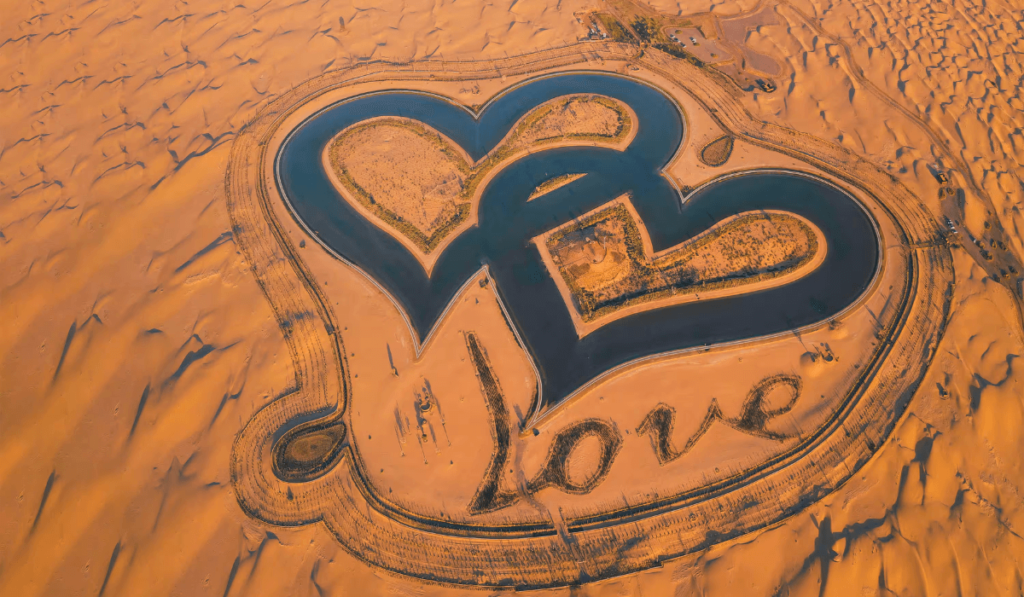 Love Lake Dubai is a unique experience you will not want to miss. This romantic hideaway is nestled in the heart of the desert and provides the perfect setting for an unforgettable experience.
It is a beautiful place to escape the hustle and bustle of the city. With its clear turquoise waters and sandy beaches, Love Lake is the perfect place to relax and enjoy the company of your loved ones.
Love Lake Dubai is a sizable region with two intertwined heart-shaped lakes, surrounded by dunes and wildlife, and is situated in the center of an arid desert known as Al Qudra (Al Marmoon Desert Conservation Reserve).
Moreover, Over 550,000 square meters are occupied by the two lake hearts. Only from above can one see the shape of the lakes due to their size.
The setting sun casts a beautiful glow over the lake, making it the perfect place to watch the sunset with your loved one. Whether you're looking for a romantic getaway or a family-friendly destination, Love Lake is the ideal place for you.
Things To Know About Love Lake
If you added love lake to the checklist of your Dubai trip, then don't rush. Take a moment to relax and examine these crucial details that will help you make the most of your journey to Love Lake.
If you are willing to take pictures of this from the air, then use a drone, but first, you must get permission and have the necessary paperwork on you.
Feeding animals, including fish and birds, is forbidden in the wild.
Only at the approved locations are campfires and grills permitted.
There are no restaurants, cafes, or drinking water facilities nearby.
Very few restrooms are available; the only one is in the parking lot area.
To dispose of rubbish properly, have garbage bags on hand. Littering is not permitted and could affect the environment.
It is advised to get warm clothing if staying during the evening because it can get pretty chilly.
What Activities Can You Do Here?
Suppose you are unsure what we will do once we get to Love Lake. Well, I'm here to help you out at your convenience. You can engage in these activities to enrich your journey. Also, please follow the rules and regulations of love lake in Dubai.
If you are photogenic, then it's the best spot for you. Take as many pictures and excellent selfies at various locations around the lake as you want for your Instagram or Facebook.
The nearly seven km-long rubber track surrounded by lovely greenery around the lakes is perfect for jogging and strolling.
Take advantage of the chance to walk across the shallow areas of the lakes by dipping your feet. You might even see some ducks and fish.
You can use your binoculars to observe the lovely animals surrounding this lake, such as birds. Additionally, you can relax in love seats while listening to their chirping. This will make you feel good vibes.
Don't forget to come here if you are organizing a picnic. Create lasting memories by hosting a barbecue party at Love Lake Place with your family and friends.
Don't forget to take in the breathtaking sunset in the middle of a desert. You may also see the starry desert sky with your loved ones at night. Don't miss out!
What is the Entry Fee For Love Lake?
It's fantastic news to hear that  Love Lake is free for everyone. So all you need is a vehicle and fuel for that vehicle.
What are the Timings of Love Lake?
Well, the love lake authority is ultimately facilitating all of their visitors. There are no fixed times for love lake, and it is open 24 hours. This is a good factor for all visitors as they can freely schedule their trip. Just seize this rare opportunity to breathe deeply outside Dubai City's bustle.
Location of the Love Lake
Al Qudra Road (D63), roughly 45 minutes drive from Dubai, is where you'll find Love Lakes Dubai. Depending on which direction you are coming from, you may easily reach Al Qudra Road by either Emirates Road (E611) or Dubai-Al Ain Road (E66).
Two parking spaces are accessible. Driving a 44-vehicle is unnecessary, even though considerable off-road driving involves getting to the lakes. A 4×4 is advised if you intend to travel off-road in the nearby desert region.
FAQs
Is Love Lake artificial?
Yes, this lovely lake is artificial. Al Qudra, an artificial desert oasis, is a popular destination for Dubai inhabitants to unwind because of its numerous artificial lakes, tall dunes, and native wildlife.
Is it allowed to camp in Love Lake?
Feeding the fish and birds on Love Lake's property is completely forbidden. Only in the approved sections of the lake are camping and barbecues permitted. Bring blankets and warm clothing if you want to camp here, especially if you're coming in the winter.
Are there fishes in love lake Dubai?
Love Lake is home to various aquatic species, including koi fish.
Are dogs allowed in Al Qudra Lake?
There are no pet restrictions at the lakes. This opens up many weekend activities guests can partake in with their dogs, including day trips, picnics, and camping.
Conclusion
No one can dispute the worth or beauty of Love Lake. Despite being an artificial lake, the manner it is constructed is incredible. Because of its size, it is impossible to see the entire heart-shaped lake from the ground. For a good view, you must look via a drone or height.
Additionally, if you're going to love Lake Dubai, remember to adhere to the advice I provided above so that your vacation to Love Lake goes smoothly. May you have a wonderful time!
Also Check: Dubai Safari Park