Dubai is not only a glamorous destination for adults but also a fantastic place for family vacations. With its blend of iconic landmarks, thrilling theme parks, educational experiences, outdoor adventures, and a wide range of family-friendly activities, Dubai offers something for everyone. Planning a trip with kids to Dubai ensures a memorable and enjoyable experience for the whole family. In this article, we will explore the best things to do in Dubai with kids, ensuring you make the most of your time in this vibrant city.
I. Exploring Dubai's Iconic Landmarks
Dubai is known for its architectural marvels and stunning landmarks that captivate visitors of all ages.
A. Visit the Burj Khalifa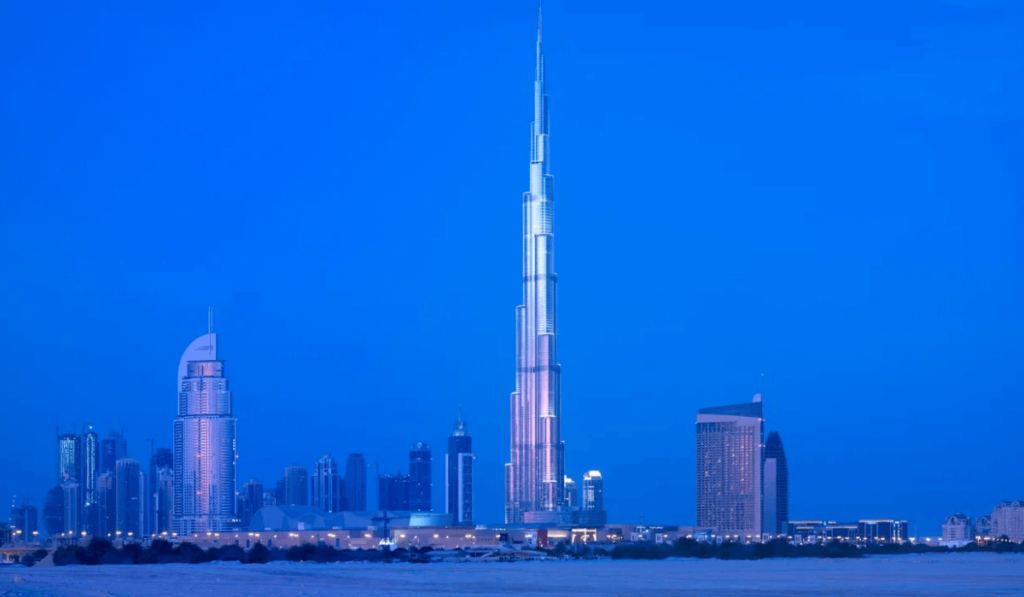 At a staggering height, the Burj Khalifa stands as the world's tallest building. Take your kids to the observation deck and let them marvel at the breathtaking views of Dubai's skyline. Additionally, enjoy a multimedia presentation showcasing Dubai's history and architectural wonders.
B. Discover the Dubai Fountain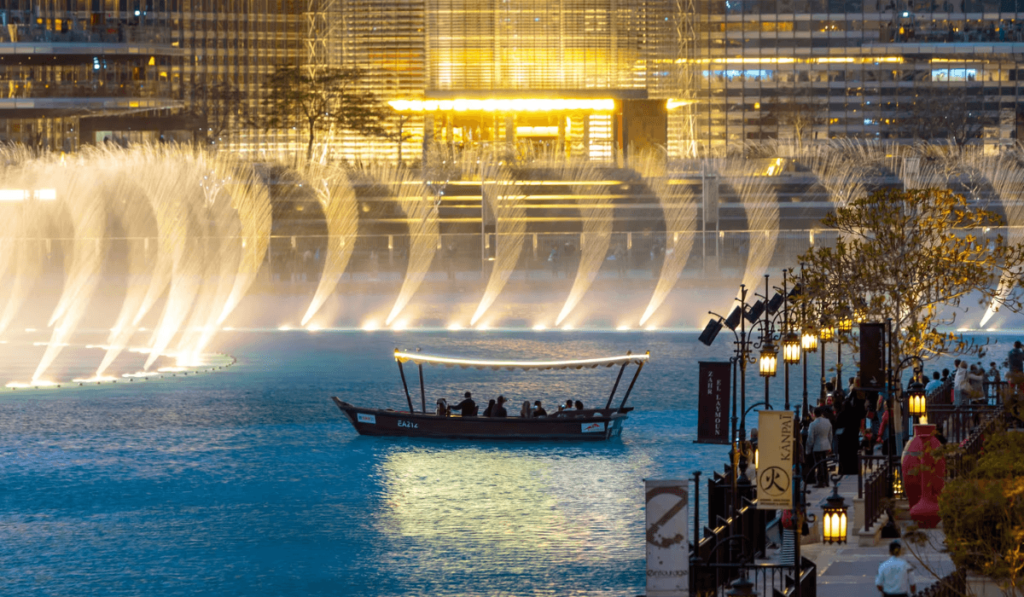 The Dubai Fountain is a mesmerizing water spectacle that offers evening performances with lights, lasers, and music. Find a family-friendly spot and watch the dancing water jets create a magical atmosphere.
C. Explore Dubai Marina
Dubai Marina is a scenic waterfront area with picturesque promenades. Take your kids on boat tours, enjoy water activities, and savor a delicious meal at one of the many family-friendly restaurants and cafes.
D. Wander around Palm Jumeirah
Visit the iconic Palm Jumeirah, where you can explore Atlantis, The Palm resort. Kids will love the Aquaventure Waterpark with its thrilling slides, while the Lost Chambers Aquarium offers an enchanting underwater experience. Don't forget to spend some quality time on the family-friendly beaches.
II. Family-Friendly Theme Parks
Dubai is home to several world-class theme parks that cater specifically to families.
A. Dubai Parks and Resorts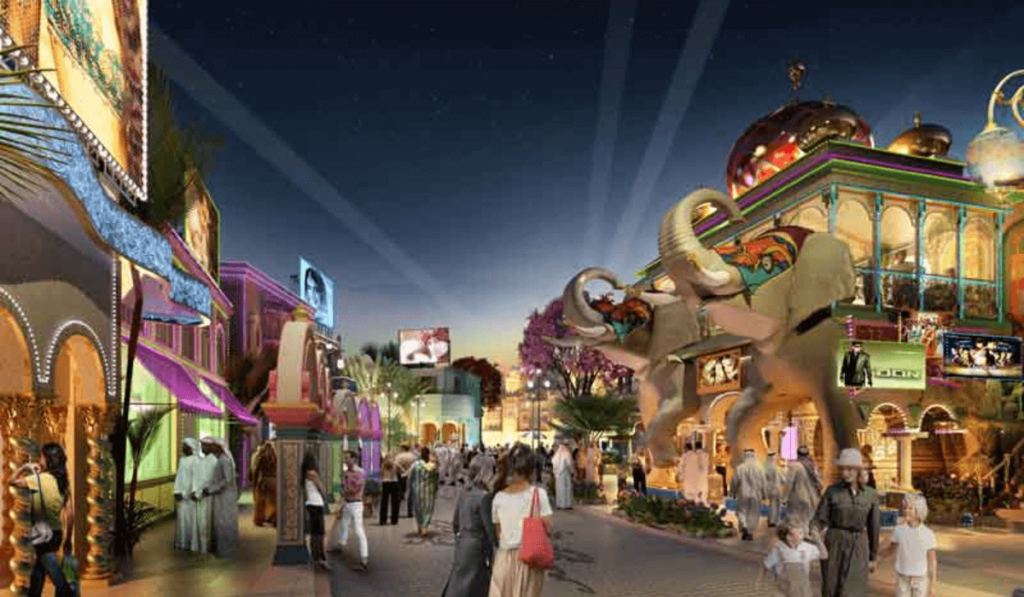 Dubai Parks and Resorts is a must-visit destination for families. Explore Motiongate Dubai, where Hollywood-inspired rides and attractions bring favorite movies to life. Experience the magic of Bollywood at Bollywood Parks Dubai and enjoy interactive shows and rides. For younger children, Legoland Dubai offers a range of interactive rides and building experiences, while Legoland Water Park provides water slides and splash zones.
B. IMG Worlds of Adventure
Step into the world's largest indoor theme park, IMG Worlds of Adventure, featuring Marvel and Cartoon Network zones. Let your kids embark on thrilling rides and immerse themselves in interactive experiences with their favorite characters.
C. Wild Wadi Waterpark
Cool off from the Dubai heat at Wild Wadi Waterpark. With an array of water slides, wave pools, lazy rivers, and interactive attractions, it offers endless hours of fun for the whole family. Enjoy the family-friendly dining options available within the park.
III. Educational and Cultural Experiences
Dubai provides numerous opportunities for children to learn and explore its rich culture and history.
A. Dubai Aquarium & Underwater Zoo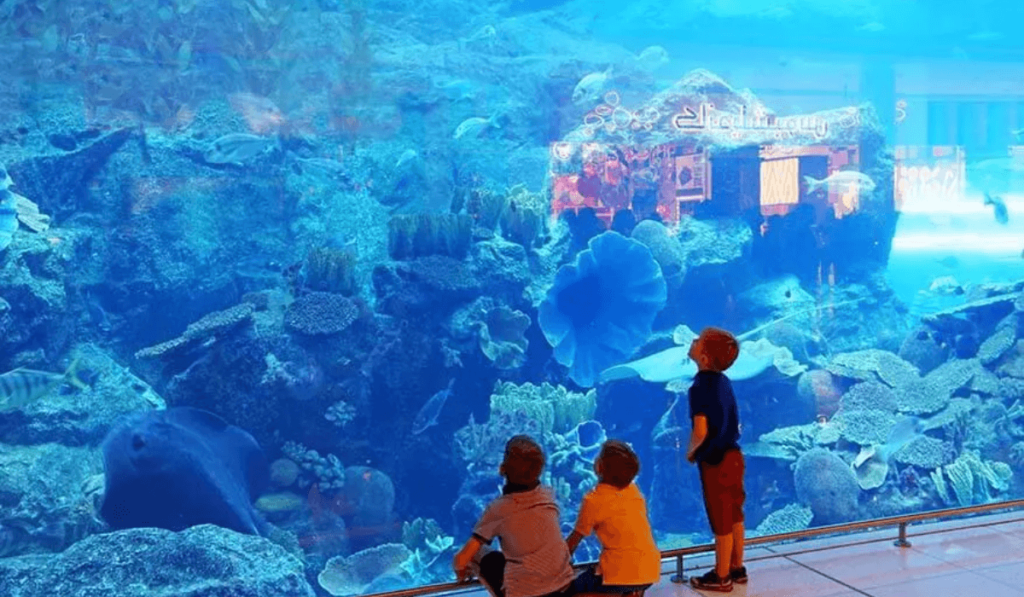 Visit the Dubai Aquarium & Underwater Zoo, where you can walk through a mesmerizing tunnel surrounded by marine life. Enjoy educational presentations, feeding sessions, and take a glass-bottom boat tour to deepen your understanding of the underwater world.
B. Dubai Museum
Immerse your family in Dubai's history and heritage at the Dubai Museum. Explore interactive exhibits and traditional artifacts housed within the Al Fahidi Fort and stroll through the historic district surrounding it.
C. Global Village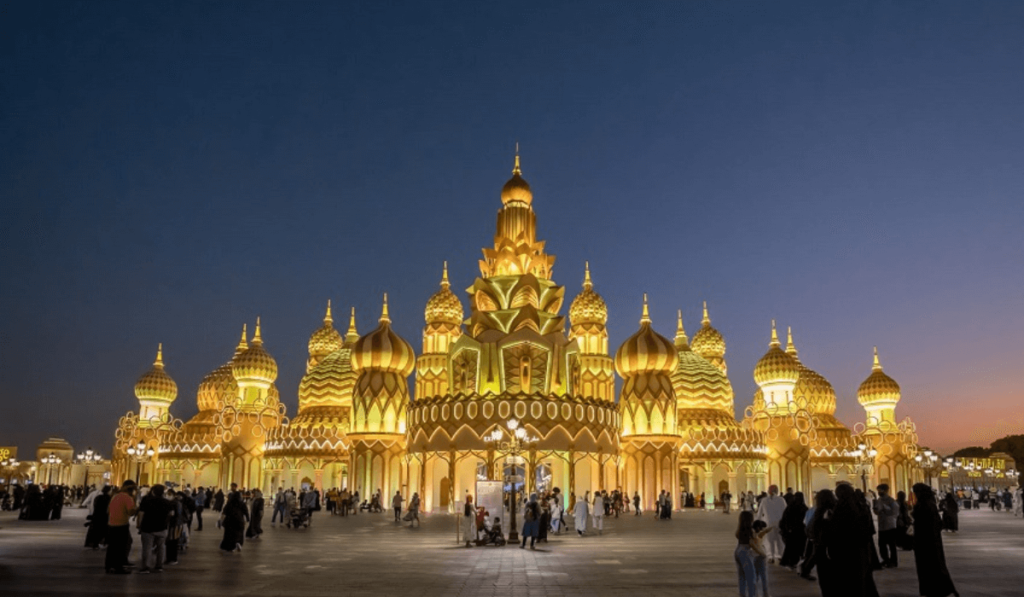 Take your kids on an international cultural journey at Global Village. With pavilions representing different countries, live performances, food stalls, and shopping, this vibrant destination offers a truly immersive experience for the whole family.
IV. Outdoor Adventures
Dubai's outdoor adventures are perfect for families seeking a taste of adventure and natural beauty.
A. Desert Safari
Embark on a desert safari adventure with your kids. Enjoy exhilarating dune bashing in 4×4 vehicles, experience camel rides, try sandboarding, and indulge in traditional Arabic entertainment and dinner under the stars.
B. Dubai Miracle Garden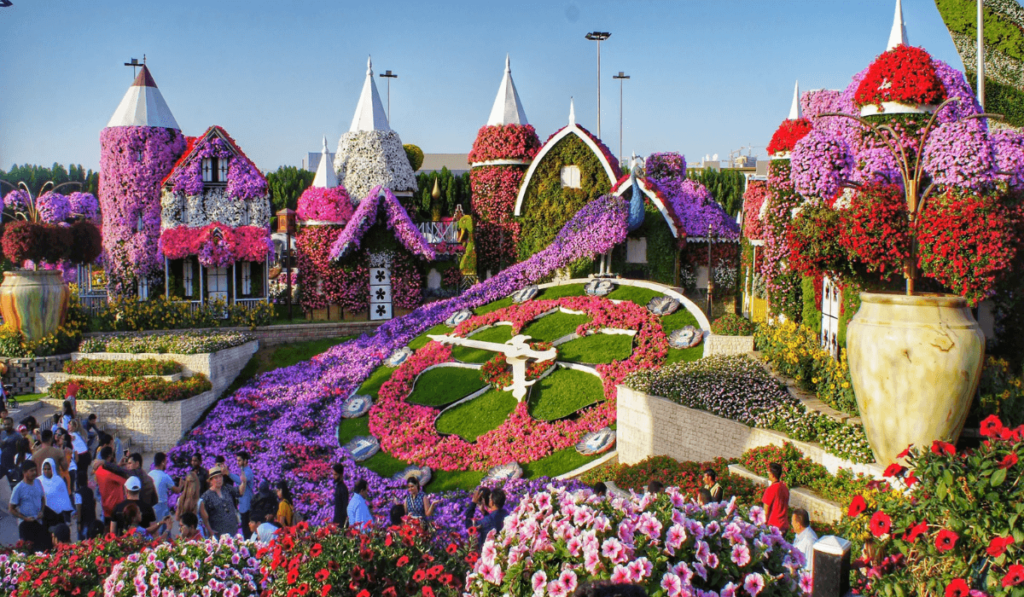 Witness the awe-inspiring Dubai Miracle Garden, the largest flower garden in the world. Explore intricate floral displays and sculptures, let your kids roam in the play areas, and capture unforgettable family photos.
C. Kite Beach
Spend a fun-filled day at Kite Beach, a family-friendly beach with various water sports activities. Engage in kite surfing, paddleboarding, and building sandcastles. Relax and unwind at beachside cafes while the kids enjoy the play areas.
V. Indoor Entertainment and Activities
Dubai offers a range of indoor entertainment options to keep children entertained.
A. Kid Zania Dubai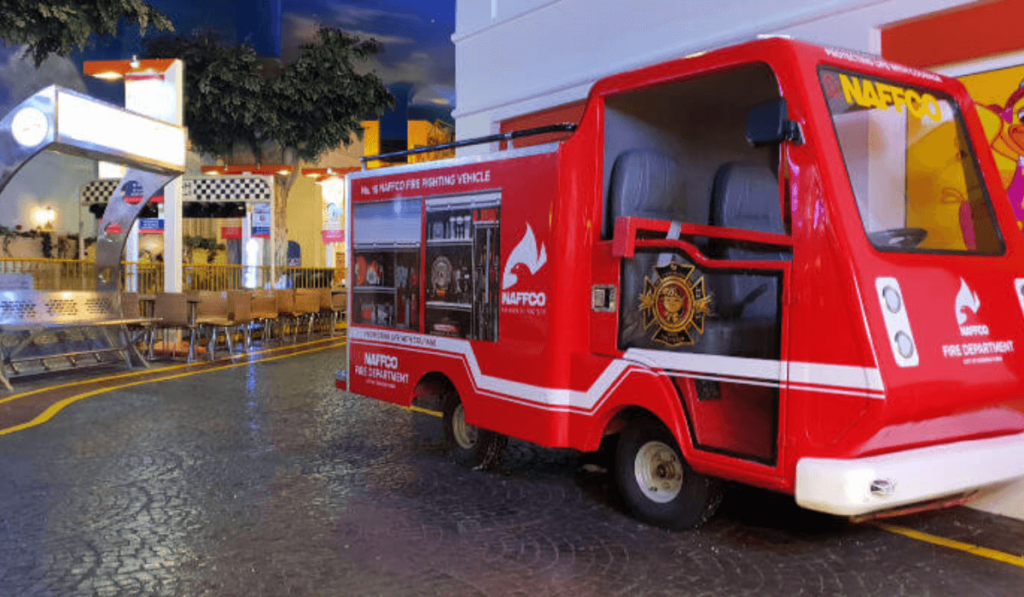 Let your kids explore their dreams and aspirations at KidZania Dubai. This unique theme park allows children to engage in role-playing experiences, where they can learn and have fun in realistic settings. With various professions and activities to explore, KidZania Dubai is an educational and entertaining adventure.
B. VR Park Dubai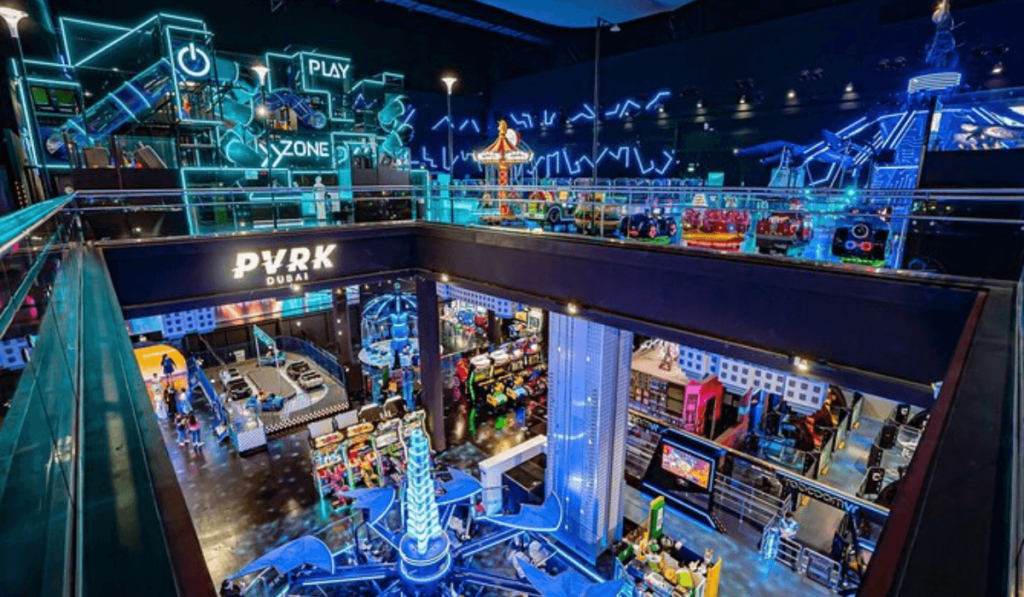 Immerse your family in the world of virtual reality at VR Park Dubai. Experience thrilling rides, interactive adventures, and mind-bending games suitable for children of different ages. Prepare for an unforgettable journey into the virtual realm.
C. Dubai Ice Rink
Head to Dubai Ice Rink and let your kids glide on ice. Whether they are beginners or experienced skaters, Dubai Ice Rink offers ice skating sessions, lessons, and themed events for the whole family to enjoy. Sit back and relax in the spectator area while sipping on hot cocoa or enjoying snacks from the nearby cafes.
VI. Dining Options for Families
Dubai boasts a wide range of dining options suitable for families with children.
A. Family-Friendly Restaurants
Choose from a variety of family-friendly restaurants that offer play areas and kids' menus. The Dubai Mall food court is a convenient option with numerous choices. Additionally, explore theme-based dining experiences that combine delicious food with entertainment for a unique family outing.
B. Street Food and Markets
Immerse yourselves in the local culinary scene by trying street food and visiting markets. Sample a variety of snacks and delicacies, and explore markets for fresh produce and unique finds. Don't miss the opportunity to savor traditional Emirati cuisine options.
C. Afternoon Tea Experiences
Indulge in a family-friendly afternoon tea experience. Many establishments in Dubai offer special tea services for families, complete with child-friendly treats and activities. Enjoy a delightful afternoon bonding over tea and delicious pastries.
Conclusion
Dubai is a perfect destination for an unforgettable family vacation. From iconic landmarks to thrilling theme parks, educational experiences to outdoor adventures, and a plethora of indoor entertainment options, Dubai ensures there's never a dull moment for children and adults alike. Plan your trip carefully, considering the diverse range of activities, and create lasting memories with your kids in this vibrant city.
FAQs
Is Dubai a suitable destination for family vacations?
Absolutely! Dubai offers a wide range of family-friendly activities, attractions, and amenities that cater to children of all ages. From theme parks and outdoor adventures to educational experiences and cultural attractions, Dubai has something for everyone in the family.
Are there any safety measures in place at the theme parks and attractions?
Yes, safety is a top priority at theme parks and attractions in Dubai. They adhere to strict safety regulations and guidelines to ensure the well-being of visitors, especially children. Safety measures include ride inspections, trained staff, height restrictions, and safety equipment for various activities.
What are the best times to visit Dubai with kids?
The best time to visit Dubai with kids is during the cooler months, typically from November to March. The weather is more pleasant, making outdoor activities more enjoyable. However, keep in mind that this is the peak tourist season, so attractions and hotels may be busier.
Are there any age restrictions for certain activities?
Yes, some activities may have age restrictions for safety reasons. Theme parks often have height and age requirements for certain rides and attractions. It's essential to check the specific guidelines of each activity to ensure your child meets the criteria.
How can I find family-friendly accommodation in Dubai?
Dubai offers a wide range of family-friendly accommodation options, including hotels and resorts with dedicated facilities for children. Research online, read reviews, and look for accommodations that offer amenities such as kids' clubs, play areas, and swimming pools suitable for children.