Dubai, the jewel of the United Arab Emirates, is renowned for its glamorous skyscrapers, luxurious resorts, and unparalleled shopping experiences. However, beyond its urban splendor lies a fascinating desert landscape waiting to be explored. Desert safaris in Dubai offer an exhilarating adventure that allows visitors to immerse themselves in the region's natural beauty and Bedouin heritage.
From adrenaline-pumping dune bashing to mesmerizing sunsets over endless golden sands, the top five desert safaris in Dubai promise unforgettable experiences for every traveler. Whether you're seeking adrenaline-fueled escapades or tranquil moments in the desert, this guide will take you through the best desert safari options that Dubai has to offer.
Get ready to embark on an extraordinary journey into the heart of the Arabian Desert, where the traditional and the modern blend seamlessly to create an awe-inspiring experience.
Why Should You Definitely Experience a Desert Safari in Dubai?
When you venture into Dubai, you have the chance to immerse yourself in the immense splendor of the desert and its remarkable wildlife. To truly embrace this experience, embarking on a safari tour is highly recommended.
Embarking on a safari tour in Dubai guarantees an indelible adventure. It presents a distinctive opportunity for visitors to intimately observe the desert and its captivating wildlife. Moreover, the tour includes a visit to an authentic Bedouin camp, allowing one to gain insight into the unique way of life in this region.
The most exhilarating aspect of the Dubai desert safari involves a mesmerizing camel ride amidst the undulating sand dunes, accompanied by the opportunity to feed these majestic creatures with dates harvested from palm trees. Additionally, one can partake in the thrilling activity of dune bashing, conquering the vast expanses of the dunes.
Furthermore, the desert safari enables you to capture striking photographs of falcons, which are revered as Dubai's national bird and serve as a favorite subject for many photography enthusiasts.
List Of The Best Desert Safaris in Dubai
Listed below is an exceptional safari that encompasses all the essential activities in the Dubai desert. From thrilling dune bashing to experiencing a captivating desert safari beneath the shimmering night sky, there's an adventure tailored to suit every individual. Rest assured, I have meticulously arranged everything on your behalf.
Once you've absorbed these invaluable desert safari suggestions, I am confident that you'll be compelled to secure one of the remarkable desert safari packages.
Morning Desert Safari
Embarking on a morning desert safari is an extraordinary adventure that will leave an indelible mark on your memory. As the sun prepares to ascend the horizon, your expedition commences, transporting you to the heart of the desert in a robust 4×4 vehicle. Within its timeless landscapes, you will witness breathtaking vistas that remain hidden during daylight hours.
For approximately an hour, your skilled driver will navigate the undulating dunes, guiding you through the mesmerizing desert terrain. As the morning unfolds, a halt is made to savor a delectable breakfast, replenishing your energy for the remainder of the excursion. Subsequently, you will be escorted back to your hotel, culminating the morning safari after a fulfilling four-hour duration.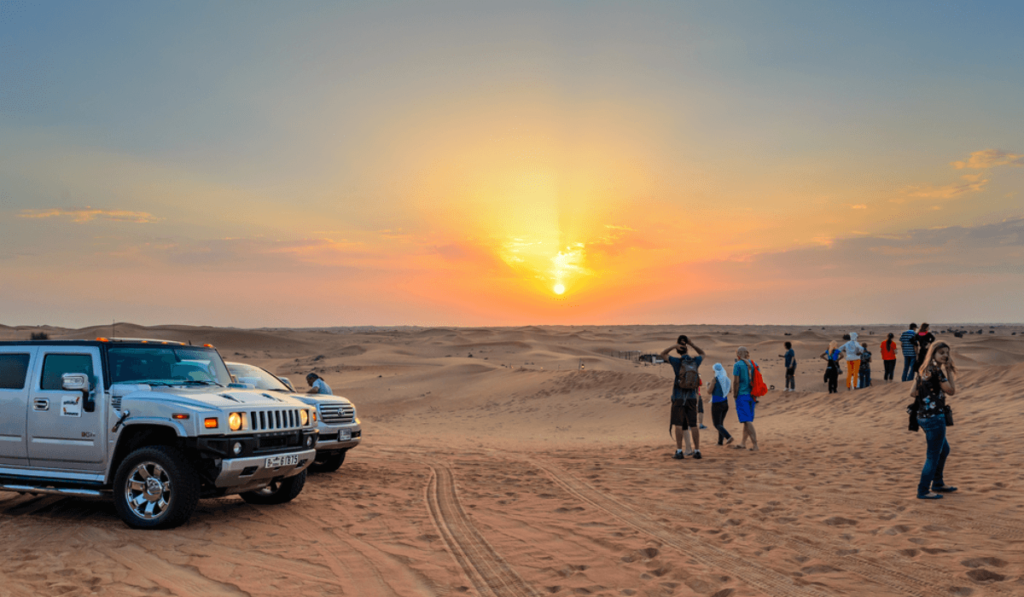 The allure of morning desert safaris lies in their popularity as sought-after packages, conveniently accommodating the schedules of eager tourists. This particular variant caters to those with hectic agendas, offering an ideal opportunity to partake in the adventure during the morning hours.
Immerse yourself in a multitude of exhilarating activities during the morning desert safari, including the thrilling dune bashing escapades in a luxurious land cruiser, enchanting camel rides, and more. Additionally, an array of early desert safari options exist, ensuring that everyone can readily subscribe to a version that perfectly aligns with their personal preferences.
Hot Air Balloon Tour
This journey promises to be one of the most extraordinary adventures you'll ever embark on. Prepare to be captivated by the awe-inspiring vistas of Dubai from a bird's eye view that will leave you breathless. The sheer beauty of Dubai unfolds before you in a way that defies imagination when seen from the ground.
Ascending to heights ranging from 2000 to 4000 feet above the ground, you'll gain a profound appreciation for the majestic dunes of the Arabian Desert. The magnificence of these sandy landscapes reveals itself in all its glory from this elevated vantage point.
Moreover, our hot air balloon tour fulfills the innate human desire to witness the world from an elevated perspective. Experience the joy of soaring above the world, as our tour provides an opportunity to satiate that need.
And that's not all! Following your exhilarating hot air balloon ride, a sumptuous gourmet breakfast awaits you at our camp, ensuring your hunger is satisfied before you embark on other thrilling activities like camel riding and capturing stunning falcon photographs.
Prepare yourself for an unforgettable adventure that will forever hold a special place in your heart.
Red Dunes and Camel Safari
The Red Dunes and Camel Safari offers an unparalleled and unforgettable experience that immerses you in the life of a true Bedouin. Embarking on a camel safari allows you to witness the majestic desert in all its splendor.
Dubai's renowned Red Dunes stand out as one of the city's most sought-after tourist destinations, and it's easy to see why! Towering at heights of 100-200 meters, these dunes provide the perfect terrain for exploration, climbing, and even camping.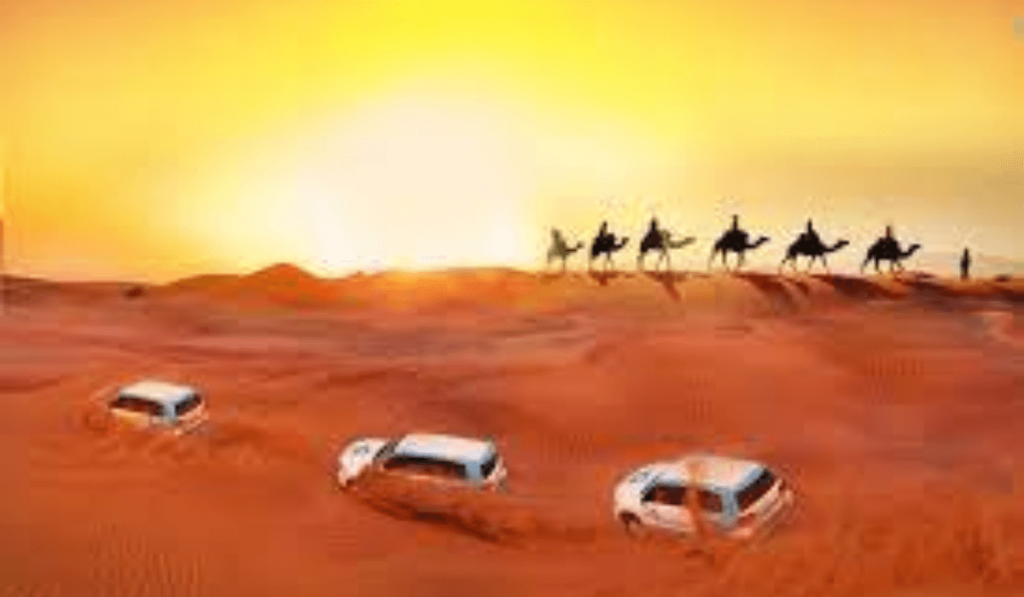 The adventure begins with a scenic journey to the Red Dunes, followed by an enchanting Camel Safari. Rest assured, the camels are well-trained, ensuring a smooth and enjoyable ride for everyone. This unique experience offers a remarkable opportunity to traverse the dunes, marvel at breathtaking vistas, and gain a glimpse of life in the desert from the perspective of a camel.
Next, prepare to indulge in the thrills of sandboarding, a delightful activity that allows you to interact with the dunes firsthand. Revel in the joy of gliding down sandy slopes and take in the adrenaline-pumping experience. To add to your pleasure, a variety of coffee beverages will be provided for your enjoyment.
As a grand finale, this package also includes captivating entertainment such as fire dance displays or vibrant tanoura dances, ensuring a delightful experience while you savor a delectable meal. For more detailed information, please visit our Red Dunes and Camel Safari page.
Premium Red Dunes
The Red Sands safari in Dubai is renowned for its unparalleled experience. Whether you're with family or friends, it offers the perfect opportunity to immerse yourself in the desert for the first time.
Embarking on the Red Dunes Safari adventure commences with a brief drive from Dubai to the outskirts of Liwa Oasis, right at the edge of the Arabian Desert.
This safari encompasses a guided tour of the desert, delightful camel rides, and the chance to savor traditional Arabic coffee and dates. Culminating the experience is an exquisite barbecue dinner under the twinkling stars, followed by an overnight stay at one of our exclusive campsites. The luxury safari packages in Dubai offer a range of options catering to all levels of expertise.
A noteworthy aspect of this tour package is the provision of authentic Arabic costumes, enabling you to fully immerse yourself in the atmosphere and capture memorable photographs.
Furthermore, as you indulge in the meal, be enthralled by captivating belly dancers and mesmerizing fire dancers, creating an ambiance of relaxation and enjoyment amidst the splendid desert sky.
Moreover, this premium red dunes package encompasses a plethora of exciting activities, ensuring your holiday experience in the red dunes is truly distinctive and remarkable.
Overnight Desert Safari
The overnight desert safari offers a remarkable adventure for nature enthusiasts, thrill-seekers, and those who appreciate the great outdoors. What sets this safari apart is its versatility, as it can be enjoyed in any season.
During the daytime, the Dubai desert boasts breathtaking views, but it undergoes a mesmerizing transformation when night falls, enhancing its beauty manifold. It is this enchanting allure that draws many individuals to embark on an overnight desert safari. For couples, in particular, this experience holds a special romantic charm, making it highly recommended.
The journey commences with an exhilarating session of dune bashing, followed by a warm reception from our staff who will welcome you with refreshing coffee and tea. We have carefully arranged a serene setting, illuminating the surroundings with vibrant lights, creating an unforgettable ambiance throughout your travel.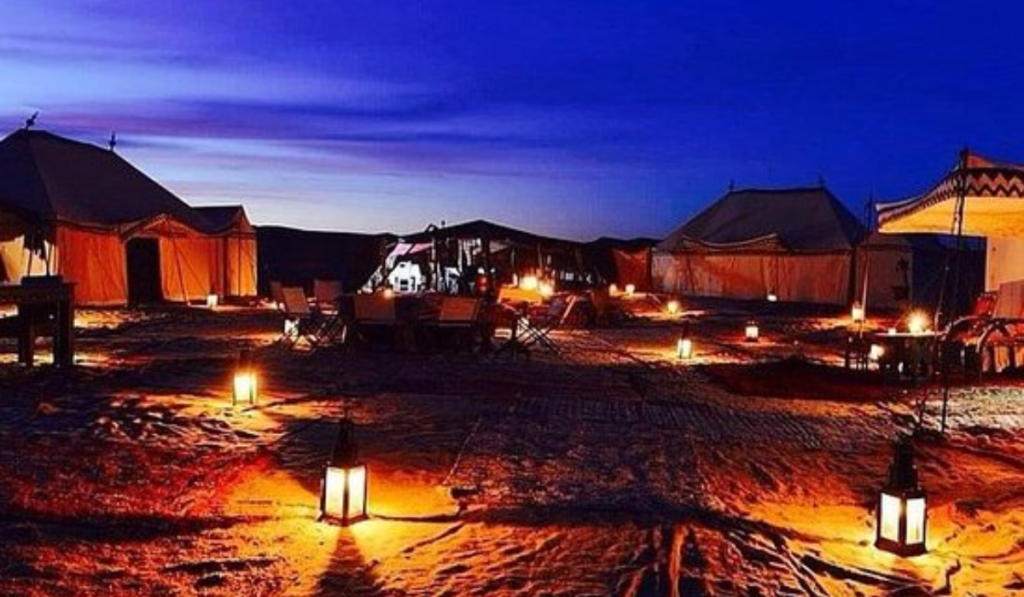 This comprehensive tour package includes a range of enjoyable activities, such as sheesha smoking, camel riding, and various other entertainment options.
A distinctive highlight of this package is the International Buffet Dinner featuring a delectable barbecue selection, encompassing both vegetarian and non-vegetarian dishes. Additionally, our team of professionals will captivate you with a variety of entertaining performances, including mesmerizing fire dancing.
Indulging in an overnight desert safari will undoubtedly heighten the allure and romance of your evening, leaving you with lasting memories.
Desert Safari Location
Venturing into the desert is a captivating endeavor, and embarking on desert safaris presents an opportunity to behold extraordinary vistas that exist nowhere else. However, not all desert safaris are alike.
The choice of destination holds significance; a desert safari site that embraces and utilizes its natural surroundings will invariably provide a far more remarkable and fulfilling experience than one that neglects to delve into the local environment.
Before finalizing your desert safari reservation, it is advisable to conduct thorough research on highly acclaimed locations endorsed by previous participants. This way, you can ensure that you are investing your money in the finest experience available.
Conclusion
In conclusion, Dubai offers some of the best desert safaris in the world, providing visitors with unforgettable experiences and a glimpse into the rich Emirati culture. From thrilling dune bashing adventures to serene camel rides, there is something for everyone seeking an adventurous and immersive desert experience.
Dubai's desert safaris provide an opportunity to escape the bustling cityscape and venture into the vast, awe-inspiring Arabian desert. The golden sand dunes stretching as far as the eye can see create a mesmerizing backdrop for a variety of activities. Whether it's a thrilling off-road dune bashing ride in a 4×4 vehicle, sandboarding down the slopes, or experiencing the adrenaline rush of quad biking, the desert safaris in Dubai cater to the adventurous spirit of travelers.
FAQs
What is a desert safari in Dubai?
A desert safari in Dubai is a popular tourist activity that involves venturing into the Arabian desert to experience a range of thrilling and entertaining activities, such as dune bashing, camel riding, sandboarding, traditional performances, and enjoying a delicious BBQ dinner.
What is dune bashing?
Dune bashing is an exhilarating activity where a skilled driver maneuvers a 4×4 vehicle over the sand dunes, providing an adrenaline-pumping ride with twists, turns, and thrilling drops.
Can children participate in desert safaris?
Yes, most desert safaris are family-friendly and offer activities suitable for children. However, it is advisable to check with the specific tour operator regarding age restrictions and safety guidelines.
What should I wear for a desert safari?
It is recommended to wear comfortable, loose-fitting clothing that can protect you from the sun and sand. Lightweight fabrics, such as cotton, and closed-toe shoes are advisable. Additionally, bring a hat, sunglasses, and sunscreen for added protection.