Dubai is the world's most modern metropolis, with many exciting attractions. The massive Dubai shopping malls, the beautiful Burj Khalifa, the deep dive pool, and much more add to the city's global importance.
Another critical factor contributing to Dubai's appeal as the world's most beautiful city is its vast golden deserts. These deserts have a long and illustrious history.
These deserts are ideal for the best desert safaris in Dubai, which are becoming increasingly popular. The deserts of Dubai are attracting numerous tourists. The question is here, which are the best desert safaris in Dubai?
In this article, you will discover the answer. Sit back and relax while reading this article to learn more.
Why Is a Desert Safari in Dubai a Must-Do Activity?
When you visit Dubai, you can experience the vast beauty of the desert and its wildlife. The best way to do this is by taking a safari tour.
The safari tour in Dubai is an unforgettable experience. It offers a unique opportunity for visitors to see the desert and its wildlife up close. In addition, the time includes visiting an authentic Bedouin camp where one can witness how people live in this part of the world.
The most exciting part of the desert safari in Dubai includes a camel ride through sand dunes and a chance to feed camels with dates from palm trees. Also, Dune bashing in the vast dunes.
Moreover, Desert safari allows you to photograph falcons, and people love to take photos of Dubai's national bird.
List Of The Best Desert Safaris in Dubai
The best safari I've listed below includes all the must-do activities in the Dubai desert. From Dune bashing to a desert safari under the starry sky of the desert, there's something for everyone. I took care of everything for you.
After viewing these best desert safari tips, I'm sure you'll want to book one of the desert safari packages.
Morning Desert Safari
A morning desert safari is an experience of a lifetime. The safari starts before the sun rises, and you will be taken to the desert in a 4×4 vehicle, where you will get to see amazing landscapes that are impossible to see by day.
The driver will take you through the desert for about an hour and then stop for breakfast. After breakfast, you will be taken back to your hotel. The total time duration of this morning's safari will be 4hrs.
Morning desert safaris are popular packages, and tourists frequently choose this since they can easily fit this tour into their itinerary. This desert safari is suitable for people with busy schedules and only have time in the morning.
The morning desert safari includes various exciting activities, such as Dune bashing in a luxury land cruiser, camel riding, and more. Different early desert safaris are also available, so everyone can easily subscribe based on their preferences.
Hot Air Balloon Tour
This trip will be among the most worthwhile experiences of your life. You get a bird's eye perspective of Dubai, which is breathtaking. You will also be able to admire Dubai's beauty in a way that is impossible to do from the ground.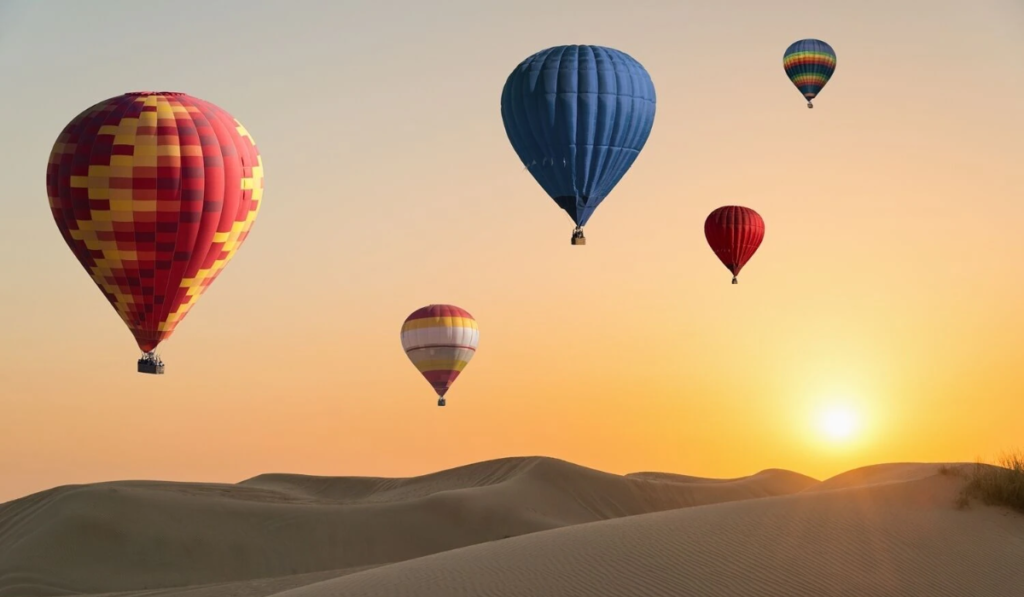 We'll take you to a height of between 2000 and 4000 feet in the sky. You will be able to appreciate the magnificence of the Arabian Desert's dunes from this height.
Furthermore, everyone wishes to observe the world from a higher perspective, and our hot air balloon tour satisfies that need.
Last but not least, after your hot air balloon ride, you will be served a gourmet breakfast at our camp to satisfy your hunger before moving on to other exciting activities such as camel riding and falcon photography.
Red Dunes and Camel Safari
The Red Dunes and Camel Safari is an unforgettable experience. It is an adventure that will make you feel like a true Bedouin. The camel safari allows you to see the desert in its full glory.
The Red Dunes are one of Dubai's most popular tourist attractions, and it's no wonder why! The dunes are as high as 100-200 meters and are great for exploring, climbing, and even camping.
The tour starts with the ride to the Red Dunes and then to the Camel Safari. The camels are well-trained and will not be difficult for anyone to ride. They offer a unique experience of walking on dunes, seeing some of the most beautiful views, and going through a camel's eye view of life in the desert.
Then you'll be taken to the sandboarding area. This will provide you with great pleasure. You will be entertained by interacting with the dunes. You will also be provided with a variety of coffee beverages.
Last but not least, this package includes various activities, such as a fire dance display or a tanoura dance, to entertain you while you dine. Go to our red dunes and camel safari page for more information.
Premium Red Dunes
The Red Sands safari is the most popular in Dubai. It is the perfect place for a family or friends to experience their first time in the desert.
The Red Dunes Safari experience begins with a short drive from Dubai to the edge of the Arabian Desert, just outside of Liwa Oasis.
The safari includes a tour of the desert, camel rides, and an opportunity to try out traditional Arabic coffee and dates. The term ends with a magnificent barbecue dinner under the stars and an overnight stay at one of our exclusive campsites. Best luxury safari dubai price a variety of tours to suit all levels of experience.
One distinct advantage of this tour package is that you will be provided with traditional Arabic costumes to experience the atmosphere and take photographs with them completely.
Additionally, during the meal, you are entertained by belly dancers and fire dancers so that you can relax and enjoy the barbecue buffet meal beneath the gorgeous desert sky.
In addition, this premium red dunes package includes a variety of fun activities. You will make your
holidays unique with premium red dunes.
Overnight Desert Safari
The overnight desert safari is a beautiful experience for anyone who loves nature, adventure, and the open air. The best thing about this safari is that it can be enjoyed in any season.
The Dubai desert is stunning during the day, but the scene changes at night, and the beauty is amplified. That is why many individuals enjoy going on an overnight desert safari. This excursion is quite romantic, and if you are a couple, I would recommend doing an overnight desert safari.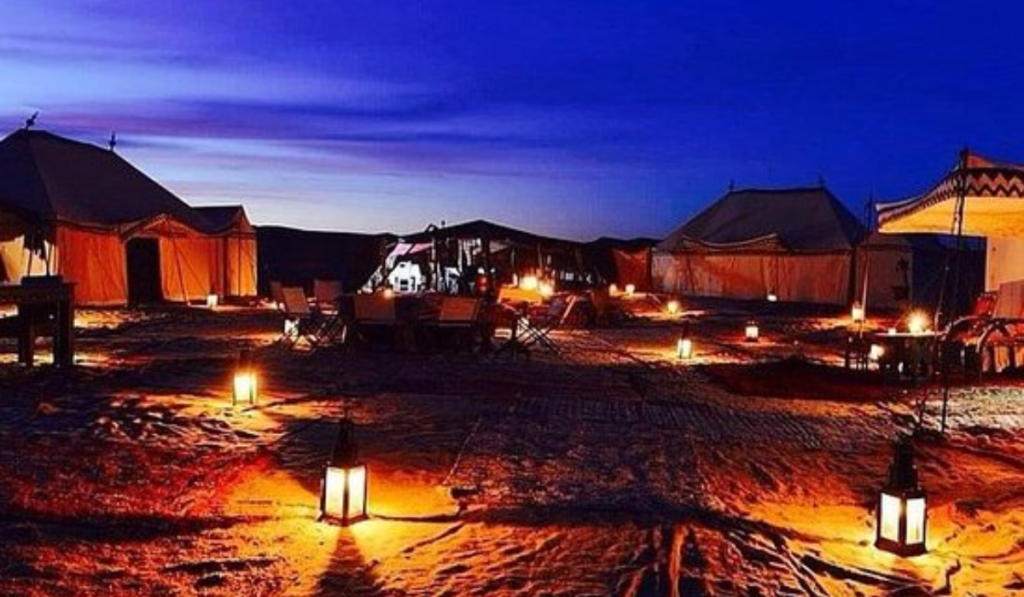 This tour starts with the dune bashing, and at the end, you will be welcome with coffee and tea by our staff. We've made tranquil preparations here, and the place is lit with lights that will enliven your travel experience.
This tour package includes sheesha smoking, camel riding, and other fun activities.
The unique feature of this package is that you will be served an International Buffet Dinner with Barbecue (Vegetarian and Non-vegetarian foods), as well as a variety of entertaining acts, such as fire dancing, by our professionals.
The overnight desert safari will add to the intrigue and romance of your evening.
Desert Camp Barbecue Dinner
Have you ever been to a desert camp barbecue dinner? If not, you're missing out on a truly unique dining experience.
There's something about Adventure and Enjoying with Friends and Family: a tremendous outdoor experience under the stars that just can't be beaten.
And when the food is as good as it is at our desert camp, you won't want to miss a meal!
Desert Safari Location
Exploring the desert is an exciting activity, and desert safaris offer a chance to see some of the most breathtaking desert views in the world. But not all desert safaris are created equal –
Where you go matters; a desert safari location that takes advantage of its desert surroundings will always be more successful in offering a truly fantastic experience than one that doesn't bother exploring the local environment.
When booking a desert safari experience, research which locations have been rated highly by previous attendees so that you can be sure you're getting the best experience for your money.
Dubai Desert Conservation Reserve
Dubai's desert conservation reserve is picturesque, with stunning biodiversity and lush landscapes. Home to many rare species,
the Dubai desert conservation reserve offers breathtaking views with its red dunes, rugged terrains, blooming flora and fauna, and rich palm groves.
Tourists come from around the world to experience Dubai's natural beauty while observing some of the most exciting wildlife up close.
The Dubai desert conservation reserve is also home to top-class safaris hosted by experienced guides who provide valuable insights into life within the desert and let visitors get acquainted with Dubai's culture during their memorable journey.
Safari Packages
Going on a safari can be an unforgettable experience, and safari packages offer all the essential elements for an incredible journey.
Safari packages include Free Home or Hotel Live Entertainment shows, Dune bashing at Red dunes Camel Rides, Sand Boarding, Sunset Stop, barbecue Dinner at luxurious safari lodges and camps, meals and drinks,
safari activities include Quad Biking and Dune Buggy Dubai, the best overnight desert safari, and guided nature walks. Other included benefits are exclusive access to luxury desert safari dubai Areas and conservation parks with no crowds and personalized service throughout.
With a safari package, travelers can explore wild areas that are home to some of the world's most iconic wildlife and stunning natural landscapes.
You won't regret reserving a safari package; it's a once-in-a-lifetime experience full of excitement, adventure, and beauty!
Some Pro Tips Before Going On A Desert Safari
We make all of the arrangements for our tourists, and there is nothing left to annoy the user experience, but there are a few things you should be aware of so that you can enjoy your desert safari without interruption.
Avoid wearing closed shoes; this will disturb your health due to humidity.
Wear loose and comfortable clothes so that air can pass throughout the body.
If you prefer some luxury things, you must bring your pillow and blanket so you can sleep the night peacefully.
Suppose you are curious about the hotness of the desert. Bring along the water supply to deal with thirst anytime.
FAQs
Which of Dubai's deserts is the best?
These deserts are popular ones in Dubai.
Best For Camping: Al Qudra Desert, one of the nearest deserts to the Emirate of Dubai, is one of the most popular camping locations among locals, located less than an hour's drive from the city.
Best for Off Roading: Sweihan Desert
Best for mountain climbing: Jabal Al Jais.
How much does a Dubai desert safari cost?
A desert safari in Dubai costs an average of 100 AED to 1000 AED per person. Because the number of guests is lower than typical on weekdays, the journeys are generally less expensive.
How long does a Dubai desert safari last?
The duration of each tour package varies, but the usual desert safari lasts 4 to 18 hours. During these periods, you will be able to participate in various sand activities in the Arabian desert.
In Dubai, how many desserts are there?
Three deserts can be found in the United Arab Emirates:
1. The Great Sandy Desert (Rub' al Khali),
2. Al Badayer
3. The Sahara Desert
When is the best time to visit Dubai?
The most significant time to visit this emirate is from November to February, when temperatures are pleasant and a thrill in the air, which makes your Dubai trip experience joyful.
What is the minimum age for a Dubai desert safari?
The desert safari package includes children aged 6 to 11 years old and adults aged 12 and above. Children aged 2 to 5 years old are welcome to attend, but please notify us when booking so that we can make arrangements for kid seats.
Conclusion
It would be best to visit Dubai at least once in your life, especially during the desert safari. The desert safari is a must-do experience that should be included in everyone's trip to Dubai. You will experience real life by engaging with the gorgeous deserts.
Furthermore, desert safaris can be done in the many ways I explained. You can read about them in this post and sign up for one of our best desert safaris in Dubai.
We care about your vacation, and we assure you will never forget these desert safari vacations. If you like our article, please don't forget to share it with your beloved and also comment below.